In today's business environment, management consulting firms must be ready to address client challenges and needs that will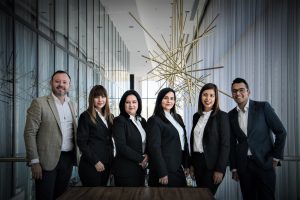 transform their business by 10 or 100 times. Tools and methods must be scaled up to ensure applicability to the widest possible audience globally.
The Consulting Workshop Series provides a good understanding of the 10 methods of conducting Consulting Workshops that are custom designed to fit specific workshop objectives. Different methods are developed for the purpose of providing organizations the most appropriate tool necessary to support organizations to achieve their strategic goals and targets in Strategic Planning.
If it is the management's goal to have specialized input and opinion undergo evaluation, then the Expert Panel is the perfect method to undertake. An Expert Panel is a consulting workshop method that synthesizes a variety of inputs on a specialized topic and produces recommendations
Understanding the Expert Panel as an Effective Consulting Workshop Method
An Expert Panel is an effective tool in clarifying complexities in organizational issues. The method uses a broad range of subject matter experts on various fields thus enhancing its effectiveness and depth.
Once, consultants have a good understanding of the Expert Panel, it can be used in various applications. An Expert Panel is effective in addressing appropriate issues that require highly technical knowledge and/or those that are highly complex. It is useful when a conflict exists that opinions are necessary to provide credibility and resolve these conflicts.
At times when there is a variety of opinions, an Expert Panel can provide a credible alternative opinion based on credible expertise. Most importantly, it is best used when there is a possibility of legal ramifications.
The Expert Panel and Its 3-Phase Approach
The Expert Panel is designed using a 3-phase approach.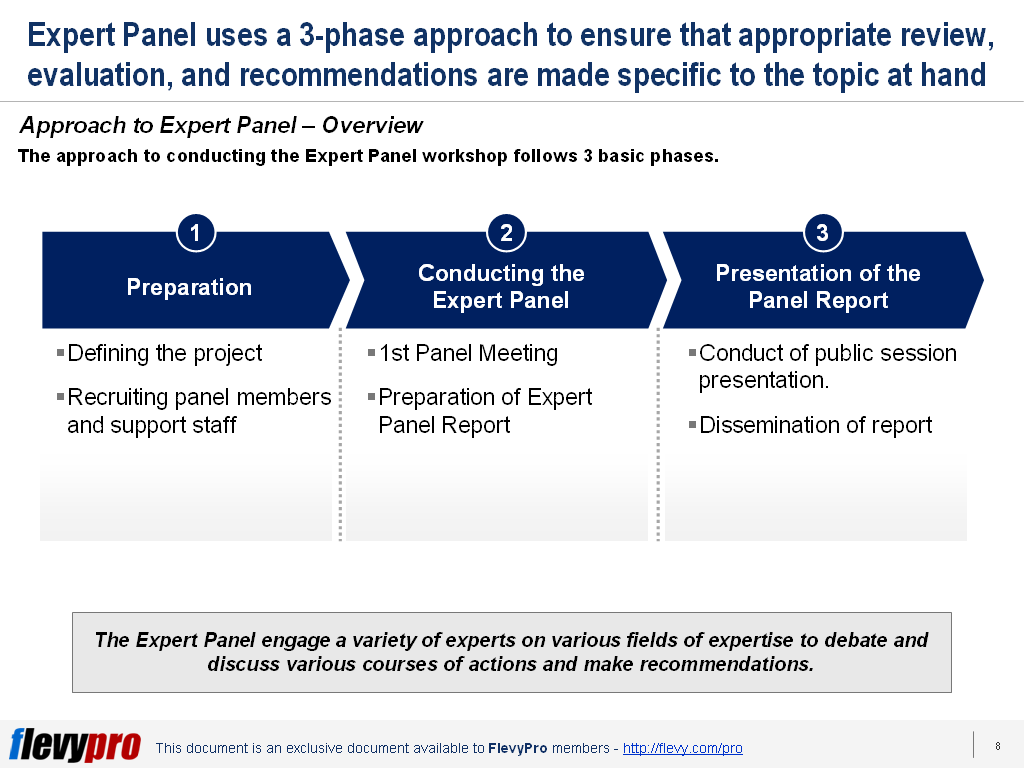 Preparation. The Preparation Phase is the most critical phase as it is the defining stage of the project. It ensures that there is a proper understanding of the project supported by a well-composed and technically qualified panel.
 Conducting the Expert Panel. This is the main core of the event. This is where the Expert Panel is expected to investigate and study the topics assigned and set forth their conclusions and recommendations in written reports. A typical First Meeting Architecture is often composed of 6 sessions.
Presentation of the Panel Report. The presentation of the Panel Report is the final phase which includes the issues, conclusions, and recommendations of the report. Upon completion of the report, it may be disseminated to appropriate persons and to the entire organization. However, prior to its dissemination, it is advisable to submit it initially for peer review for comments and further improvements.
When Quality Matters in Selecting the Expert Panel
The use of this method requires a careful selection of the members of your Expert Panel. Even prior to recruitment and selection, careful consideration should already be undertaken. One is the development of the Nomination Package. Next is having the right guidelines for proper selection. Most importantly, is understanding the 5 Key Elements of a Panel Profile.
The 5 key elements essential to the organization of your Expert Panel are Project Scope, Degree of Controversy, Technical Support, Uncertainties, and Disciplines. Each of these elements will guide consulting firms to have a well-composed and balanced profile of their Expert Panel.
As mentioned earlier, the Expert Panel is expected to investigate and study the topics assigned and set forth their conclusions and recommendations. Hence, diligence and thoughtful selection is needed to have an effective Expert Panel for the organization to achieve the results expected during the event.
Interested in gaining more understanding of the Consulting Workshop technique of the Expert Panel? You can learn more and download an editable PowerPoint about Consulting Workshop Series: Expert Panel here on the Flevy documents marketplace.
Are you a management consultant?
You can download this and hundreds of other consulting frameworks and consulting training guides from the FlevyPro library.