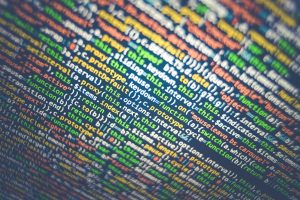 Data and Analytics, today, play a key role in competing with rivals.  Every passing day leads to creation of enormous amounts of data by organizations across the globe.  These huge data lakes often go unused, or are underutilized, by organizations.  This data, if utilized properly, is of great assistance in informed decision making.
Multiple data types and sources generated by discrete systems are often inconsistent, dispersed, and lacking integration, which makes them unworkable.  Such data results in inaccurate analysis and flawed insights.  Reliability and confidentiality of data can be ensured by stipulating rules and processes to govern access to data and its Metadata.
Metadata Definition
Metadata can be defined as "the Data in the context of Who, What, Where, Why, When, and How." It's the information pertaining to the data itself, its attributes, and elements.  Metadata provides searchable key attributes of information to the users e.g., Customer ID or Name.  Appropriate identification of Metadata is a major step in uncovering the potential locked in enterprise data assets.
Metadata Management
Metadata Management relates to handling of data, its description, relationships, and lineage within an organization.  Metadata enables a user to search and identify information on certain key attributes.  Context of data is of prime importance in managing Metadata.
Metadata isn't all about identification of data.  With ever-increasing volumes and complexity of data, Metadata management is getting critical to identify informational assets and convert those into enterprise assets of high business value.  This entails setting up policies and ensuring efficient information management.  Metadata Management integrates all data at the enterprise level.
Benefits of Metadata Management
An efficient Metadata Management system helps the business users to comprehend the source of the data characteristic and the calculated measure of that characteristic.
It supports the technical users in mapping business Metadata with technical Metadata.
Metadata Management provides a holistic view of the various data systems in an organization.
It enables automated parsing and loading of variety of Metadata types.
Building an Enterprise Metadata model based on the data generated from discrete systems—e.g. data warehouse, integration tools, and data modeling tools—is quite efficiently done through Metadata Management.
Mitigation of any challenges in data accessibility and utility.
Enhancement of data quality.
Supporting Digital Transformation by creating data reporting and data analysis experts.
Metadata Classification
People in the same organization perceive Metadata differently. Difference of opinion in the identification of Metadata within the company results in inadequate visibility and access to data.  This is where a broader classification of the types of Metadata is helpful.  A thorough understanding of the different classes or categories of Metadata assists in developing a standardized perception of data across the organization.  These categories include: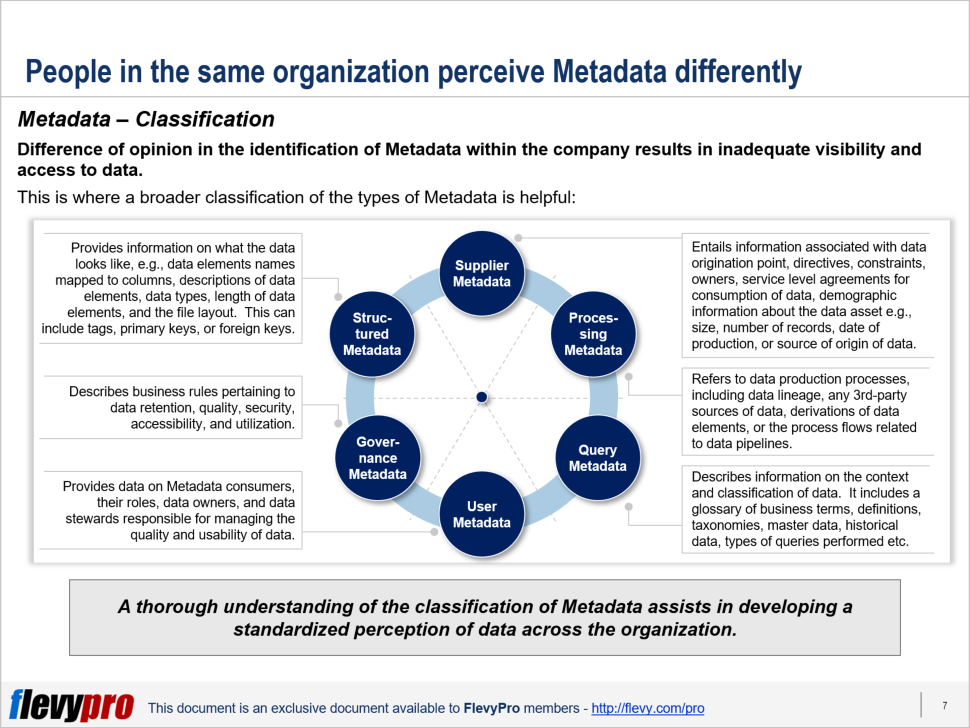 Structured Metadata
Structured Metadata provides information on what the data looks like, e.g., data elements names mapped to columns, descriptions of data elements, data types, length of data elements, and the file layout.  This can include tags, primary keys, or foreign keys.
Supplier Metadata
Entails information associated with data origination point, directives, constraints, owners, service level agreements for consumption of data, demographic information about the data asset e.g., size, number of records, date of production, or source of origin of data.
Processing Metadata
Refers to data production processes, including data lineage, any 3rd-party sources of data, derivations of data elements, or the process flows related to data pipelines.
Query Metadata
Describes information on the context and classification of data.  It includes a glossary of business terms, definitions, taxonomies, master data, historical data, types of queries performed etc.
User Metadata
Provides data on Metadata consumers, their roles, data owners, and data stewards responsible for managing the quality and usability of data.
Interested in learning more about the other categories and classifications of Metadata? You can download an editable PowerPoint on Metadata Management here on the Flevy documents marketplace.
Do You Find Value in This Framework?
You can download in-depth presentations on this and hundreds of similar business frameworks from the FlevyPro Library.  FlevyPro is trusted and utilized by 1000s of management consultants and corporate executives. Here's what some have to say:
"My FlevyPro subscription provides me with the most popular frameworks and decks in demand in today's market.  They not only augment my existing consulting and coaching offerings and delivery, but also keep me abreast of the latest trends, inspire new products and service offerings for my practice, and educate me in a fraction of the time and money of other solutions.  I strongly recommend FlevyPro to any consultant serious about success."

– Bill Branson, Founder at Strategic Business Architects
"As a niche strategic consulting firm, Flevy and FlevyPro frameworks and documents are an on-going reference to help us structure our findings and recommendations to our clients as well as improve their clarity, strength, and visual power.  For us, it is an invaluable resource to increase our impact and value."

– David Coloma, Consulting Area Manager at Cynertia Consulting
"FlevyPro has been a brilliant resource for me, as an independent growth consultant, to access a vast knowledge bank of presentations to support my work with clients.  In terms of RoI, the value I received from the very first presentation I downloaded paid for my subscription many times over!  The quality of the decks available allows me to punch way above my weight – it's like having the resources of a Big 4 consultancy at your fingertips at a microscopic fraction of the overhead."

– Roderick Cameron, Founding Partner at SGFE Ltd