Is Your Organization Proficient in Effectively Tapping Corporate Social Responsibility (CSR) Opportunities?
Featured Best Practice on Business Ethics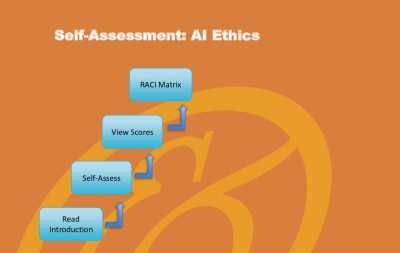 Excel workbook
The Artificial Intelligence (AI) Ethics Toolkit includes a set of best-practice templates, step-by-step workplans, and maturity diagnostics for any AI Ethics related project. Please note the above partial preview is ONLY of the Self Assessment Excel Dashboard, referenced in steps 1 and 2
[read more]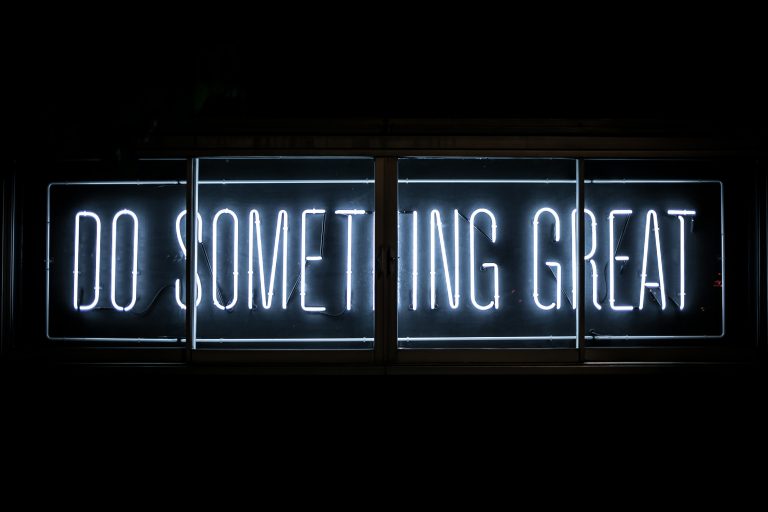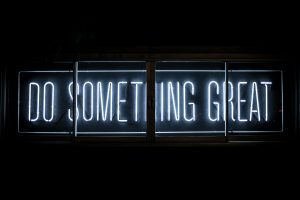 Corporate Social Responsibility (CSR) is an organization's commitment to produce an overall positive impact on society.  CSR encompasses sustainability, social and economic impact, and business ethics.  It makes a company socially accountable of its operations, stakeholders, and the public.  Businesses undertake CSR programs to benefit society while boosting their own brands.
CSR affects every aspect of business operations and functions.  Encouraging equal opportunities; partnering with organizations practicing ethical business methods; putting part of earnings back into environment, health, and safety initiatives; and taking care of communities and charity are all examples of CSR initiatives.
Communities, customers, employees, and media consider CSR vital and gauge companies based on these initiatives.  Executives of leading companies consider CSR as an opportunity to deal with critical issues innovatively, reinforce their organizations, and serve the society simultaneously.
The Need for CSR Implementation
Organizations need to come up with a robust approach to unlock potential benefits and value from CSR for them and for the society.  The organizations practicing Corporate Social Responsibility do that with one of the following 4 objectives in mind:
Philanthropy:  These initiatives (e.g. corporate donations) make the companies and society feel good, but produce low value for the business—questionable repute building benefits to companies, but offer much to society.
Propaganda:  These CSR initiatives are predominantly geared towards promoting a company's standing, but offer little real value for the society.  This form of CSR is more of advertisement and becomes risky if there are any gaps between the firm's commitments and actions.
Pet Projects:  Some companies engage in CSR initiatives that support the personal interests of senior executives.  These initiatives are much touted about, but are actually of little value to the business or community.
Smart Partnering:  These initiatives concentrate on common themes between the business and the community.  Organizations, in this case, create innovative solutions by drawing synergies from partnerships to tackle major issues concerning all stakeholders.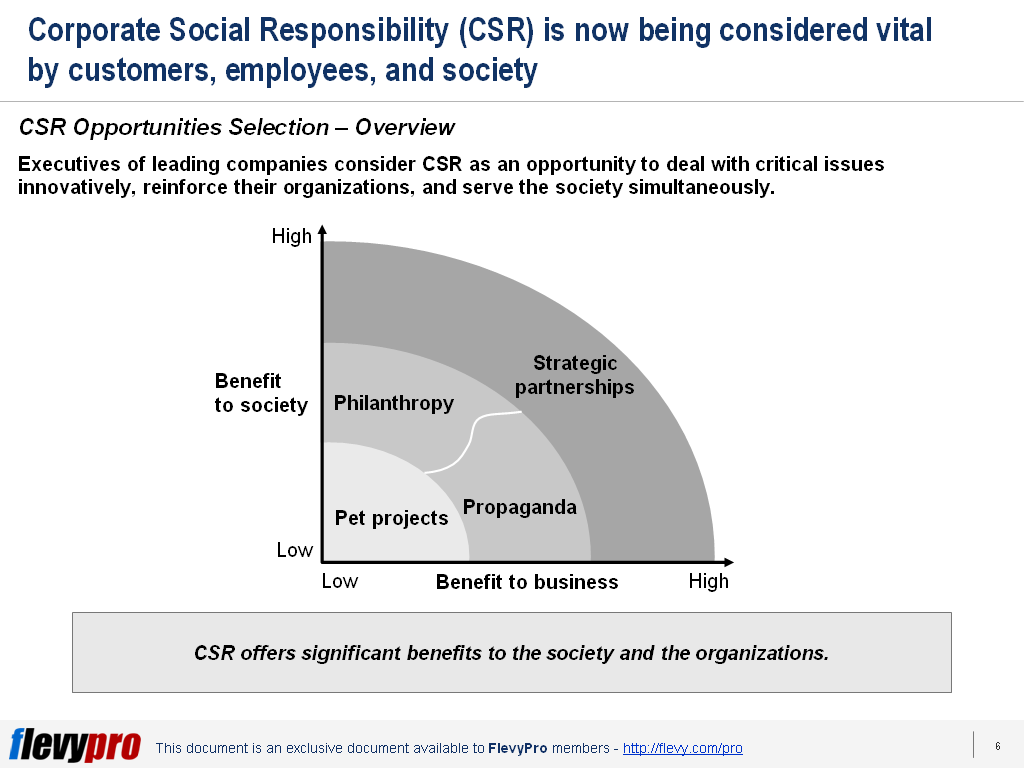 Among these objectives, Smart Partnering offers maximum opportunities for shared value creation and finding solutions to crucial business and social challenges.  Whereas for the society, smart partnering helps create more employment opportunities, improve livelihoods, and enhance the quality of life.
Guiding Principles for CSR Initiative Selection 
An effective way for the companies to maximize benefits of their CSR efforts is to map the current initiatives; identify the objectives, benefits, and resources responsible for realizing value from those initiatives; and define the projects valuable for addressing key strategic challenges.
Pet projects, philanthropy, or propaganda are easy to plan and execute.  However, the real issue is to implement CSR opportunities that bring value for the business as well as society (smart partnering).  This goal can be achieved by applying these 3 guiding principles:
Focus on the right segments
Real opportunities lie in the segments where the business collaborates with and influences the society the most.  These segments help the business interpret mutual dependencies and uncover maximum mutual benefit.
Recognize challenges and benefits
After finalizing the opportunity segments, it is imperative to appreciate the potential for mutual benefit.  The key is to find the right balance between the business and community and recognize the challenges that both sides face.
Find the right partners
Collaboration with right partners—who benefit from business endeavors and capabilities of each other—creates a win–win situation for both sides and motivates them to achieve mutual value.  Sustainable collaboration demands long-term alliances and deeper insights on the strengths of each other.
These principles are helpful in selecting appropriate CSR opportunities, identifying societal and business needs to be addressed, and the required resources and capabilities.
The Case for CSR Benefits 
The goal of unlocking mutual benefits—associated with CSR (specifically Smart Partnering)—is critical for long-term success of the program.  As required by any other strategic initiative, the mutual value creation objective needs to be carefully assessed based on the true value-creation potential, prioritized, designed, staffed, and audited.
The next step is to outline the list of potential benefits for the business and community.  A well-defined business case and a compelling story immensely helps involve and gain commitment from the senior leadership, investors, and employees.
Interested in learning more about how to tap CSR opportunities effectively? You can download an editable PowerPoint on Corporate Social Responsibility (CSR) Opportunities here on the Flevy documents marketplace.
Do You Find Value in This Framework?
You can download in-depth presentations on this and hundreds of similar business frameworks from the FlevyPro Library. FlevyPro is trusted and utilized by 1000s of management consultants and corporate executives. Here's what some have to say:
"My FlevyPro subscription provides me with the most popular frameworks and decks in demand in today's market. They not only augment my existing consulting and coaching offerings and delivery, but also keep me abreast of the latest trends, inspire new products and service offerings for my practice, and educate me in a fraction of the time and money of other solutions. I strongly recommend FlevyPro to any consultant serious about success."

– Bill Branson, Founder at Strategic Business Architects
"As a niche strategic consulting firm, Flevy and FlevyPro frameworks and documents are an on-going reference to help us structure our findings and recommendations to our clients as well as improve their clarity, strength, and visual power. For us, it is an invaluable resource to increase our impact and value."

– David Coloma, Consulting Area Manager at Cynertia Consulting
"As a small business owner, the resource material available from FlevyPro has proven to be invaluable. The ability to search for material on demand based our project events and client requirements was great for me and proved very beneficial to my clients. Importantly, being able to easily edit and tailor the material for specific purposes helped us to make presentations, knowledge sharing, and toolkit development, which formed part of the overall program collateral. While FlevyPro contains resource material that any consultancy, project or delivery firm must have, it is an essential part of a small firm or independent consultant's toolbox."

– Michael Duff, Managing Director at Change Strategy (UK)
"FlevyPro has been a brilliant resource for me, as an independent growth consultant, to access a vast knowledge bank of presentations to support my work with clients. In terms of RoI, the value I received from the very first presentation I downloaded paid for my subscription many times over! The quality of the decks available allows me to punch way above my weight – it's like having the resources of a Big 4 consultancy at your fingertips at a microscopic fraction of the overhead."

– Roderick Cameron, Founding Partner at SGFE Ltd
"Several times a month, I browse FlevyPro for presentations relevant to the job challenge I have (I am a consultant). When the subject requires it, I explore further and buy from the Flevy Marketplace. On all occasions, I read them, analyze them. I take the most relevant and applicable ideas for my work; and, of course, all this translates to my and my clients' benefits."

– Omar Hernán Montes Parra, CEO at Quantum SFE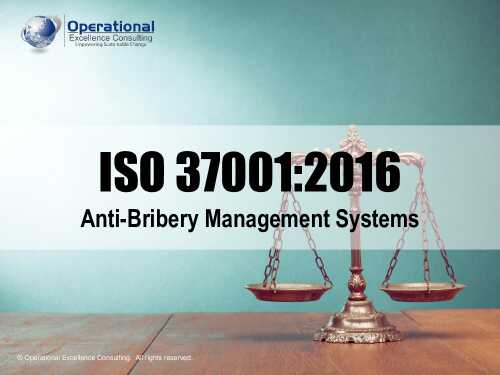 54-slide PowerPoint presentation
ISO 37001:2016 is an international standard designed and formulated to help organizations implement a robust Anti-Bribery Management System (ABMS). The standard specifies a series of measures to help organizations prevent, detect and address bribery. It is designed to help your
[read more]
Readers of This Article Are Interested in These Resources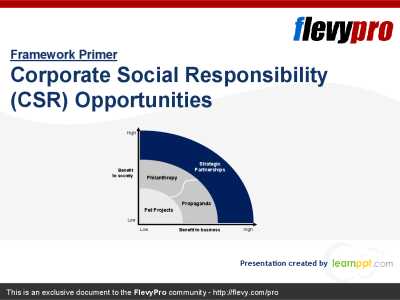 21-slide PowerPoint presentation
Corporate Social Responsibility (CSR) is an organization's commitment to produce an overall positive impact on society. CSR encompasses sustainability, social and economic impact, and business ethics. It makes a company socially accountable of its operations, stakeholders, and to the
[read more]
24-slide PowerPoint presentation

22-slide PowerPoint presentation
About Mark Bridges
Mark Bridges is a Senior Director of Strategy at Flevy. Flevy is your go-to resource for best practices in business management, covering management topics from
Strategic Planning
to
Operational Excellence
to
Digital Transformation
(
view full list here
). Learn how the Fortune 100 and global consulting firms do it. Improve the growth and efficiency of your organization by leveraging Flevy's library of best practice methodologies and templates. Prior to Flevy, Mark worked as an Associate at McKinsey & Co. and holds an MBA from the Booth School of Business at the University of Chicago. You can
connect with Mark on LinkedIn here.
Top 10 Recommended Documents on Business Ethics
Excel workbook
54-slide PowerPoint presentation
21-slide PowerPoint presentation
24-slide PowerPoint presentation
22-slide PowerPoint presentation
29-slide PowerPoint presentation
23-slide PowerPoint presentation
24-slide PowerPoint presentation
22-slide PowerPoint presentation
25-slide PowerPoint presentation

» View more resources Business Ethics here.
» View the Top 100 Best Practices on Flevy.