Editor's Note:  Peter DiGiammarino is a professional CEO and founder of growth strategy consulting firm, IntelliVen.  IntelliVen is also an author on Flevy, producing a series of frameworks covering a variety of management and leadership topics.  View all this Flevy materials here.
* * * *
The year is more than half over and it is time to start planning for next year but the top team is maxed-out just keeping up with operations! Outside help may be just the thing.
There are four types of help… here is a guide you can use to decide which is right for your team.
About consultants… what is the difference between them?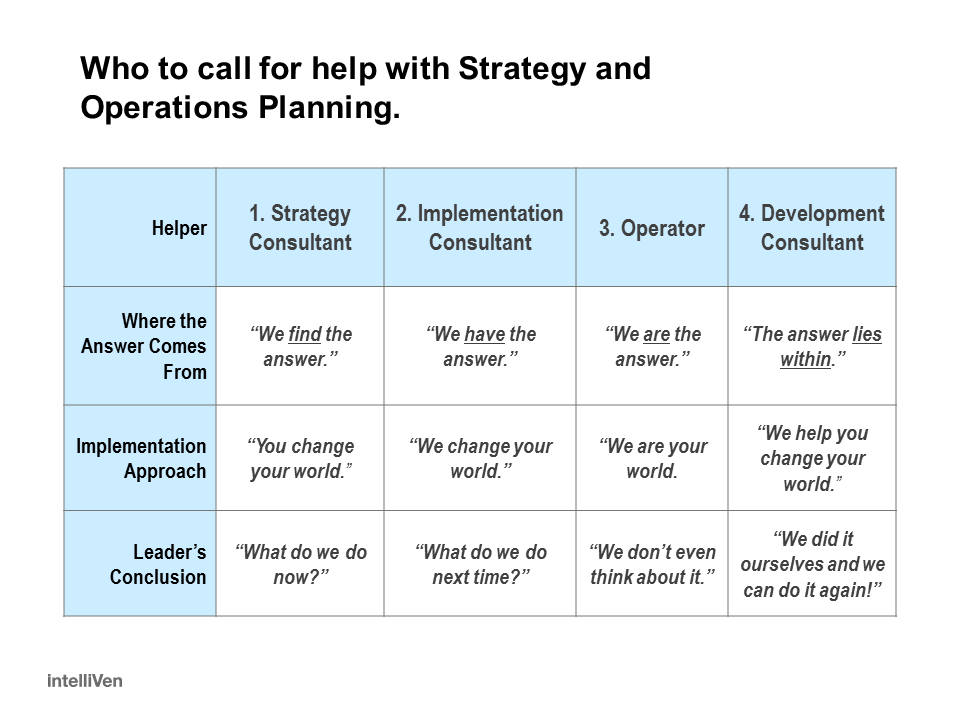 1. Strategy Consultants
WHAT THE LEADER WANTS:

 Strategy consultants compare organization performance with others in similar and different industries to recommend what is possible in light of advances in technology and trends.
THE REALITY:

 The challenge is for leaders to internalize and adopt new ideas as their own, especially in light of what it will take to implement them. Strategy consultants are known for good ideas and not for helping clients follow their advice.
EXAMPLE FIRMS:

 McKinsey, Bain, BCG, and IDEO.
2. Implementation Consultants
WHAT THE LEADER WANTS:

 Leaders who know what they want to do need a way to do it. Implementation Consultants assign a team to work with an organization to get done what is needed.
THE REALITY:

 The challenge is that internal competence and capacity to maintain, extend, support, and revise what is delivered is often not enough to get full value and the organization remains dependent on outside help to address similar future needs.
EXAMPLE FIRMS

: Booz Allen and Accenture.
3. Operators
WHAT THE LEADER WANTS:

 Leaders who choose to outsource part of their business turn to third-parties who provide the service for hire.
THE REALITY:

 Contracted Operators take full responsibility for what to do, how to do it, and getting it done at a best practice level. The organization has to learn to work with and manage the outsourcer(s) but no longer needs to worry about what to do with outsourced function(s).
EXAMPLE FIRMS: 

 EDS, CGI, and CSRA.
4. Development Consultants
WHAT THE LEADER WANTS:

 Leaders who know their team can figure out what to do, and do it, if only they had the time and some help to work better together turn to Development Consultants.
THE REALITY:

 Aligned leaders who know how to collaborate accomplish things far greater than even they had any idea that they could.
EXAMPLE FIRMS:

 Organization Development consultants, CEO Coaches, and experienced executives, including IntelliVen.