Technology and changing attitudes to the workplace are driving a transformation of corporate real estate. Gone are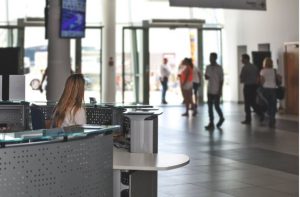 the days when the real estate function was an overhead and its professionals solely as engineers. FM is coming of age.
The next generation of real estate professionals will resemble business managers and leaders. They will combine empathy, strategic thinking, commercial expertise, and an eye for innovation and continuous improvement.
Facilities Management (FM) will be an enabler of change and agility. It will be changing from an asset, building and plant centered activity to an end user and outcome focused activity. There are 10 key trends that are transforming the world of work and commercial real estate. Having a good understanding of the 10 trends will allow FM professionals to better manage the transformation of corporate real estate.
The 10 Top Trends in Facilities Management
With the changing world of Facilities Management (FM), companies must be clear exactly what they want to measure and manage. The 10 Key Trends in Facilities Management represent a huge opportunity for FM professionals to demonstrate its strategic relevance to the C-Suite as a driver of corporate performance.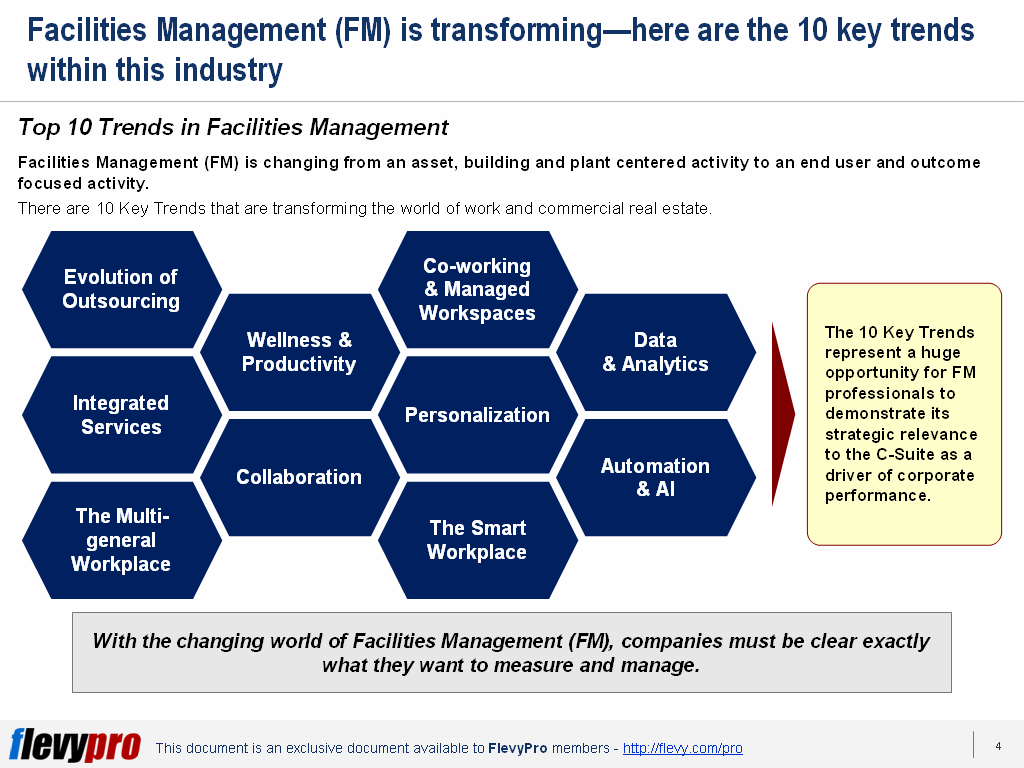 1. Evolution of Outsourcing
Outsourcing will increasingly evolve into delivering more complex services. By 2025, it is expected that global outsourced market in FM services will reach $1 trillion in value.
2. Integrated Service
C-Suite and corporate real estate executive will now demand more integrated processes. Advisory and transaction services, Facilities Management, and project services are expected to be integrated under one supplier and point of control.
3. The Multi-generational Workplace
A Multi-generational Workplace will require a holistic balanced workplace strategy. Tech-savvy, connected, urban, and educated Millennials will make up half of the global workforce by 2020. By then, organizations will be a fusion of baby boomers, Generation X, and Millennials in one workplace.
4. Wellness & Productivity
In the next 10 years, wellness and productivity shall be crucial in employees' recruitment and retention.
5. Collaboration
Better collaboration with customers, colleagues, and co-workers will be the main driver of workplace strategy. By 2025, companies can expect the existence of 3 levels of collaboration: the formal, the informal, and the serendipitous.
6. Co-working & Managed Workspaces
Technology is driving a growing appetite for Co-working & Managed Workspaces. In the evolving dynamics of corporate real estate, this will now become a necessity. A much broader range of occupier types are adopting service workspaces. Hence, service offices must be ready to address accommodation needs over the next 3 years.
7. Personalization
Technology is changing the way we shop. Significantly, this will have an impact on the retail portfolio. Personalization is pushing brands to shift its retail operation to conform to changing consumer demands
Online channels will soon play an increasingly dominant role in the customer journey.
8. The Smart Workplace
The Smart Workplace is efficient and intelligent use of Internet of Things (IoT). The Internet of Things (IoT) will make possible the use of 25 billion connected things by 2020.
9. Data & Analytics
By 2025, data analytics will be critical in addressing issues on energy savings, reduction of total life cycle costs, business efficiency, and sustainability. In achieving real estate goals, companies must have smart capabilities in using data & analytics.
10. Automation & AI
The market for robotics is small, but growing. In 2017 and 2018, one of the most talked about trends across industries was Robotics Process Automation (RPA).  By 2025, technological innovation or immigration will be supplementing the workforce. As sensor technologies open up new robot applications, the total number in facilities maintenance will increase.
Are We Ready?
The Top 10 Trends in Facilities Management is telling us what to expect. But, are we ready? There are no technological constraints to what is possible. Yet, for workplace to be smart, it must have smart insights and smart strategies.
Interested in gaining more insights on the impact of the Top 10 Trends in Facilities Management on companies and how we can better manage it? You can learn more and download an editable Powerpoint about The Top 10 Trends of  Facilities Management here on the Flevy documents marketplace.
Do You Find Value in This Framework?
You can download in-depth presentations on this and hundreds of similar business frameworks from the FlevyPro Library. FlevyPro is trusted and utilized by 1000s of management consultants and corporate executives. Here's what some have to say:
"My FlevyPro subscription provides me with the most popular frameworks and decks in demand in today's market. They not only augment my existing consulting and coaching offerings and delivery, but also keep me abreast of the latest trends, inspire new products and service offerings for my practice, and educate me in a fraction of the time and money of other solutions. I strongly recommend FlevyPro to any consultant serious about success."

– Bill Branson, Founder at Strategic Business Architects
"As a niche strategic consulting firm, Flevy and FlevyPro frameworks and documents are an on-going reference to help us structure our findings and recommendations to our clients as well as improve their clarity, strength, and visual power. For us, it is an invaluable resource to increase our impact and value."

– David Coloma, Consulting Area Manager at Cynertia Consulting
"As a small business owner, the resource material available from FlevyPro has proven to be invaluable. The ability to search for material on demand based our project events and client requirements was great for me and proved very beneficial to my clients. Importantly, being able to easily edit and tailor the material for specific purposes helped us to make presentations, knowledge sharing, and toolkit development, which formed part of the overall program collateral. While FlevyPro contains resource material that any consultancy, project or delivery firm must have, it is an essential part of a small firm or independent consultant's toolbox."

– Michael Duff, Managing Director at Change Strategy (UK)
"FlevyPro has been a brilliant resource for me, as an independent growth consultant, to access a vast knowledge bank of presentations to support my work with clients. In terms of RoI, the value I received from the very first presentation I downloaded paid for my subscription many times over! The quality of the decks available allows me to punch way above my weight – it's like having the resources of a Big 4 consultancy at your fingertips at a microscopic fraction of the overhead."

– Roderick Cameron, Founding Partner at SGFE Ltd
"Several times a month, I browse FlevyPro for presentations relevant to the job challenge I have (I am a consultant). When the subject requires it, I explore further and buy from the Flevy Marketplace. On all occasions, I read them, analyze them. I take the most relevant and applicable ideas for my work; and, of course, all this translates to my and my clients' benefits."

– Omar Hernán Montes Parra, CEO at Quantum SFE