Data Governance: Roles and Responsibilities
Featured Best Practice on Data Governance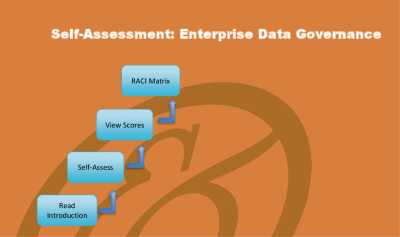 Excel workbook
Save time, empower your teams and effectively upgrade your processes with access to this practical Enterprise Data Governance Toolkit and guide. Address common challenges with best-practice templates, step-by-step work plans and maturity diagnostics for any Enterprise Data Governance related
[read more]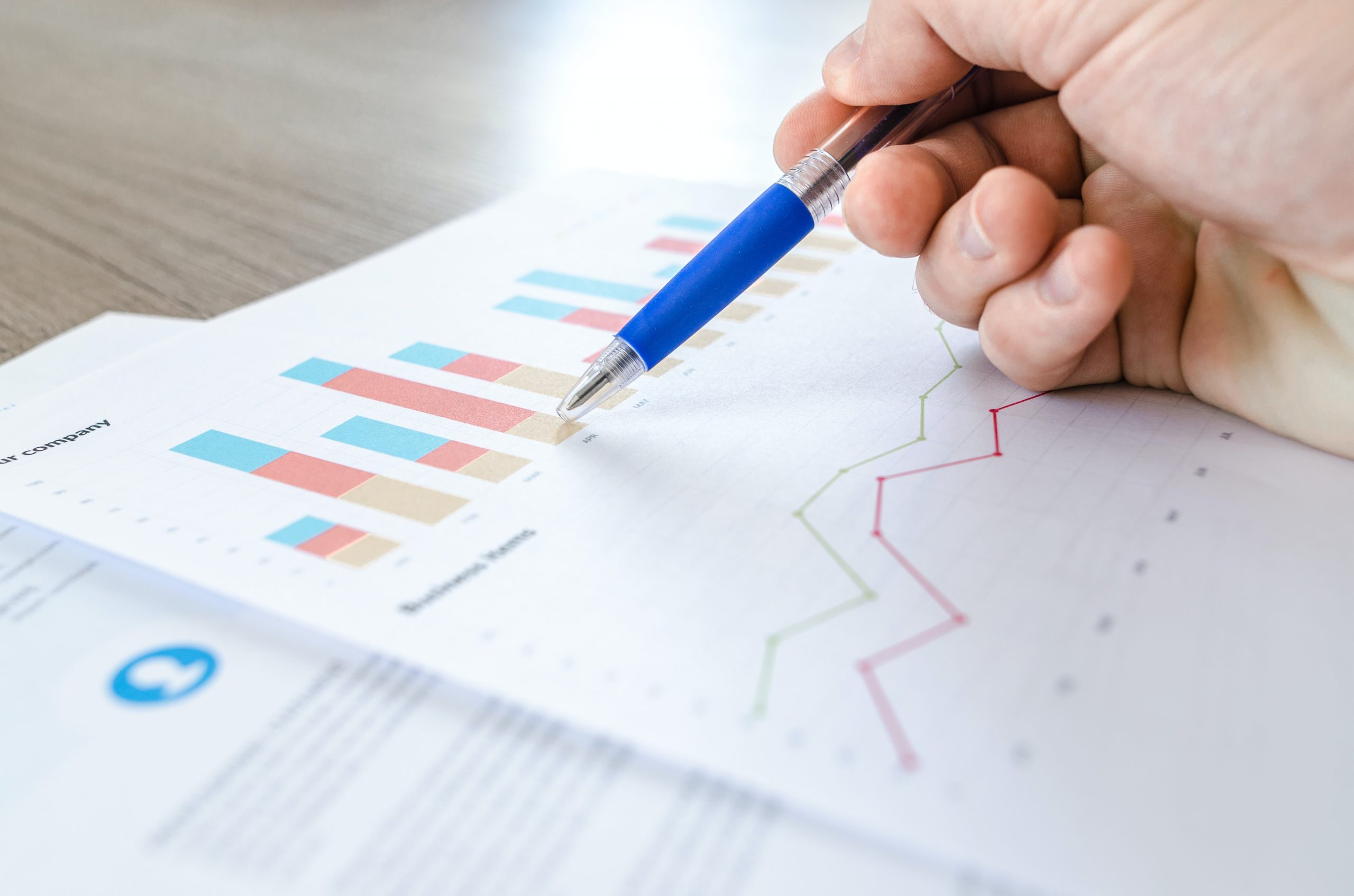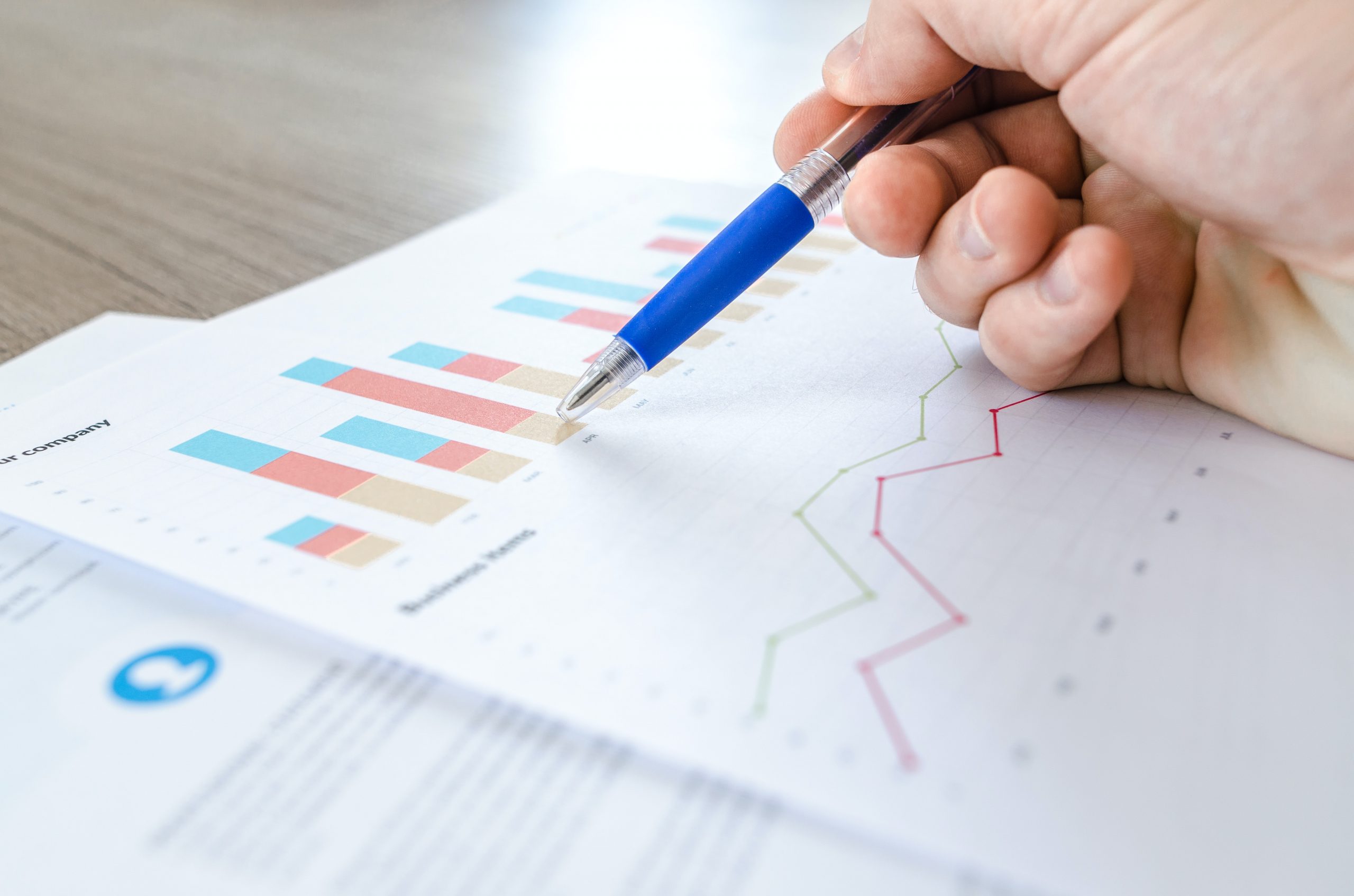 Data Governance is a set of practices that outline the roles and accountabilities related to data and support the organization's Business Model by generating and consuming data.  It's all about overseeing the accessibility, practicality, reliability and safety of enterprise data.
Data Governance is guided by in-house data standards and guidelines to monitor data usage.  The process safeguards data uniformity, dependability, and fair use.  The success of a Data Governance initiative should be measured by its expected business benefits or organizational growth—not just data security and usability.
Incoherent data creates hurdles in Data Analytics and business operations.  Data protection initiatives should be managed by structured Data Governance roles.  An organized team is critical for success of a Data Governance program.
Data standardization, precision, security and governance isn't the sole dominion of IT people; it's a team effort.  These tasks involve participation of a number of stakeholders from across the organization.  Data Governance program includes people from the business side, data management personnel, and IT recruiters.  The convergence of IT and business people in a Data Governance program allows for a bigger picture perspective on governing the organizational data.
The functions of the IT and business users in the Data Governance initiative can be demarcated as:
IT People
The IT resources responsible for the Data Governance program focus on data safekeeping, modeling and standardization.  They are responsible for taking care of the fundamental infrastructure, applications, Automation, compatibility with all tools and apps, and execution of Data Governance policies.
Business People
The business people in the Data Governance team, on the other hand, focus on ensuring data access, excellence, and responsiveness.  Business users oversee the value assigned to the data, its utilization in fulfilling organizational objectives, and solving complex problems.  Business users come up with common data definitions, key performance indicators to measure the quality of data, and support in administering governance policies and procedures.
The key roles that are mandatory for Data Governance initiatives include:
Data Governance Council
Data Stewards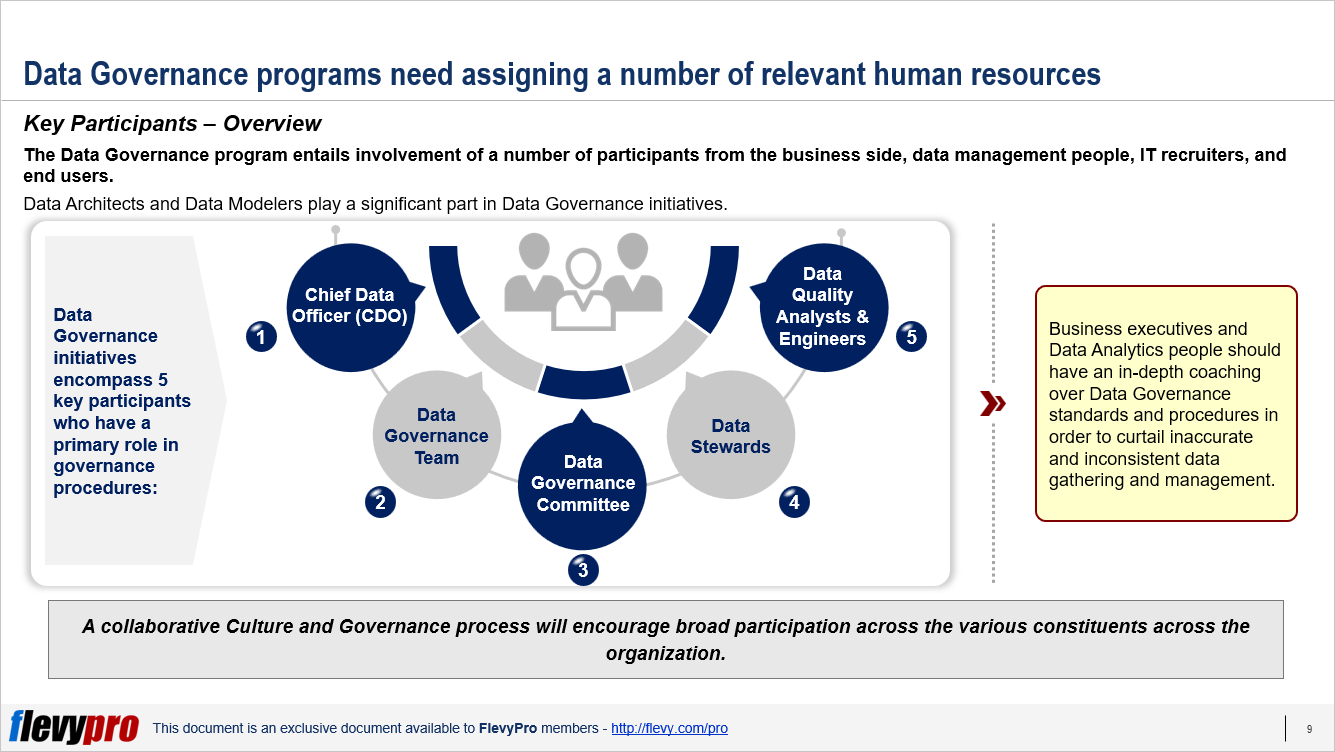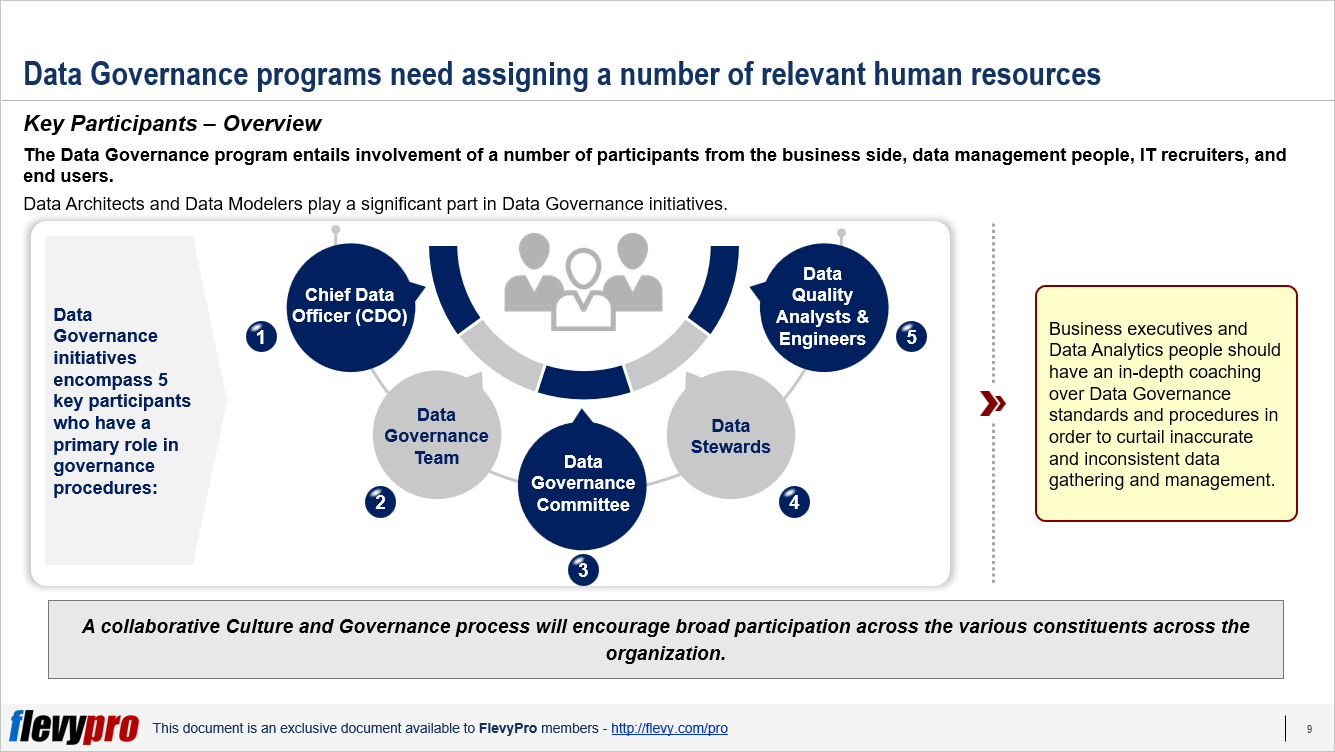 Let's now delve deeper into the details of some of these key roles.
Leadership
Data Governance programs commence with assigning an executive Data Governance sponsor.  The executive sponsor ensures availability of critical investments and expert Human Resources and clearly laying out the overall understanding and objectives of the initiative.
The Executive Data Governance Sponsor role, at several large organizations, is assigned to a Chief Data Officer (CDO) or a Data Governance Manager, at other enterprises.  The CDO, or Data Governance Manager, is responsible for:
Aligning the Data Governance policy with the overall goals of the Business Strategy.
The CDO should possess the technical knowledge required to manage the Data Governance process and policies in addition to having management competencies.
Managing all correspondence and internal messaging related to the Data Governance initiative.
Analyzing progress of the Data Governance program and ensuring its schedule and budget targets.
Coordinating the tasks to be carried out by the Data Governance Council.
Data Governance Council
The Data Governance Council (DGC) acts as a steering committee to strategically direct the design and implementation of the Data Governance Program.  The Data Governance Council comprises:
Technical, business and legal experts.
Data stewards from the various departments.
A C-suite executive to direct the strategic constituent of the program.
Data analysts to analyze trends.
DGC is responsible for:
Rendering strategic direction and planning to manage the organizational data.
Establishing objectives for the initiative.
Ascertaining the requirements for Data Governance.
Developing and authorizing data standards, policies, business rules and program procurement.
Resolving issues escalated by the Data Stewards.
Sharing the results of the program.
Interested in learning more about the roles and responsibilities pertaining to a Data Governance initiative?  You can download an editable PowerPoint on Data Governance: Roles & Responsibilities here on the Flevy documents marketplace.
Do You Find Value in This Framework?
You can download in-depth presentations on this and hundreds of similar business frameworks from the FlevyPro Library.  FlevyPro is trusted and utilized by 1000s of management consultants and corporate executives.  Here's what some have to say:
"My FlevyPro subscription provides me with the most popular frameworks and decks in demand in today's market.  They not only augment my existing consulting and coaching offerings and delivery, but also keep me abreast of the latest trends, inspire new products and service offerings for my practice, and educate me in a fraction of the time and money of other solutions.  I strongly recommend FlevyPro to any consultant serious about success."
– Bill Branson, Founder at Strategic Business Architects
"As a niche strategic consulting firm, Flevy and FlevyPro frameworks and documents are an on-going reference to help us structure our findings and recommendations to our clients as well as improve their clarity, strength, and visual power.  For us, it is an invaluable resource to increase our impact and value."
– David Coloma, Consulting Area Manager at Cynertia Consulting
"FlevyPro has been a brilliant resource for me, as an independent growth consultant, to access a vast knowledge bank of presentations to support my work with clients.  In terms of RoI, the value I received from the very first presentation I downloaded paid for my subscription many times over!  The quality of the decks available allows me to punch way above my weight – it's like having the resources of a Big 4 consultancy at your fingertips at a microscopic fraction of the overhead."
– Roderick Cameron, Founding Partner at SGFE Ltd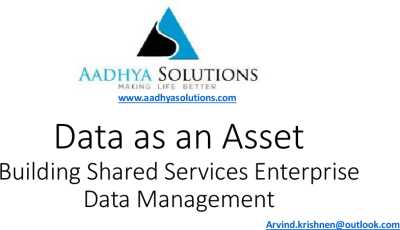 38-slide PowerPoint presentation
This is a comprehensive document that details how an enterprise wide shared services model for data management could transform IT business synergy, while creating increased ROI. The strategy document details: 1. Common Issues when adequate data architecture & governance processes are not in
[read more]
Readers of This Article Are Interested in These Resources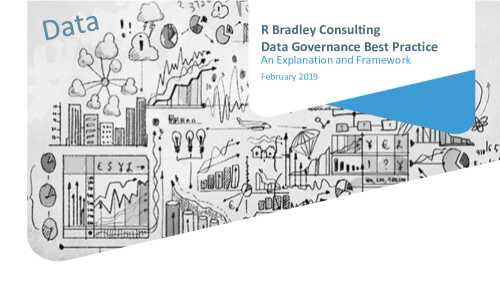 21-slide PowerPoint presentation
This document describes the core elements of data governance. From "why" through to descriptions of specific roles it presents a comprehensive structure to how you should be applying data governance, what you can achieve and what your current issues are likely to be.
24-slide PowerPoint presentation

23-slide PowerPoint presentation
About Mark Bridges
Mark Bridges is a Senior Director of Strategy at Flevy. Flevy is your go-to resource for best practices in business management, covering management topics from
Strategic Planning
to
Operational Excellence
to
Digital Transformation
(
view full list here
). Learn how the Fortune 100 and global consulting firms do it. Improve the growth and efficiency of your organization by leveraging Flevy's library of best practice methodologies and templates. Prior to Flevy, Mark worked as an Associate at McKinsey & Co. and holds an MBA from the Booth School of Business at the University of Chicago. You can
connect with Mark on LinkedIn here.
Top 10 Recommended Documents on Data Governance
Excel workbook
38-slide PowerPoint presentation
21-slide PowerPoint presentation
This document describes the core elements of data governance. From "why" through to descriptions of specific roles it presents a comprehensive structure to how you should be applying data governance, what you can achieve and what your current issues are likely to be.
24-slide PowerPoint presentation
23-slide PowerPoint presentation
23-slide PowerPoint presentation
23-slide PowerPoint presentation
35-slide PowerPoint presentation
54-slide PowerPoint presentation
Excel workbook

» View more resources Data Governance here.
» View the Top 100 Best Practices on Flevy.