Corporate Compliance: Ending Unethical Behavior
Featured Best Practice on Business Ethics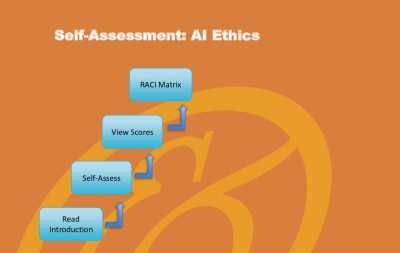 Excel workbook
The Artificial Intelligence (AI) Ethics Toolkit includes a set of best-practice templates, step-by-step workplans, and maturity diagnostics for any AI Ethics related project. Please note the above partial preview is ONLY of the Self Assessment Excel Dashboard, referenced in steps 1 and 2
[read more]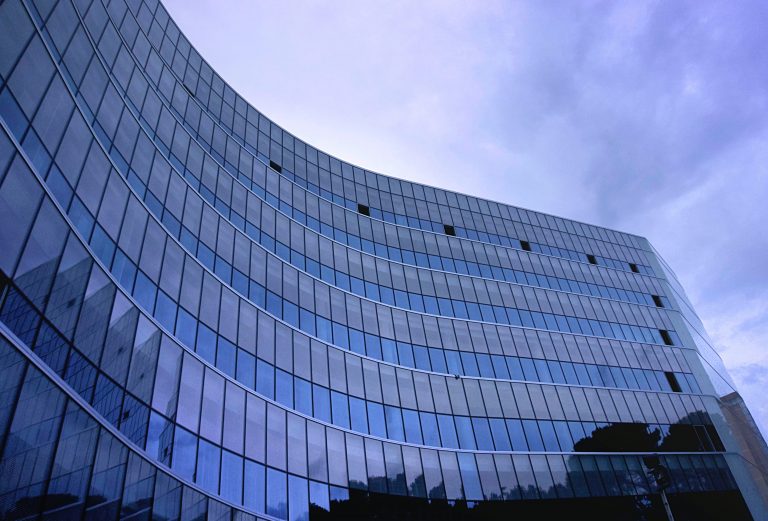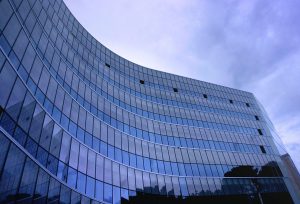 Corporate non-compliance is a major issue across the world.  Highly public cases involving major corporations point to the fact that the usual descriptions of why business employees perform illegal acts are misdirected.
No Compliance Program can completely eradicate unwanted conduct by a few employees.  Behaviorally aware programs, however, show potential of realizing the main goals of Compliance i.e., reduction in unethical and illegal behavior within the company.
To this end, cognizance of employee behavior is vital, of which Decision-making is the most important part.  Humans make decisions using 2 ways:
Intuitive—referred to by psychologists as System 1—This Decision-making happens by associative memory and habit, which hampers control or alteration. Rapid associations are offered by the mind, idea after idea, all associated effortlessly.
Reasoning—referred to by psychologists as System 2—This Decision-making is employed using thought in an ordered way e.g., to answer complicated math problems, to compose a paragraph, or consider multidimensional decisions.
Since System 2 takes more mental effort, humans tend to rely mostly on System 1 for most of the Decision-making.  The problem with that is people tend to use System 2 to justify decisions made using System 1 instead of judging their decisions by it.
Although Behavioral Ethics Research is the foundation for studying System 2's failure to prevent Unethical Behavior, it does not completely explain it.  Criminology helps us go further in this regard.
Criminologist point at fulfilment of 3 conditions for an unethical act to occur:
A non-shareable problem.
Problem has to be solved by violating trust.
Verbalization has to occur.
Effective methods for compliance pay attention not on the way government regulators respond to compliance initiatives rather on how employees—the actual users—will be affected.
Behavioral Strategy in conjunction with criminological insights suggests the following 3 cost-effective steps that companies can take to steer away from the innate behavior of serving self-interest that results in compliance violations:
Appoint Behavioral Expert.
Eliminate the root-cause via best practices.
Employ inducements to direct behavior.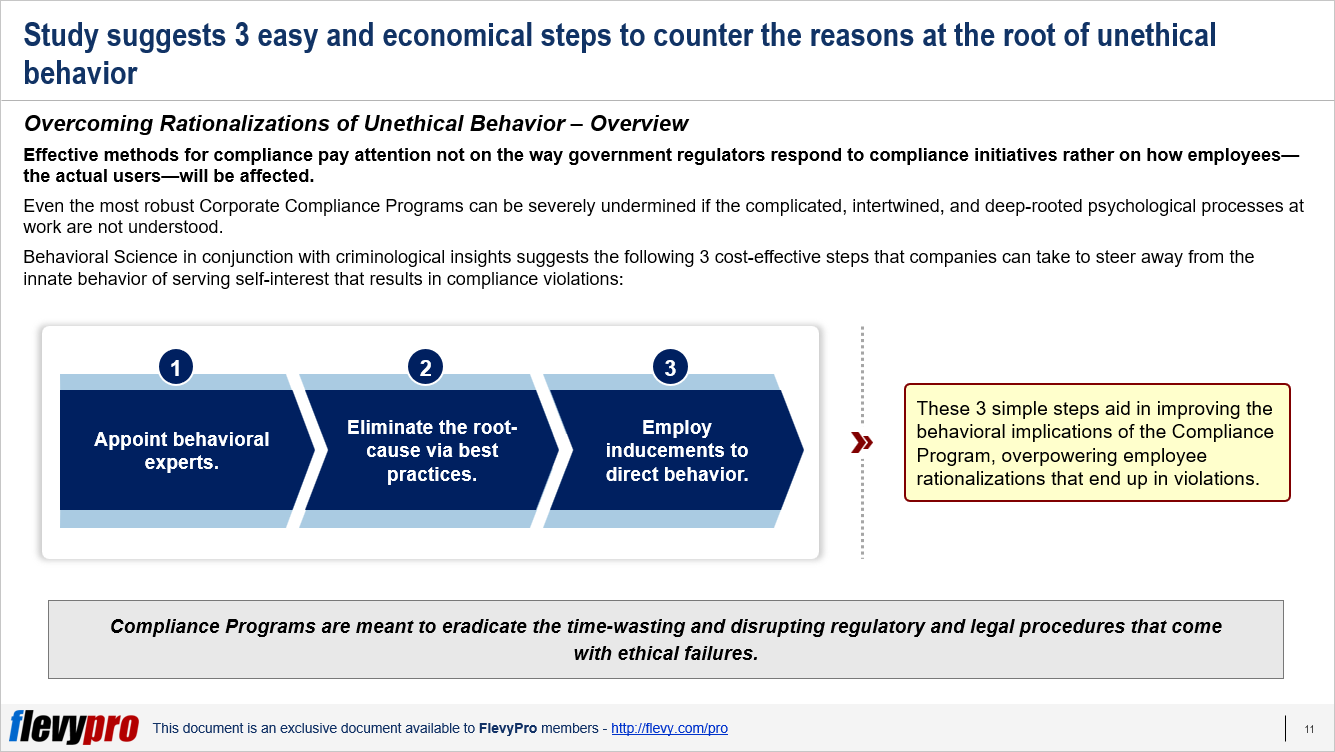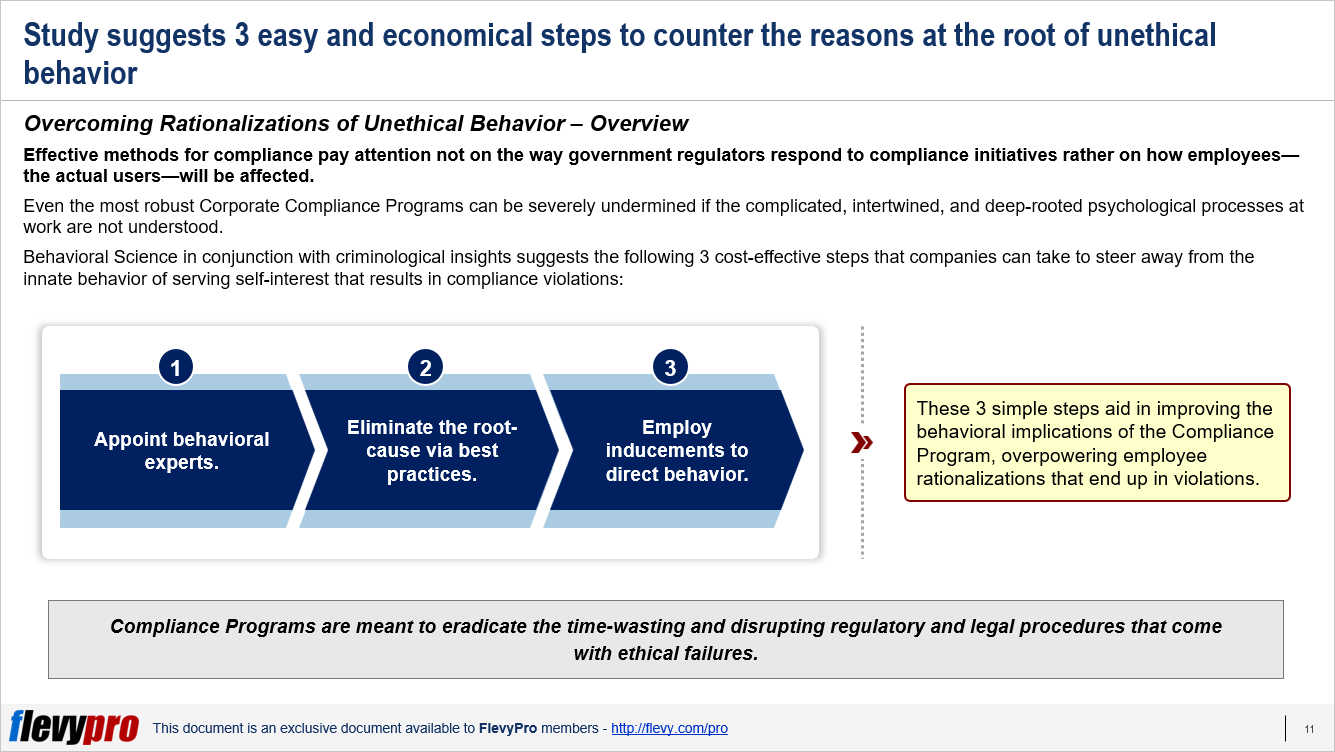 These 3 simple steps aid in improving the behavioral implications of the Compliance Program, overpowering employee rationalizations that end up in violations.
Let us delve a little deeper into some details of the 3 steps.
Appoint Behavioral Expert
Objective of this step is to apply various theories like dual system of thinking, rationalization, and behavioral ethics—which have been in existence for quite some time—to the business particularly to compliance related issues in a holistic fashion.  Companies are just starting to realize the significance and effectiveness of this practice.
Hiring an expert externally or developing someone internally, to stay informed of the different fields and their growing insights into ethical business decision making, is the 1st step in ensuring compliance with ethical behavior.
Eliminate the root-cause via best practices
The next step involves employing best practices—motivated by Behavioral Science which is at the core of criminology and behavioral ethics, such as nipping violation risk in the bud through preliminary declarations, having moderated conversations among employees, sharing success stories—to stamp out the root cause of unethical behavior.  Compliance Programs should have the objective of eradicating rationalizations, if they are deemed to be the cause and root of employee misconduct. 
Employ inducements to direct behavior
The last step entails deploying appropriate reward and incentive structures—monetary, otherwise, or in combination—to positively influence the way compliance is viewed by employees within an organization.
Research suggests that in case of significant corporate trust violations, the main reason, frequently, pertains less with a rogue employee and more with sections of the organization that are dysfunctional, conflicting, or incongruent.
Interested in learning more about Ending Non-compliance and Unethical Behavior in companies?  You can download an editable PowerPoint on Corporate Compliance: Ending Unethical Behavior here on the Flevy documents marketplace.
Do You Find Value in This Framework?
You can download in-depth presentations on this and hundreds of similar business frameworks from the FlevyPro Library.  FlevyPro is trusted and utilized by 1000s of management consultants and corporate executives.  Here's what some have to say:
"My FlevyPro subscription provides me with the most popular frameworks and decks in demand in today's market.  They not only augment my existing consulting and coaching offerings and delivery, but also keep me abreast of the latest trends, inspire new products and service offerings for my practice, and educate me in a fraction of the time and money of other solutions.  I strongly recommend FlevyPro to any consultant serious about success."

– Bill Branson, Founder at Strategic Business Architects
"As a niche strategic consulting firm, Flevy and FlevyPro frameworks and documents are an on-going reference to help us structure our findings and recommendations to our clients as well as improve their clarity, strength, and visual power.  For us, it is an invaluable resource to increase our impact and value."

– David Coloma, Consulting Area Manager at Cynertia Consulting
"FlevyPro has been a brilliant resource for me, as an independent growth consultant, to access a vast knowledge bank of presentations to support my work with clients.  In terms of RoI, the value I received from the very first presentation I downloaded paid for my subscription many times over!  The quality of the decks available allows me to punch way above my weight–it's like having the resources of a Big 4 consultancy at your fingertips at a microscopic fraction of the overhead."

– Roderick Cameron, Founding Partner at SGFE Ltd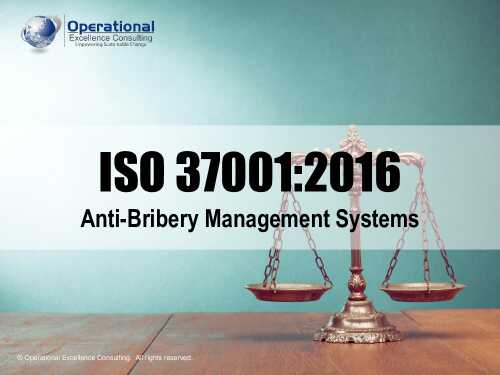 54-slide PowerPoint presentation
ISO 37001:2016 is an international standard designed and formulated to help organizations implement a robust Anti-Bribery Management System (ABMS). The standard specifies a series of measures to help organizations prevent, detect and address bribery. It is designed to help your
[read more]
Readers of This Article Are Interested in These Resources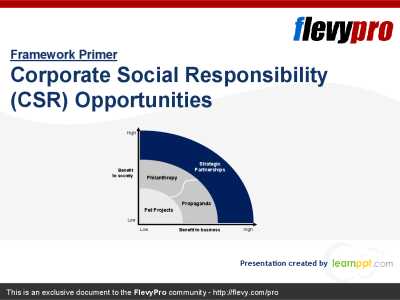 21-slide PowerPoint presentation
Corporate Social Responsibility (CSR) is an organization's commitment to produce an overall positive impact on society. CSR encompasses sustainability, social and economic impact, and business ethics. It makes a company socially accountable of its operations, stakeholders, and to the
[read more]
24-slide PowerPoint presentation

22-slide PowerPoint presentation
About Mark Bridges
Mark Bridges is a Senior Director of Strategy at Flevy. Flevy is your go-to resource for best practices in business management, covering management topics from
Strategic Planning
to
Operational Excellence
to
Digital Transformation
(
view full list here
). Learn how the Fortune 100 and global consulting firms do it. Improve the growth and efficiency of your organization by leveraging Flevy's library of best practice methodologies and templates. Prior to Flevy, Mark worked as an Associate at McKinsey & Co. and holds an MBA from the Booth School of Business at the University of Chicago. You can
connect with Mark on LinkedIn here.
Top 10 Recommended Documents on Business Ethics
Excel workbook
54-slide PowerPoint presentation
21-slide PowerPoint presentation
24-slide PowerPoint presentation
22-slide PowerPoint presentation
29-slide PowerPoint presentation
23-slide PowerPoint presentation
24-slide PowerPoint presentation
22-slide PowerPoint presentation
25-slide PowerPoint presentation

» View more resources Business Ethics here.
» View the Top 100 Best Practices on Flevy.