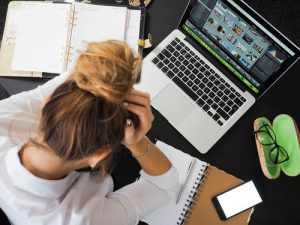 Work anxiety is not rare. 40 percent of people have to deal with its symptoms on a day-to-day basis. Anxiety affects employee wellbeing and prevents them from reaching their full potential at work. Let's discuss what anxiety is and how to choose the best strategies to help your employees cope with it.
An Overview of Work Anxiety
Sometimes feeling nervous is natural. All of us might feel a little worried before giving a speech to a large audience or preparing for a job interview. However, if this feeling persists and hinders your progress, it is called anxiety. This is a disorder that requires timely interventions and treatment.
Causes
What causes anxiety in the workplace? According to ADAA, the three most common causes are deadlines, dysfunctional interpersonal communication, and staff management. However, anxiety triggers might differ depending on a person. Some people cannot handle long work hours. Others might not have enough support from colleagues or managers.
Symptoms
People with anxiety suffer from persistent, irrational worry. They tend to overreact to what seems like a minor issue at work. People avoid participation, social situations, and communication with colleagues. They even stop spending time with family and friends. The disorder makes people more irritable and tense.
Anxiety also manifests itself in physical symptoms, including:
racing heartbeat
sweating
trouble concentrating
dry mouth
trouble sleeping
fatigue
trembling
Effects
Anxiety affects employee performance, reducing productivity and job satisfaction. It results in absenteeism and poor quality of work. Anxiety also takes its toll on communication among co-workers and superiors. Estimating the effects of anxiety, WHO reports that about 50 million years of work will be lost to anxiety and depression from 2016 to 2030. This results in huge losses for the economy. Therefore, companies should be interested in providing sufficient support for their employees to help them manage anxiety in the workplace.
Tips on How to Beat Anxiety in the Workplace
The key to preventing anxiety is to create a work environment that will support employee wellbeing and performance. Here are some of the universal practices for anxiety management.
1. Maintain Healthy Workload
Excessive workload is the primary factor that causes stress and anxiety at work. Unrealistic deadlines and long work hours leave employees not time to take a pause and recharge. Therefore, it is important to create reasonable shifts and encourage people to take regular breaks. Even a five-minute break is an opportunity to relax and refocus.
Besides, a lot of people have to balance work and studies, which makes them even more prone to experiencing stress and anxiety. If this is your case, do not be afraid to reach out for help. Find ways to delegate some of your tasks. For example, you can get writing help and do my assignment with the best writers. You can also ask your colleagues for help by telling them that essay for me if you see that you have more tasks than you can handle..
2. Raise Awareness
Although anxiety is a common disorder among employees globally, it remains underdiagnosed. People continue to pressure themselves and deny symptoms of anxiety. Yet, mental illnesses do not just go away. Without intervention, they cause damage in all areas of human life.
Train all employees, especially leaders, to recognize and manage anxiety. You can organize discussions, highlight the issue in company newsletters, and provide specialized resources. Training can also involve some skills-building classes on planning and time management that will help employees to meet the expectations. Furthermore, you should make sure that employees know how to access care. Offer employee assistance programs to help them cope and keep the job. This includes longer breaks, flexible deadlines or work hours, and more co-worker support.
3. Encourage Open Communication
Social support is an important part of eliminating stress and tension in the workplace. Arrange events for your employees where they can communicate in an informal setting and get to know each other. It will help to build respect in the workplace.
Cooperation and support are crucial. A lot of employees do not communicate their concerns to the employer. The most common reason is fear. They fear losing promotion opportunities and looking uninterested in company progress. Therefore, it is important to create a supportive work environment where people feel that their concerns will be taken seriously and with proper consideration.
4. Promote Healthy Habits
Exercise helps to keep one's body in shape and builds resilience to stress and pressure. Encourage your employees to stay active during breaks. They can stretch or walk during short breaks and ride a bike or play team sports if they have more time. It is important to encourage employees to exercise in their free time as well. For example, a company can offer gym membership or organize weekly classes (yoga, aerobics, etc.).
Furthermore, healthy eating is crucial. Instead of candy bars, pizza, and fast food, you can provide healthier snacks for your employees. Some of the options are salads, fruit, vegetables, nuts, smoothies, yogurt, wholegrain crackers, etc.
Rethinking Anxiety
To help your employees stay healthy, encourage mindfulness and acceptance. Healthy company culture will help you to create an atmosphere where employees genuinely enjoy coming to work every day and feel motivated to succeed. Thus, by caring about your employees, you contribute to the growth of your company.