BENEFITS OF DOCUMENT
Provides a Policy and Procedure Team Performance Monitoring Meeting
Flowchart of SOP Team Performance Monitoring Meeting
Provides of Weekly Meeting Agenda Form and Weekly Meeting Note Form
DOCUMENT DESCRIPTION
This product (
SOP Team Performance Monitoring Meeting [Example & Template]

) is a 6-page Word document, which you can download immediately upon purchase.

SOP Team Performance Monitoring Meeting (Example & Template)

Contents :
1. Policy of Team Performance Monitoring Meeting
2. Procedure of Team Performance Monitoring Meeting
3. Flowchart of SOP Team Performance Monitoring Meeting
4. Weekly Meeting Agenda Form
5. Weekly Meeting Note Form

The purpose of this procedure is to ensure that weekly performance monitoring meetings are successful and have a positive impact on the team's and the company's business performance.

• In order to optimize team performance, each division or department should conduct weekly meetings that are focused and have a specific agenda (the agenda is described in the section below).

• Weekly meetings are held for a maximum of 60 minutes every Monday morning and have focused agendas, namely:
• Evaluate the results of the previous week's work; what worked well and what needs to be improved.
• Each team member's action plans or activities for this week, as well as the targets or the results of these actions.
• What resources or help are needed so that this week's activity plan can run with optimal results.

• The purpose of this weekly meeting is to ensure that all team members' performance is optimized and that there is always a continuous improvement process in place to develop performance levels.

• To ensure that the meeting runs efficiently, explain each issue in a direct and to-the-point manner; avoid being verbose; and always focus on concrete solutions.

Performance management is a corporate management tool that helps managers monitor and evaluate employees' work. Performance management's goal is to create an environment where people can perform to the best of their abilities and produce the highest-quality work most efficiently and effectively.

A formal performance-management program helps managers and employees see eye-to-eye about expectations, goals, and career progress, including how an individual's work aligns with the company's overall vision. Generally speaking, performance management views individuals in the context of the broader workplace system. In theory, you seek the absolute performance standard, though that is considered unattainable.

Performance-management programs use traditional tools such as creating and measuring goals, objectives, and milestones. They also aim to define what effective performance looks like and develop processes to measure performance. However, instead of using the traditional paradigm of year-end reviews, performance management turns every interaction with an employee into an occasion to learn.

Thank you.

Regards,

UJ Consulting

Got a question about the product? Email us at [email protected] or ask the author directly by using the "Ask the Author a Question" form. If you cannot view the preview above this document description, go here to view the large preview instead.

Source: Best Practices in Performance Management Word: SOP Team Performance Monitoring Meeting (Example & Template) Word (DOCX) Document, UJ Consulting

ABOUT THE AUTHOR: UJ CONSULTING

UJ Consulting

Untung Juanto ST., MM. Founder of UJ Consulting. He is professionally experienced business and management consultant in several local and multinational companies. [read more] He has an experience in managing an effective and efficient company with various approach methods adapted to different industries because He had a career from the lower management level as Supervisor before finally being at the top management level. His Top Management experience started from the position of General Manager, VP Operation, HR Director and Business Development Director

He completed his undergraduate education majoring in Architecture at Diponegoro University, Semarang, Central Java, Indonesia. After that, He continued to Master of Management level majoring in Human Resource Management with cum laude predicate with a GPA of 3.94 at Mercubuana University, Jakarta, Indonesia.

His last work experience as Deputy President Director at Hutahaean Group in charge of 14 business units engaged in various industries including CPO Production, Oil Palm Plantation, Cassava Plantation, Tapioca flour production, 4 and 5 star hotels, waterparks, golf courses and housing with a total of employees more than 3,000 employees.

His biggest achievement was in 2021 when He served as Deputy President Director at Hutahaean Group Indonesia by increasing the company's revenue from IDR 700 billion to IDR 1.1 trillion (y/y) and increasing the profit margin by more than 20%. Doing a turn around on business units that have lost in the last 5 years become profits. In addition, He have also succeeded in creating an efficient and effective management system by redesigning the Business Process Management (BPM), reviewing Standard Operating Procedures (SOP) and Work Instructions and compiling the appropriate Key Performance Indicator Management (KPIM) to increase employee productivity.

He is currently active as a part-time business and management consultant (online) at Enquire Corp. and Flevy Corp. In addition, He also teach part-time at several universities for courses in strategic management, human resource management, project management, entrepreneurship and business.

UJ Consulting has published 171 additional documents on Flevy.
---
$20.00
All fees included. Immediate download upon purchase.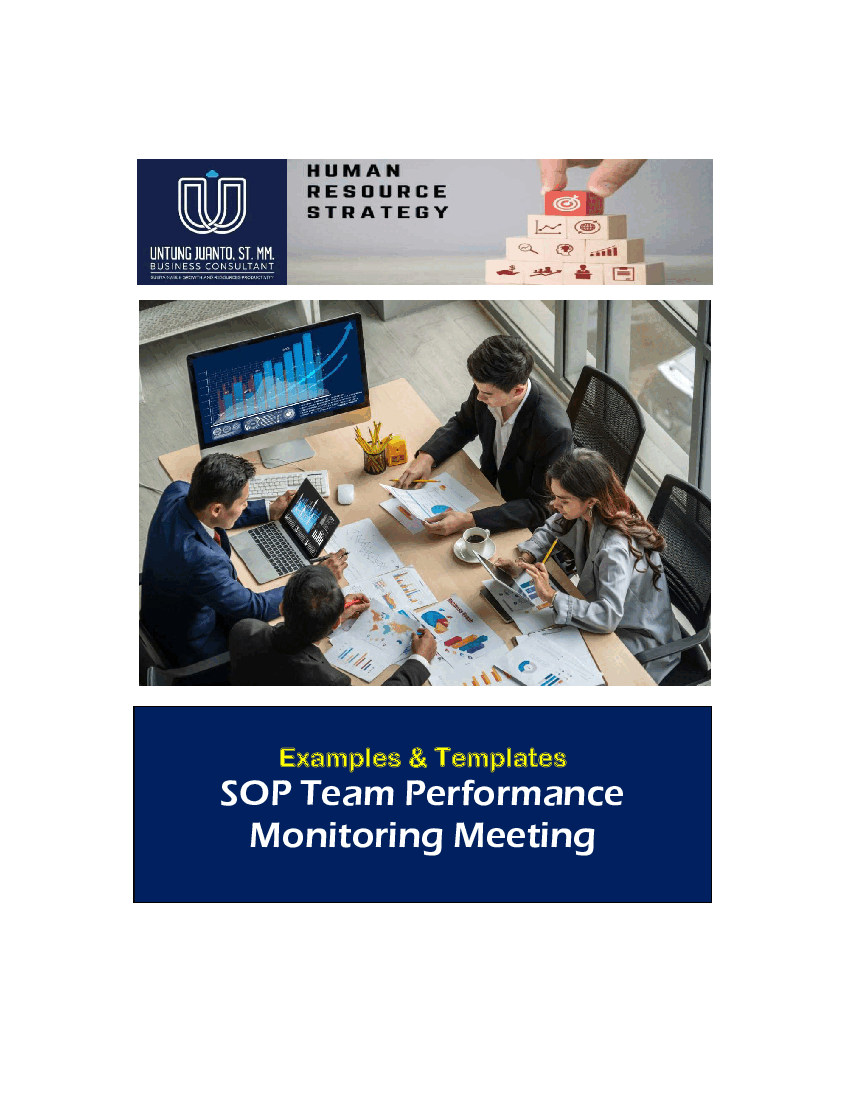 DOCUMENT DETAILS
File Size: 517.9 KB
Number of Pages: 6
Immediate digital download upon purchase.
Lifetime document updates included with purchase.
Completely editable & customizable DOCX document.
Initial upload date (first version): Dec 8, 2022
Most recent version published: Dec 12, 2022
---