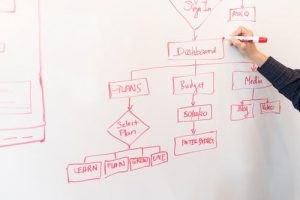 All businesses should be trying to improve their processes on a regular basis. This can be difficult without a defined standard for how a process should function and what makes it efficient. Business Process Modeling Notation (BPMN) does just that. It presents processes in a diagram that is easy to read and translate for anyone who might need it, from management to developers, to the IT department. Not only is it a clear and concise way to display business processes, but it also helps to close any gaps in communication there might be between departments, teams, and separate organizations. While it might seem complicated, BPMN makes analyzing business processes simple. For those who are not up to speed, a good BPMN tutorial with visuals will make it clear how BPMN works and what its benefits are.
A BPMN diagram shows all of the elements of a business process in visual form. These elements are either flow objects, connecting objects, or "swimlanes." These all represent various aspects of a business process. All together, they show everything that is involved from start to finish of a process. Flow charts are made up of these components.
Flow Objects
Flow objects are anything that starts a business process or changes a business process. For example, receiving an invoice could be a flow object, as could escalating an issue to a supervisor. These will all trigger a series of events that will make up a business process. A flow object can also be certain major activities where the work process can change depending on choices that are made. They can also be the points where a process changes hands from staff member to staff member or staff member to platform or software. On the diagram, these are usually represented by shapes, with similar flow objects having similar shapes.
Connecting Objects
Connecting objects show the connections between the flow objects. They are represented by lines that move from one object to another. They show the flow of the process and how it moves forward from station to station. They can include messages that need to be sent, texts and artifacts, or any other gateway between flow objects.
Swimlanes
Swimlanes are used to separate roles and participants of business processes. Connecting objects and flows can cross over the lanes to show who is accountable to which aspects of the process. They are represented by large rectangular boxes that resemble the lanes in a pool.
The entire process, department, or the company, could be represented by a pool. This surrounds the tasks, objects, and swimlanes for the process.
What Does BPMN Do?
It may seem like a simple thing, but BPMN can provide major benefits for your business or organization. The most central one is clarity. By getting a bird's eye view of a process, stakeholders can find gaps, inefficiencies, and other issues within it that can then be rectified. That solution can take one of many forms, but first the organization needs to identify the issues to be fixed. BPMN helps with this.
Communication
BPMN offers a single language that everyone can understand and work with. It's visual, which is easy to process, and both laymen and IT specialists can easily discuss its terms and elements. You can even separate a BPMN diagram into sub-models so interested parties can work within their relevant section without having to consider the rest. This can make dealing with complex processes much simpler for everyone involved.
Business-IT Alignment
The question then becomes, how does BPMN help with business-IT alignment? The communication piece is a big part of this. There is often a gap between decision makers and IT managers and developers when it comes to discussing what is needed and what is possible. Non-IT team members may not understand how to properly convey their needs using the right terminology and jargon. The same goes for IT professionals. IT is complex, and they may struggle to explain how it can help with business processes while still considering overall business priorities.
BPMN, with it's big picture perspective, can help to bridge that gap. Decision makers can pinpoint for IT professionals where they feel there are issues. IT managers can then let them know how technological solutions can help. There is almost no need to use jargon and technological terms. They can clearly point to spots on the BPMN and everyone will be able to understand. Changes can happen quickly, and it helps build a deeper understanding between IT and business managers.
The ability to quickly adapt is crucial for any organization or business. The world is ever changing, and technology is constantly evolving. If business processes do not evolve along with trends and markets, then you may be left behind. BPMN will remove any guesswork or misunderstandings, and ensure that gaps are filled and processes are constantly being updated to reflect new realities. IT professionals and management will understand what needs to be done and said to make changes when needs are identified, and they can happen fast.
Automation and efficiency are crucial for improving productivity, saving time, and ultimately saving money. Optimizing workflows and processes will give everyone more time to spend doing tasks that will help grow your business. By running a seamless and professional business, you will also substantially improve your customer service abilities. With BPMN, analyzing processes and identifying gaps and weak spots is simple. You can then quickly discuss them with your IT team and get solutions as soon as possible to keep up with your competition.