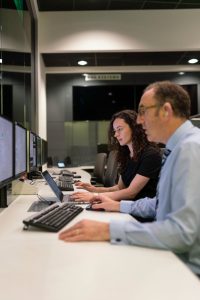 A business analyst is a highly specialized role in charge of bridging the gap between IT and a business. Their responsibilities include assessing processes, determining requirements, and delivering data-driven recommendations and reports to executives and stakeholders using data analytics.
Effective business analysts are able to work with company executives and users to figure out how data-driven changes to processes, products, services, software, and hardware can save time and money. They must express those concepts while also balancing them against what is technologically, financially, and functionally feasible.
Modern businesses are increasingly making use of data to support their decisions, allowing them to formulate more effective strategies and gain better results. Business analysts are therefore essential to modern businesses and helping to develop a data-driven approach. If your business is looking to hire a business analyst, you'll need to consider what skills they need and may want to consider using a business analyst test to improve the selection process.
What Is a Business Analyst Test?
A business analyst test is used to assess an applicant's ability to perform the tasks of a business analyst. When hiring staff, it's important to ensure that the people you bring on board have the skills and experience needed to succeed in the job. One of the most difficult aspects of the hiring process is that it's not easy to know which candidates are going to be competent simply by screening their CVs and carrying out interviews.
Many candidates will often exaggerate or lie about the experience they have, and it's difficult to fully assess a candidate's skills during an interview. If you want to make sure that the people you hire are the right fit for your company, it's important to evaluate their skills properly. This is especially true for an important position such as business analyst, where they'll be responsible for key decisions.
The business analyst exam assists you in identifying people who can help your company enhance its products and services by analyzing data. It can be used during the hiring process to help single out specific candidates and improve the selection process by revealing the true extent of their skills.
Using a Business Analyst Test in Your Hiring Process
If you're going to use a business analyst to help improve your hiring process, you'll need to consider these points:
Create your own test or find one online – If you're knowledgeable about the business analyst role and understand the skills they need and how the role works, you may be able to create your own test. If not, the best option is to simply find a business analyst test online. There are plenty of organizations that offer these hiring exams that you can set up and record the results for when evaluating candidates.  
Ensure that the test is the right fit for your specific role – Before getting underway with the tests, consider whether it's tailored to the role you're hiring for. While most business analyst positions generally require the same kind of skills, some require more specialist skills than others.
Provide the test to candidates after an initial interview phase – When testing your candidates, you need to be careful about which stage in the hiring process you carry out the exam. Ideally, it should be after your initial screening process, where each candidate has already gone through an

interview

. Asking candidates to complete an exam before the interview phase is often frowned upon, especially if it's a long test.
Be considerate of your candidates' time – To expand on the previous point, you need to make sure that you respect your candidates' time and that you're not making them complete excessively long exams for little payoff. Make sure the test provides the results you need without taking up much time.
Consider how you're going to use the results – Once you have the results of the exam, you need to use them to make your decision. You don't need to necessarily hire the candidate who got the best score, but you should aim to use both the exam results and the result of the interview to decide who will be the best fit for your company.
What Skills Does a Business Analyst Need?
Business analysts need to have a wide range of technical and soft skills to succeed in the role. Some positions may have specific skill requirements, but in general, business analysts need to have the following skills:
Research skills – Every project begins with a problem that needs solving, and business analysts must be able to study and explore the effects of possible outcomes before coming to a conclusion. Identifying and recommending the best solution takes some actual situation analysis, which necessitates investigation and research.
Communication skills

– Business analysts also need to be competent when it comes to communication, as they need to explain their research and conclusion to stakeholders and executives. Being able to communicate is just as important as research and technical skills, as, without it, the business cannot make full use of the data.
Technical skills – Business analysts must have a solid understanding of current IT applications are, how to process data, and the key trends in the industry. In addition, they need to be able to understand and share knowledge of the latest technological innovations. They need to be able to use their technical skills to identify the right decisions a business needs to take to succeed.