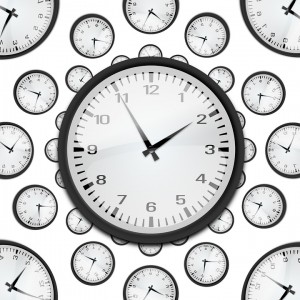 Forward-thinking companies will be able to predict the future just a fraction ahead of everyone else with a little bit of the right information at the right time—the "two-seconds advantage." The term"two-seconds advantage" does not necessarily means ahead in time literally. It basically refers to our capability to take the advantage faster than our competitors.
The term "two-seconds advantage" was coined by Vivek Ranadivé and Kevin Maney in their book entitled The Two‑Second Advantage: How We Succeed by Anticipating the Future. It will transform the way businesses are run and offer companies an enormous competitive edge in the marketplace.
Examples of the two seconds advantage are:
The airlines have all the data about your bags. Why is then that you have to wait for eternity until all the bags have arrived at the baggage carousel to discover that your bag is missing and then report it to their customer service? Why can't airlines be proactive and let passengers know upfront that their bags will be arriving later?
Power companies have the data at hand on grid failures. Why do they only respond several hours after dozens of customers call and complain? Wouldn't it be better if they use the data ahead of time to prevent failures in the first place?
There is a wealth of information available online today. However, this information cannot be analyzed easily since the content is not organized in a structured way. Imagine the potential an organization could unleash if it were able to analyze the information scattered across thousands of documents to obtain the two seconds advantage.
The concept of achieving the two seconds advantage is basically relates to business terms called Revenue Management. It is the application of disciplined analytics that predict consumer behavior at the micro-market level and optimize product availability and price to maximize revenue growth. The primary aim is selling the right product to the right customer at the right time for the right price and with the right pack.
The essence of this discipline is in understanding customers' perception of product value and accurately aligning product prices, placement and availability with each customer segment. The right information at the right time is often the key to breakout success – the 'art of anticipation.'
The key to achieve the two seconds advantage is to read the consumers mind before they make purchasing decisions. In this article, we will analyze key indicators that a company needs to consider to maximize revenue and act fast to capture the potential demand by using Porter's Five Forces framework.
Porter's Five Forces Analysis assumes that there are five important forces that determine competitive power in a business situation. These are:
Supplier Power:
Here you assess how easy it is for suppliers to drive up prices. This is driven by the number of suppliers of each key input, the uniqueness of their product or service, their strength and control over you, the cost of switching from one to another, and so on. The fewer the supplier choices you have, and the more you need suppliers' help, the more powerful your suppliers are.
Buyer Power:
Here you ask yourself how easy it is for buyers to drive prices down. Again, this is driven by the number of buyers, the importance of each individual buyer to your business, the cost to them of switching from your products and services to those of someone else, and so on. If you deal with few, powerful buyers, then they are often able to dictate terms to you.
Competitive Rivalry:
What is important here is the number and capability of your competitors. If you have many competitors, and they offer equally attractive products and services, then you'll most likely have little power in the situation, because suppliers and buyers will go elsewhere if they don't get a good deal from you. On the other hand, if no-one else can do what you do, then you can often have tremendous strength.
Threat of Substitution:
This is affected by the ability of your customers to find a different way of doing what you do – for example, if you supply a unique software product that automates an important process, people may substitute by doing the process manually or by outsourcing it. If substitution is easy and substitution is viable, then this weakens your power.
Threat of New Entry:
Power is also affected by the ability of people to enter your market. If it costs little in time or money to enter your market and compete effectively, if there are few economies of scale in place, or if you have little protection for your key technologies, then new competitors can quickly enter your market and weaken your position. If you have strong and durable barriers to entry, then you can preserve a favorable position and take fair advantage of it.
The example below is specific for Fuel Retail Business in Malaysia: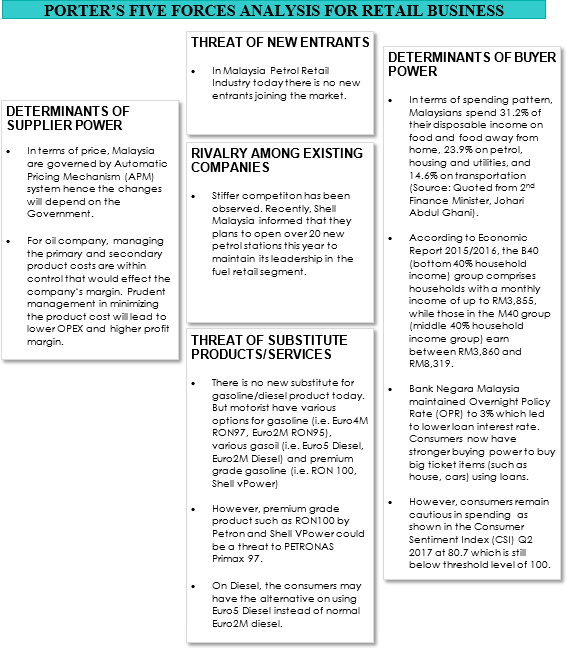 Key Takeaways
In this era, taking the advantage at the most strategic timing will be within split seconds. The concept of two seconds advantage is basically relates to business terms called Revenue Management.
One of the tools that can be use to analyse the two seconds advantage is by using Porter's Five Forces model. The model assumes that there are five important forces that determine competitive power in a business situation. By analyzing the situation, company should be able to take the advantage of a situation of strength, improve a situation of weakness, and avoid taking wrong steps – within "split seconds."
Based on Porter's Five Forces analysis for Fuel Retail Business in Malaysia, it can be summarize that demand level remains at moderate level supported by the low consumer sentiment where the consumers are still cautious to spend despite incentives given by the Government to grow Malaysia economy.
Although there is no new player entering the Fuel Retail market, the existing major player (i.e. Shell) is expanding their retail network with their plan to add more stations this year. Shell currently holds the market leadership in Malaysia fuel retail sector. By adding more stations, they would be able to expand their station network and strengthen their market leadership.
The oil price remain in a sideway movement. One of the key areas for oil company to take the advantage is to be more cautious is managing the stock level through inventory management. With the oil prices trending of lower for longer, the stock level should remain at optimum level in order to avoid excessive inventory.
Reinforced with the low sentiment from the consumers, we are looking at moderate demand level hence no push factors for us to keep stock at high level. But if we did have excess inventory, we need to plan and secure customers for the excess inventory and take the advantage of timing when the price goes up soon.