Sick of Microsoft Project? Manage Your Project in Excel
Featured Best Practice on Consulting Project Management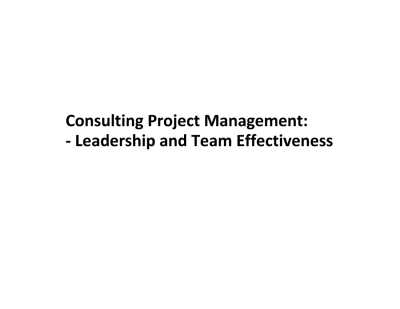 51-slide PowerPoint presentation
The objective of this module is to focus on some interpersonal skills so that you can enhance relationships with your clients and team members. The first step toward becoming an effective consultant is to understand yourself. Learning to effectively work on teams is critical to how we work at
[read more]
Project management is not easy.  Keeping track of deadlines, status, risks, issues, and competing priorities is not piece of cake.  There are hundreds of articles and management gurus out there with tips and advice on effective project management.  However, few (that I have seen) provide tools to put the ideas they provide into action.
While a good PM tool does not guarantee success, a bad one guarantees frustration and increases chance of failure. The de facto management tool in the industry is MS Project. But unfortunately when I have used MS Project, I end up focusing more on keeping MS Project documents running smoothly, rather than the project itself. It feels like working with a complex home theater system: you spend more time fiddling with the settings and re positioning the speakers rather than enjoying the movie.
My biggest problems with MS Project are:
Speed – When working with MS Project, expect long load times, slow updates, and frequent crashes.
Compatibility – Many people do not have MS Project loaded on their computers by default. So, when working with MS Project, I either have to acquire licenses for all stakeholders (and this can be quite expensive) or make sure I export all my work into PDF/Excel (also a slow process).
User Friendliness – There is definitely a learning curve new users will have to climb before getting comfortable with MS Project. But even now, after using the software on multiple projects and having been to multiple training sessions, I find it can be hard to figure out the simplest of things. Also, many of the hotkeys that are standard across MS PowerPoint, MS Excel, and MS Word are not transferable to MS Project.
About a year ago I got so frustrated with MS Project, I decided to start working with Excel. While Excel does not support all the functionality that MS Project provides, it more than sufficiently satisfies the basic requirements of any project management tool. Excel is also far more customizable and compatible than MS Project, allowing me to build reports and share my work more easily with others.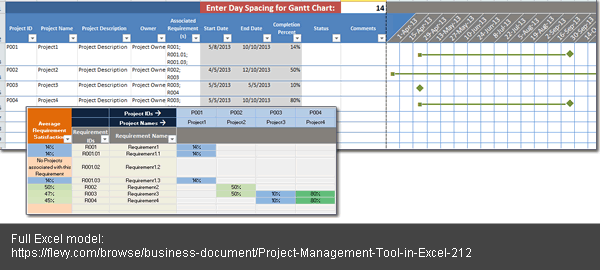 I recently uploaded a Project Management Tool, built in Excel, to flevy.com. I have gathered some of the most useful functions/templates I have built in the past and condensed them into one document. The tool includes:
Overview of a project management Framework I have used in the past.
The ability to document and connect requirements, projects, and tasks.
Fully functional and automatic Gantt Chart.
Built in program level completion and heat map reporting functionality.
Although not as deep in functionality as MS Project, I find tools like this are far easier to use and manage, allowing me to focus on the project at hand. Most importantly, I can easily customize these documents to best fit the project's needs.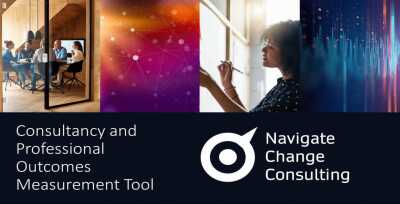 Excel workbook
About the Consultancy and Professional Services Impact and Outcomes Measurement Tool This tool is designed to support consultancy and other professional services firms to understand the difference that they make and the outcomes of their work, projects and interventions. The tool has been
[read more]
Do You Want to Implement Business Best Practices?
You can download in-depth presentations on Consulting Project Management and 100s of management topics from the FlevyPro Library. FlevyPro is trusted and utilized by 1000s of management consultants and corporate executives.
For even more best practices available on Flevy, have a look at our top 100 lists:
These best practices are of the same as those leveraged by top-tier management consulting firms, like McKinsey, BCG, Bain, and Accenture. Improve the growth and efficiency of your organization by utilizing these best practice frameworks, templates, and tools. Most were developed by seasoned executives and consultants with over 20+ years of experience.
Readers of This Article Are Interested in These Resources
19-slide PowerPoint presentation
Congratulation on winning the project. As a next step, you have to lead a compelling Project Kick-Off meeting with critical stakeholders. The first impression counts, and you want to take the smartest move by executing a flawless kick-off meeting. A well-executed meeting inspires client
[read more]
29-page Word document

30-slide PowerPoint presentation
About Priyank Pandey
Priyank is a Management Consultant, specializing in Risk Management. He has worked across multiple industries, including banking, capital markets, and healthcare. He is also the author of the blog
Writing In Transit where he writes about his experiences as a consultant and his pursuit of an MBA.