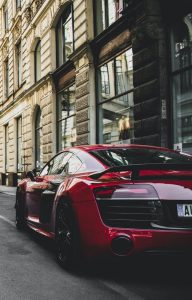 Is it about time you upgraded your car? There are plenty of ways to get your new keys, from buying outright to finance and used car deals. Another option worth considering if you use it for work, however, is to buy a car through your business.
It's been a tough year for the automotive industry as our roads emptied and dealerships closed during multiple lockdowns. But with hope of a return to normality on the horizon, now could be a good time to research your options.
Here are four key points to consider for drivers thinking about getting a new vehicle through their business.
Usage
Will you use your car solely for business or for personal trips too? The answer determines whether or not you can reclaim VAT. If it's the former, you'll need to be able to prove the vehicle isn't available for personal use – which includes commuting.
One way to do this is to keep it on-site overnight for various employees to use during the day. Taxi drivers and driving instructors can also reclaim VAT.
If it will be used privately too, you may be required to pay extra income tax for what's known as a benefit in kind.
Capital Allowances
Any vehicle bought through a business is classed as a fixed asset, i.e., a type of machinery. This allows you to claim Capital Allowances on a car's purchase value and reduce your tax costs – yet allowances for cars are directly linked to the CO2 emissions they produce.
In short, higher emissions equal less tax relief, so choosing an environmentally friendly vehicle can benefit your business financially.
There are three emission bands that company cars can fall into, with the top tier allowing for 100% of the price of the car to be reclaimed in the first year.
Brand image
Then there's the question of how best to reflect your brand's image while sticking within a realistic budget.
Your choice of vehicle could set first impressions for prospective clients and stakeholders, so it's not a decision you should take lightly. But you don't want to blow your budget unnecessarily either.
It's worth considering buying a used car to represent your business. Many offer the same sophisticated impression you'd expect with new models, without the same damaging price tag.
Fuel
As well as buying the car, you'll need to consider how you'll pay for travel. There are important distinctions to be made between business and private fuel.
Fuel provided solely for business comes with no additional tax demands and can be proven as such through accurate mileage records or employee payments for private fuel usage. You can also reclaim VAT on business fuel, while any private usage incurs a fuel scale charge.
Weighing up the pros and cons of buying a car through your business can be tricky, especially when it comes to the finer tax details. Could it be a beneficial route for you based on the summary above?