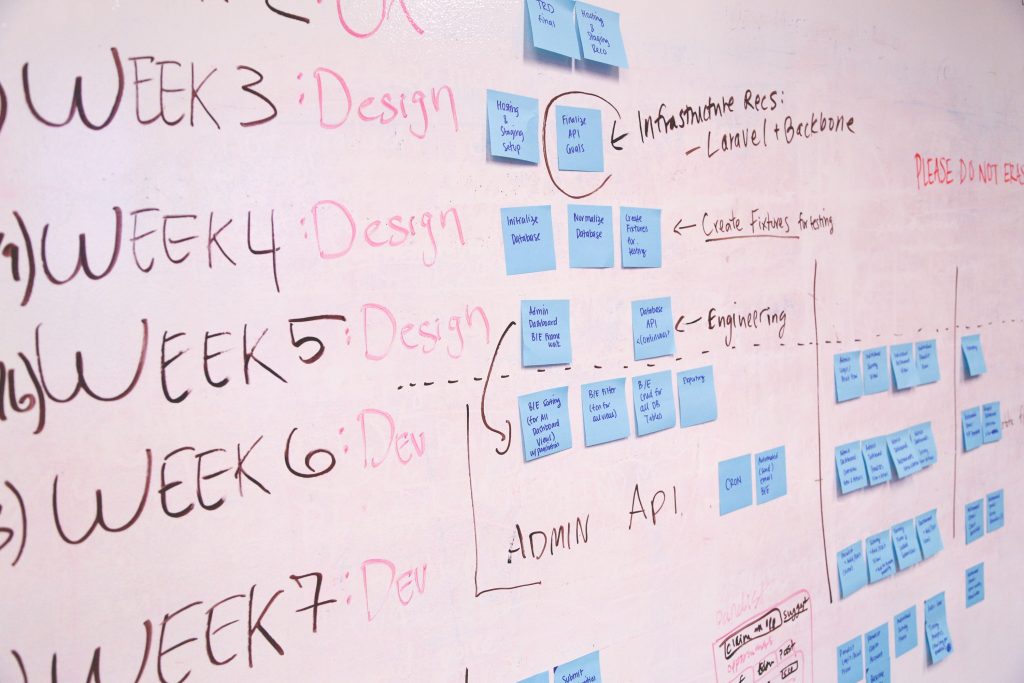 Megaprojects have a significant impact on a country's economic activity, productivity, social harmony, and environment. Most Megaprojects (estimates put it at 90%) end up being over time and over budget. Such overruns naturally have an impact not only on the finances of a country but other aspects as well.
Reason for such overruns consist of technical challenges, alterations in design and operational requisites, escalation in costs, disagreements over responsibility, and new regulations. The more complex a project, the difficult it is to foresee the difficulties, changing conditions, and unanticipated opportunities that will be encountered.
Typically, Megaprojects are defined as undertakings costing $1 billion or more, having a time span of several years for developing and building; having a number of stakeholders, public, private, or both; and affecting millions of people.
Research for synthesizing rules for managing projects, particularly megaprojects, was conducted on 6 megaprojects in London. The research was conducted jointly by several academic institutions, including the University College London, University of Queensland Business School, and Imperial College London.
The study benefitted from earlier, adjoining, and continuing studies carried out by 1 or more of the authors of the study under consideration. The total time span of the research was over 10 years.
The Megaprojects that were looked at in detail included High-Speed 1, Heathrow Terminal 5, Infrastructure for the London Olympics of 2012, Crossrail, Heathrow Terminal 2, and Thames Tideway Tunnel project.
The following 5 rules were found to be helpful in the management strategy of Megaprojects:
Evaluate previous success factors.
Allow for surprise occurrences.
Test and try first.
Adjust and distribute risks aptly.
Employ Innovation from beginning to the end.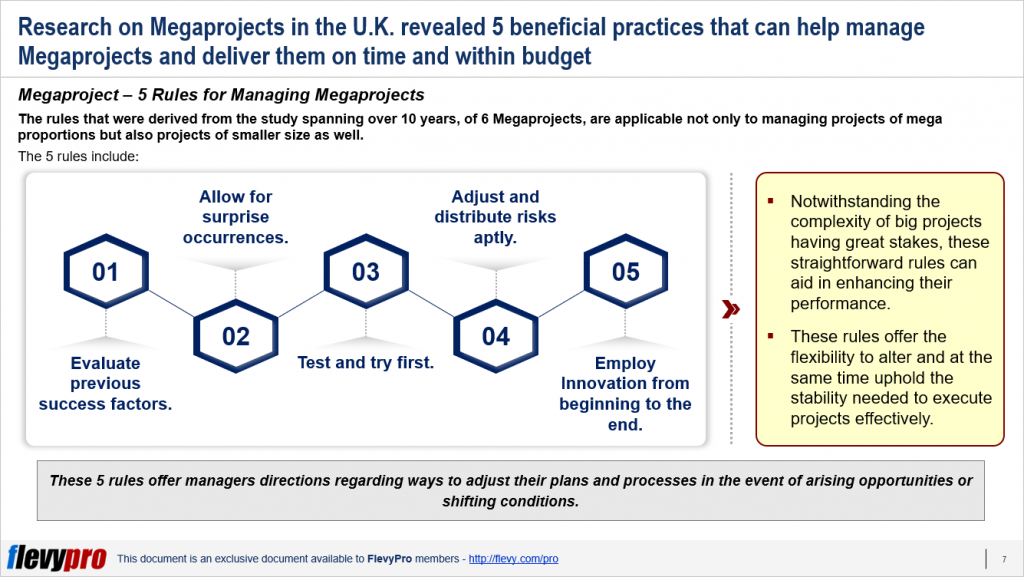 The rules derived are applicable not only to managing projects of mega proportions but also projects of smaller size as well. Notwithstanding the complexity of big projects having great stakes, these straightforward rules can aid in enhancing their performance. These rules offer the flexibility to alter and at the same time uphold the stability needed to execute projects effectively.
Let us delve a little deeper into some of the rules.
Evaluate previous success factors
This exercise comprises of studying other project sectors and research organizations, and gaining from them for application in own project. It also encompasses recording, evaluating, and acquiring own previous experiences and applying them in current project.
Practice includes looking at case studies and paying visits to sites of other projects. It also employs Subject Matter Experts to aid in assessments.
Prepare for surprise occurrences
Maintaining flexibility and adaptability in teams and contracts to tackle unforeseen circumstances is what this rule is about. Modifying behaviors to successfully face surprise occurrences and sharing risks in order to cater to the surprise element in projects is also part of this approach.
Test and try first
This rule demands simulation and modelling in order to evaluate solutions at low cost and in minimum time. It also requires rehearsing before-hand so as to develop solutions that have minimum glitches in them. Off-site trials are conducted so as to reveal lots of valuable lessons that facilitate Risk Mitigation and Planning in advance. On-site tests and trials ensure smooth handing over to the operations team.Interested in learning more about Managing Megaprojects? You can download an editable PowerPoint on Managing Megaprojects here on the Flevy documents marketplace.
Do You Find Value in This Framework?
You can download in-depth presentations on this and hundreds of similar business frameworks from the FlevyPro Library. FlevyPro is trusted and utilized by 1000s of management consultants and corporate executives. Here's what some have to say:
"My FlevyPro subscription provides me with the most popular frameworks and decks in demand in today's market. They not only augment my existing consulting and coaching offerings and delivery, but also keep me abreast of the latest trends, inspire new products and service offerings for my practice, and educate me in a fraction of the time and money of other solutions. I strongly recommend FlevyPro to any consultant serious about success."

– Bill Branson, Founder at Strategic Business Architects
"As a niche strategic consulting firm, Flevy and FlevyPro frameworks and documents are an on-going reference to help us structure our findings and recommendations to our clients as well as improve their clarity, strength, and visual power. For us, it is an invaluable resource to increase our impact and value."

– David Coloma, Consulting Area Manager at Cynertia Consulting
"FlevyPro has been a brilliant resource for me, as an independent growth consultant, to access a vast knowledge bank of presentations to support my work with clients. In terms of RoI, the value I received from the very first presentation I downloaded paid for my subscription many times over! The quality of the decks available allows me to punch way above my weight – it's like having the resources of a Big 4 consultancy at your fingertips at a microscopic fraction of the overhead."

– Roderick Cameron, Founding Partner at SGFE Ltd