Enterprise Asset Management (EAM) can bring significant benefits to our company. It can translate to cost savings, operational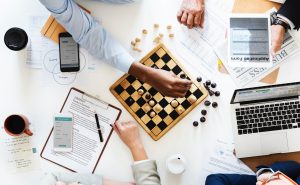 efficiency, increased asset reliability, longer asset life, and increased safety.  Implementing EAM however is a highly complex endeavor. There are many reasons why EAM can fail to produce the hoped-for benefits.
Surprisingly, the most critical reasons are not technological.  The most critical reasons are strategic, people-based, and process-oriented.   With the right people, strategy, and mindset, these problems can be solved. The key is to devise a complete and coherent strategy and translate that strategy into processes and technology needed to carry it out.
Understanding the Salient Points in Enterprise Asset Management (EAM)
Enterprise Asset Management (EAM) is the set of integrated processes and tools for managing and maintaining operational assets at the target service level while optimizing life-cycle costs and asset life. The EAM Strategy ensures validation of business processes and making best-value choices in tools and technologies.
An important consideration in the successful delivery of an EAM Program is Processes and Procedures.  Implementing a world-class asset means little if poor processes are used to operate and maintain them. Common sense actions need to be undertaken to solve poor processes and procedures.
Second is Data Management.  The ability to manage and maintain assets depends largely on the quality of data available about them.  Many companies struggle to produce the complete, coherent, and accurate data needed to operate new EAM programs effectively. Data quality must be assessed and optimized before a new EAM Program is implemented.
The third is the Supply Chain Integration. Maintenance is an enormous part of every EAM Program. Harmonizing and integrating the supply chain strategy and systems with the overall EAM program and technology is a major task.
Finally, the most critical is the Stakeholder Management.  Stakeholder Management is a systematic identification, analysis, planning, and implementation of actions designed to engage with stakeholders. Likewise, essential to the success of an EAM Program is the involvement of the right people with current field experience to help identify operational issues and identify potential solutions.
Companies must build the best team to develop the overarching assets and maintenance strategy and EAM solution. Yet, companies do not evaluate whether employees have the skills needed to perform new duties and execute modified processes, procedures, and technologies proficiently.
Adequate training is critical if we need to achieve a high level of buy-in from all those involved.    Poorly trained users often get frustrated and revert to old, inefficient processes or being using new technology in ways never intended.
Effective training can help alleviate the frustration felt by older workers when asked to change their work habits. A plan must be devised for sustaining process improvement over a long time and a superior training program be developed.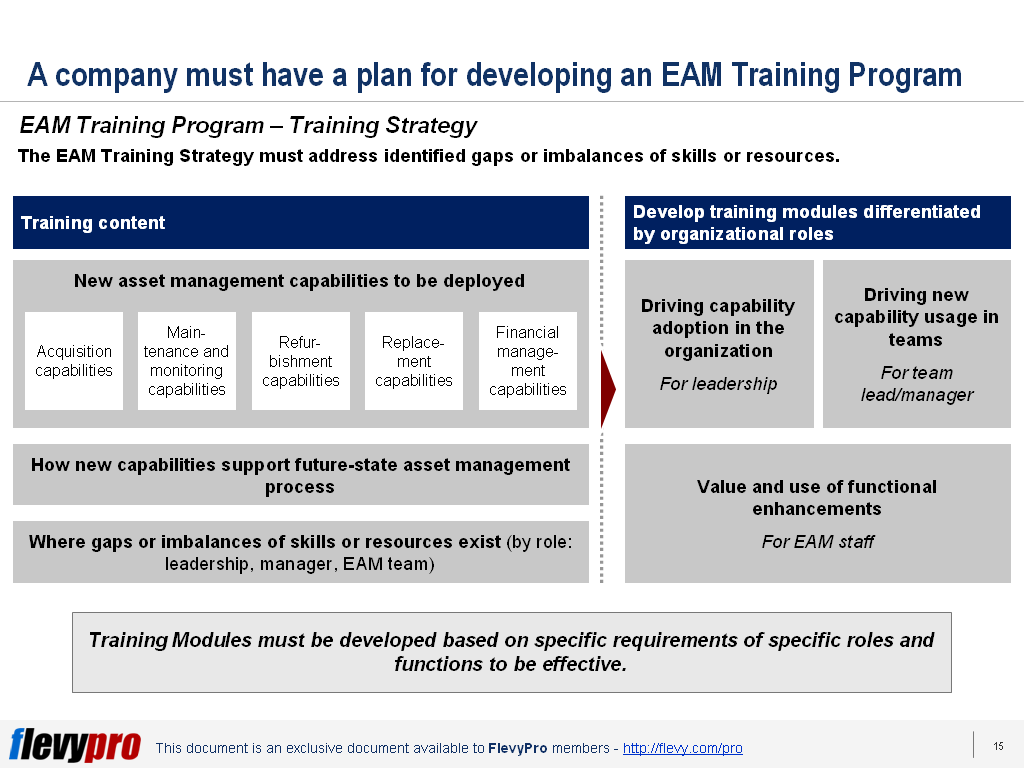 With EAM, companies can be assured of sizable long-term cost savings as a result of effective operations management and improved financial tracking.  Most effectively, it allows better response time to meet service and regulatory requirements.
Interested in gaining more understanding of the Enterprise Asset Management (EAM) Implementation? You can learn more and download an editable PowerPoint about Enterprise Asset Management (EAM) Implementation here on the Flevy documents marketplace.
Are you a management consultant?
You can download this and hundreds of other consulting frameworks and consulting training guides from the FlevyPro library.