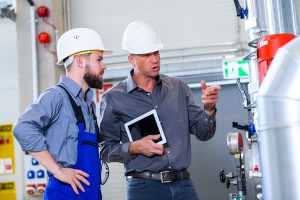 Are you thinking about transforming your HVAC business to the next level? If so, you need to have advanced tools that can allow you to realize this dream. After all, your tools determine whether the quality of your services can satisfy your client's needs. But if you've been running your commercial HVAC business for a while now, you most likely have all the basic tools. And to grow your business, it's prudent to invest in specific advanced and specialized tools. This way, you and your employees will always be ready to tackle any HVAC problem that does come your way.
Below are the advanced tools you should invest in to upgrade your commercial HVAC business:
1. Mobile HVAC Software 
There's a lot that goes into running a commercial HVAC business, which is why there needs to be constant communication with the technicians. The mobile HVAC software helps to accomplish this, even though it isn't a typical tool. Using this software, HVAC technicians can easily relay the issue being experienced, as well as the customer name and location through calls. In addition, this software program allows your techs to go over your company's previous service reports to get a better idea of an issue they're about to handle. 
Other than promoting smooth communication between the office and customers, using the HVAC software also helps techs focus on the task at hand. Therefore, their time and energy are better spent where their expertise is in need rather than being wasted on administrative tasks. Because of this, the mobile HVAC software should always be working; and when it isn't, FieldInsight – Service Maintenance Software and others can offer the needed help. Thanks to the HVAC software, you can restructure your expanding business to reach greater heights.
2. Reciprocating Saw 
It's also called the Sawzall, and it's a versatile tool that can be used when cutting various materials, which is why it's a must-have when looking to upgrade your commercial HVAC business. HVAC technicians love the Sawzall because it can be used to cut different angles, unlike conventional circular saws. It's also easy to handle. 
When shopping for a reciprocating saw, you need to assess its build quality carefully. This way, you'll be certain of getting a tool that doesn't only last for long but also consistently performs at optimal levels, boosting your technician's productivity. It's also best to buy the battery-powered reciprocating saw because it doesn't come with cords, making it more practical. 
3. Refrigerant Scale  
Most of the HVAC system tasks are extremely detailed, and your techs need to maintain high precision at all times. An example of this is when charging your HVAC system because adding excess refrigerant creates too much pressure. This places a lot of pressure on the air conditioning unit and this necessitates it to be maintained regularly, which is an added expense to your business. In contrast, adding too little refrigerant reduces the efficiency of the commercial HVAC unit, meaning it can no longer effectively maintain room temperatures. 
The refrigerant eases such concerns by helping technicians know the exact amount of refrigerant that needs to be added into the air conditioning unit. It also helps identify a leak that the technicians need to repair. When looking for a refrigerant, go for a digital one rather than an analog model. While they're more expensive, they'll help avoid any preventable mistakes that come about when doing manual calculations. In addition, they save your technicians precious time that they'd rather spend on other productive duties.  
4. Handheld Digital Thermometer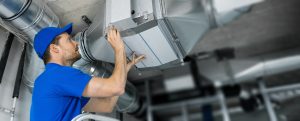 Temperature control is crucial in the HVAC industry, and this is enough reason why you need to get a digital thermometer. Using this tool, you can easily determine the air temperature. The perfect thermometer to buy for your business should be durable, portable, and consistently effective. This helps guarantee your customers are always pleased by the amazing quality services.
5. Vacuum Pump
HVAC technicians use this tool to remove any moisture that's been trapped in the lines running through an air conditioning unit. Doing this helps determine the possible leaks in an HVAC system. This tool also helps ensure no air and moisture in the system before refrigerants are charged. And with the wide array of vacuum pumps to choose from in the market, you shouldn't have a hard time finding one which suits your needs.
Takeaway
With the soaring competition among HVAC businesses, you must use advanced HVAC tech tools to help you make the correct diagnosis and consequently do a quality repair. Without such tools, customers will see you as less reliable and opt for your rivals, sometimes for good, which will have a dire impact on your business in the long run. And to avoid such situations, this comprehensive guide has outlined the advanced tools you should get to boost the competitiveness of your HVAC company.