BENEFITS OF DOCUMENT
Provides of How to Measure The ROI of Training (Docx)
Provides of Guidelines to Measure The ROI of Training (Docx)
Provides of Templates to Measure The ROI of Training (Docx)
DOCUMENT DESCRIPTION
This product (
Measuring the ROI of Training [Guidelines & Templates]

) is a 20-page Word document, which you can download immediately upon purchase.

Measuring The ROI of Training (Guidelines & Templates)

This guideline describes how to measure the ROI of training step-by-step, with examples of its implementation. Furthermore, this guideline will include a variety of forms and templates to aid in the execution of the ROI of Training assessment.

Training ROI measures how much an organization gains from its investment in training. It is a financial metric that expands on the benefits and business results relative to a training program. It is not a training satisfaction measure, which indicates how happy the employees are with the training.

Using various measures, you can understand the business impact of a particular workshop, training program, or leadership course, and convert it to monetary value.

Determining the Performance Indicators to be Measured Before and After the Training
This first step is the most important step in the process of measuring the ROI of training (hereinafter abbreviated as ROTI). We need measurable and quantifiable performance indicators before we can measure and calculate ROTI.

The following are some examples of measurable performance indicators that can be used to determine ROTI:
• Number of customer complaints
• Customer satisfaction score
• Sales volume
• Average sales volume per salesperson
• Quantity of production
• Number of manufacturing defects
• Employee Retention
• Number of work accidents
• Employee productivity
• Employee absenteeism rate

Why measure training ROI?

1. Making a case for spending money on training – Your organization's leadership team needs to approve most big training programs. Showing the benefits of past training programs will persuade decision-makers to invest confidently in training.

2. Ensuring that you're investing in the right training initiatives – Measuring training ROI helps you compare the impact of different trainings in terms of ROI. Usually, the training budget is one of the first items that get cut when there are financial turmoil times in an organization. So, choosing the right initiative is important because you might not be able to invest in all training programs.

3. Prioritizing – By understanding the ROI your training initiatives bring, you can prioritize investing in training that has the highest impact on organizational performance improvement.
Measuring and showcasing the value of training has helped create – If you can show the value the training has helped create to the leadership and other stakeholders, you're more likely to secure a budget for the future training initiatives.

Challenges of measuring training ROI

1. Not setting clear goals – A lack of clear goals for what you want to achieve with the training makes it difficult to show its impact. What's more, it causes confusion about what data you need to collect to prove the ROI.

2. Lack of data – Talking about data, calculating training ROI requires different types of data from different sources, which is not always easy to gather. You also need to find ways to convert data to monetary value.

3. Isolating the effects of training – There are other factors that might have an impact on the performance that you're aiming to improve with the training, like organizational culture, market conditions, and more. It might be challenging to attribute the achieved results to the training.

UJ Consulting

Got a question about the product? Email us at [email protected] or ask the author directly by using the "Ask the Author a Question" form. If you cannot view the preview above this document description, go here to view the large preview instead.

Source: Best Practices in Employee Training Word: Measuring the ROI of Training (Guidelines & Templates) Word (DOCX) Document, UJ Consulting

ABOUT THE AUTHOR: UJ CONSULTING

UJ Consulting

Untung Juanto ST., MM. Founder of UJ Consulting. He is professionally experienced business and management consultant in several local and multinational companies. [read more] He has an experience in managing an effective and efficient company with various approach methods adapted to different industries because He had a career from the lower management level as Supervisor before finally being at the top management level. His Top Management experience started from the position of General Manager, VP Operation, HR Director and Business Development Director

He completed his undergraduate education majoring in Architecture at Diponegoro University, Semarang, Central Java, Indonesia. After that, He continued to Master of Management level majoring in Human Resource Management with cum laude predicate with a GPA of 3.94 at Mercubuana University, Jakarta, Indonesia.

His last work experience as Deputy President Director at Hutahaean Group in charge of 14 business units engaged in various industries including CPO Production, Oil Palm Plantation, Cassava Plantation, Tapioca flour production, 4 and 5 star hotels, waterparks, golf courses and housing with a total of employees more than 3,000 employees.

His biggest achievement was in 2021 when He served as Deputy President Director at Hutahaean Group Indonesia by increasing the company's revenue from IDR 700 billion to IDR 1.1 trillion (y/y) and increasing the profit margin by more than 20%. Doing a turn around on business units that have lost in the last 5 years become profits. In addition, He have also succeeded in creating an efficient and effective management system by redesigning the Business Process Management (BPM), reviewing Standard Operating Procedures (SOP) and Work Instructions and compiling the appropriate Key Performance Indicator Management (KPIM) to increase employee productivity.

He is currently active as a part-time business and management consultant (online) at Enquire Corp. and Flevy Corp. In addition, He also teach part-time at several universities for courses in strategic management, human resource management, project management, entrepreneurship and business.

UJ Consulting has published 171 additional documents on Flevy.
---
$25.00
All fees included. Immediate download upon purchase.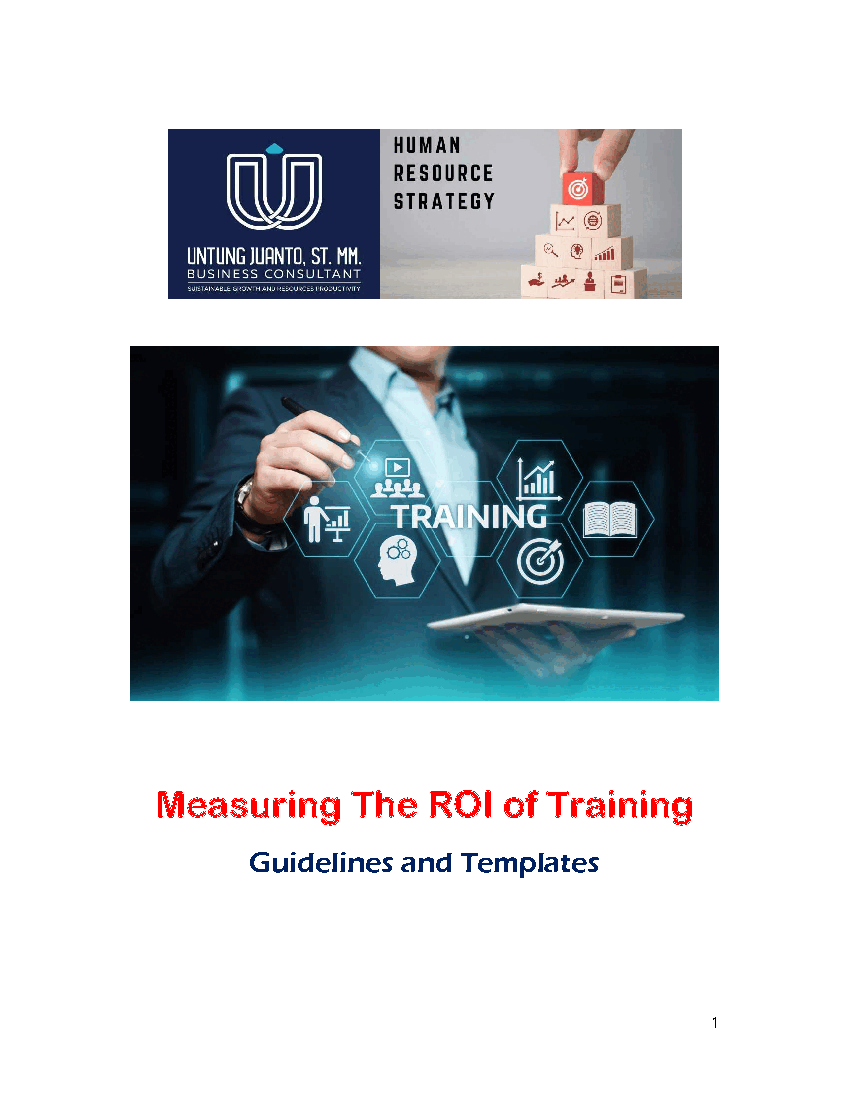 DOCUMENT DETAILS
File Size: 404.9 KB
Number of Pages: 20
Immediate digital download upon purchase.
Lifetime document updates included with purchase.
Completely editable & customizable DOCX document.
Initial upload date (first version): Oct 21, 2022
Most recent version published: Oct 21, 2022
---