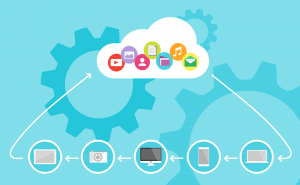 The concept of a cloud has firmly entered the lives of ordinary people. The need for local hard drives and other storage devices is no longer important. Business owners are increasingly turning to cloud providers to deploy or migrate their IT resources. In this article, we will explain what cloud services are, and how they help businesses to be one step ahead of competitors. 
What Are Cloud Services?
Public clouds are usually programs or platforms that operate on the cloud provider servers. The key function of such services is that a person can use the files from any device anywhere. Using these platforms is not only convenient but also safe. Even if your smartphone or laptop is broken, your files will not be lost.
Cloud storage is provided to the company for a certain fee and eliminates the need to purchase the IT infrastructure for data storage. This provides flexibility, fast scalability, and reliability for the companies. For instance, storing accounting software in cloud storage is much safer than on a local server, which may fail, be infected by the virus, etc. Besides, if you suddenly need to import msg files into Outlook, you will either use third-party software or OneDrive to transfer files.
Models of Cloud Services
There are more than 10 models of cloud services. The most common types are the following:
PaaS (Platform as a Service) – the customer gets a powerful online platform with different tools and services;
IaaS (Infrastructure as a Service) – it offers the customer leased computing resources in the form of online infrastructure;
SaaS (Software as a Service) – the customer gets certain online software products.
Currently, the SaaS model is considered the most common in the world, as it is used by almost everyone who has access to the Internet. Everyone uses the products of this model without even realizing that they are located in the clouds. The SaaS model works very simply: programs and services are developed and maintained by the provider, placed in the cloud, and offered to the user through a browser or application on one's PC. The client only pays a subscription fee, while the provider is engaged in updating and technical support of programs. One of the most popular cloud services of the SaaS model is Microsoft Office 365.
Microsoft Office 365
This is a cloud service that combines convenience and up-to-date tools for work that are distributed on a subscription basis. Microsoft Office 365 includes:
Business-class email on the Exchange server;
Sharepoint portal and public business card site with a simple page constructor;
Lync communicator, with which you can exchange messages, conduct video and audio conferences, display the desktop;
Access to the Microsoft Office Suite;
Place in OneDrive (1 terabyte per user).
So, cloud storage allows companies to store large amounts of data, unlike traditional servers and PCs. Choose the option convenient for you and enjoy the result!