Family Capital is a true differentiator between family-owned businesses and companies with a fragmented shareholder base. Family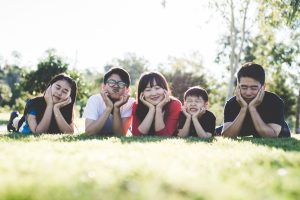 Capital expresses itself as the organization's culture, ethos, and network.  While hard measures liking it to performance are elusive, Family Capital clearly conveys powerful advantages.
McKinsey Organizational Health Index database indicates that family-owned businesses enjoy a significant advantage in providing career opportunities to employees.  This is a gap that grows even wider among family businesses in the top quartile of healthy companies. However, even the benefits of a positive family-oriented network can go awry in the mix of personal and professional tensions that may affect family businesses.
Family Capital is the strongest intangible asset of family businesses. Having a good understanding of the 4 Components of Family Capital allows family businesses to build a strong culture.
The 4 Components of Family Capital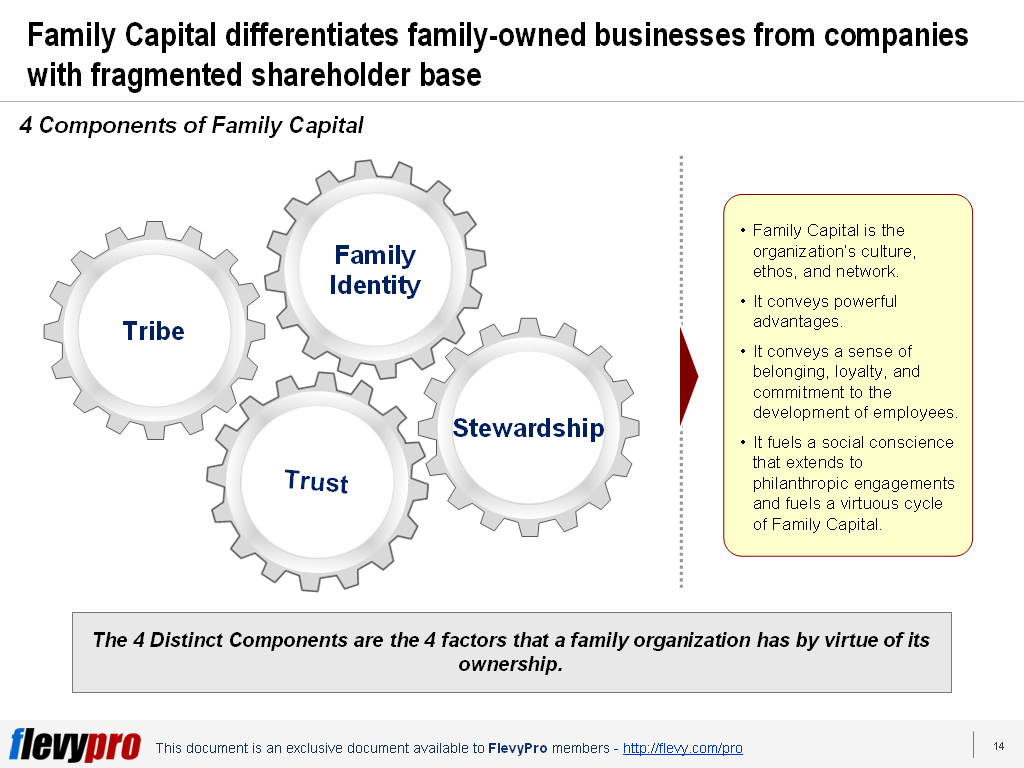 Tribe. The Tribe is the sense of connectedness, shared culture, and support in the social fabric of a family business.  It is expressed through a sense of closeness that nonfamily employees feel toward the owners. In fact, it goes beyond the immediate clan or owning family.
Family Identity. The Family Identity is the degree to which members of families that own businesses identify with them can vary widely.  It extends to how consciously families decide to express their image through the company brand and how much a sense of family promotes the family legacy and visibility in the market.
Trust. Family Capital's trust element refers basically to the owners' reliability.  It is the degree of trust the organization's members have in the ability of family leaders to improve the company's performance. It is the ability of family leaders to keep their promises to stakeholders and do what they say they will do generally.
Stewardship. Stewardship denotes the strength of family values.  It is the idea that family leaders put the organization's interest above their own.  It is the degree to which family leader take a long-term perspective.
Taking the Yin and Yang of Family Capital
Family Capital is the strongest tangible asset of Family Business. Focusing on Family Capital will allow owners to thrive in an era of heightened constraints. Family Business just needs to take a good view of its advantages and disadvantages to maximize its competitive advantage. Let us take a quick look at the first component: The Tribe.
Tribe promotes a closeness to family and togetherness in organizations.  On the other hand, because of its closeness, there can be less diversity in the organization.  It promotes a culture of "fit in or fly off" and Performance Management may be difficult.
Truly, the Tribe has its advantages but too much of it can stifle even the next generation of owners. Having a good view of the other components and how it affects organizations and members of its organization can be a helpful guide in directing Family Business to better manage its Family Capital.
Interested in gaining more understanding of 4 Components of Family Capital? You can learn more and download an editable PowerPoint about 4 Components of Family Capital here on the Flevy documents marketplace.
Are you a management consultant?
You can download this and hundreds of other consulting frameworks and consulting training guides from the FlevyPro library.