Family businesses did especially well in riding the rising tide.  Family businesses were the particular beneficiaries of three decades of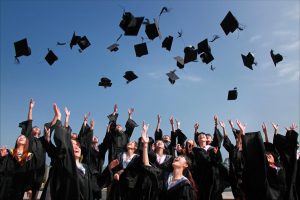 favorable global economics. Propelled by fast growth in the emerging world, the share of family businesses in the global Fortune 500 grew from 15% in 2005 to 19% in 2013.  Five years ago, founders or their families owned 60% of emerging-market companies with sales of $1 billion or more. By 2025, an additional 4,000 companies may join the list.  Family-owned businesses would represent 40% of the world's large enterprise.
However, despite the growing power and influence of family businesses, executives and investors have a poor understanding of the unique attributes providing the edge.  It is difficult to parse the DNA of family businesses. It is a complex mix of family, management, and wealth creation, all overlaid with a rolling ownership dynamic that claims all but 30% of them.  This 30% is claimed by the 3rd generation.
The number one worry of family owners is the challenge of developing the next generation as motivated and responsible shareholders.   Addressing this concern is critical to the long-term sustainability of family businesses.  It calls for both technical and interpersonal focus.
First Things First
Maintaining an entrepreneurial edge is becoming evidently critical for long-term survival. Creative destruction constantly churns the rankings of companies in the S&P 500 index of the largest US companies.
However, as family businesses grow through the generation, barriers to entrepreneurship and innovation creep in.  Maintaining the entrepreneurial spirit of the next generation of family leaders is essential. But developing, engaging and motivating them is the biggest challenge.
Family owners want to keep the next generation involved. This is to maintain the business as a source of family pride and to preserve the founder's legacy to keep it within the family.
Successful generational succession can be achieved. Family Businesses just need to take on 3 important principles.
Preparing the Next Generation: The 3 Important Principles for Succession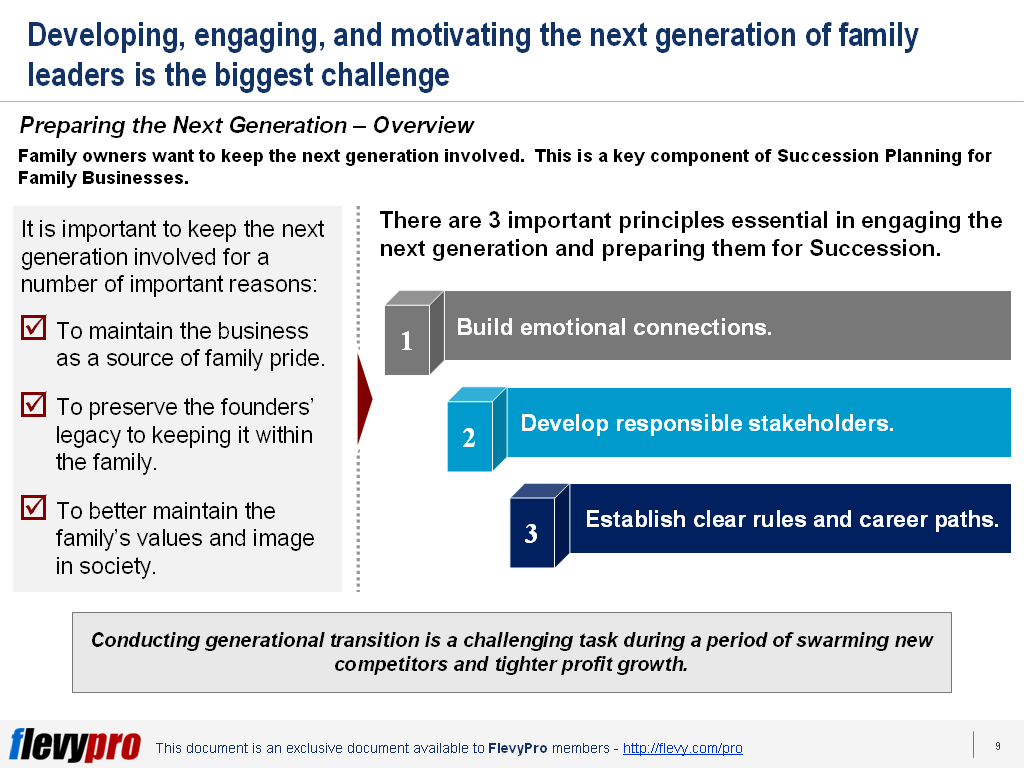 Build emotional connections. A common problem in a family business is fostering communication across generations and borders.  It can be difficult but essential when building emotional connections.
Develop responsible stakeholders. Based on the McKinsey Family Business Practice survey, the next generation family members are willing to take more responsibility in running the family business. Yet, only 30% feel that they are confident about making decisions involving Family Businesses.
Establish clear rules and career paths. A leadership position is not the only role for members of the next generation.  There are several important roles to be played above and beyond full-time employment.  A critical need is to develop a path and make family members understand how they can embark on those paths.
Having a good grasp of the 3 important principles will pave the way for effective Succession Planning in family businesses. When these are in place, the very fundamental foundation of the family business is established and ready for the 21st-century challenges.
Interested in gaining more understanding of Family Business Succession Preparation? You can learn more and download an editable PowerPoint about Family Business Succession Preparation here on the Flevy documents marketplace.
Do You Find Value in This Framework?
You can download in-depth presentations on this and hundreds of similar business frameworks from the FlevyPro Library. FlevyPro is trusted and utilized by 1000s of management consultants and corporate executives. Here's what some have to say:
"My FlevyPro subscription provides me with the most popular frameworks and decks in demand in today's market. They not only augment my existing consulting and coaching offerings and delivery, but also keep me abreast of the latest trends, inspire new products and service offerings for my practice, and educate me in a fraction of the time and money of other solutions. I strongly recommend FlevyPro to any consultant serious about success."

– Bill Branson, Founder at Strategic Business Architects
"As a niche strategic consulting firm, Flevy and FlevyPro frameworks and documents are an on-going reference to help us structure our findings and recommendations to our clients as well as improve their clarity, strength, and visual power. For us, it is an invaluable resource to increase our impact and value."

– David Coloma, Consulting Area Manager at Cynertia Consulting
"As a small business owner, the resource material available from FlevyPro has proven to be invaluable. The ability to search for material on demand based our project events and client requirements was great for me and proved very beneficial to my clients. Importantly, being able to easily edit and tailor the material for specific purposes helped us to make presentations, knowledge sharing, and toolkit development, which formed part of the overall program collateral. While FlevyPro contains resource material that any consultancy, project or delivery firm must have, it is an essential part of a small firm or independent consultant's toolbox."

– Michael Duff, Managing Director at Change Strategy (UK)
"FlevyPro has been a brilliant resource for me, as an independent growth consultant, to access a vast knowledge bank of presentations to support my work with clients. In terms of RoI, the value I received from the very first presentation I downloaded paid for my subscription many times over! The quality of the decks available allows me to punch way above my weight – it's like having the resources of a Big 4 consultancy at your fingertips at a microscopic fraction of the overhead."

– Roderick Cameron, Founding Partner at SGFE Ltd
"Several times a month, I browse FlevyPro for presentations relevant to the job challenge I have (I am a consultant). When the subject requires it, I explore further and buy from the Flevy Marketplace. On all occasions, I read them, analyze them. I take the most relevant and applicable ideas for my work; and, of course, all this translates to my and my clients' benefits."

– Omar Hernán Montes Parra, CEO at Quantum SFE