Governance in Family Business: Putting the Pieces the RIGHT Way
Featured Best Practice on Family Business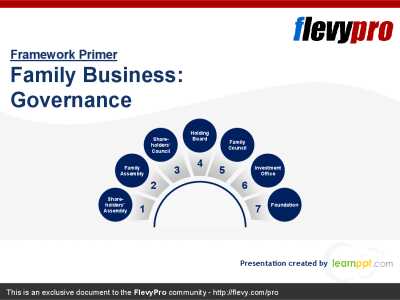 22-slide PowerPoint presentation
Governance of Family Businesses must include the concerns of the numerous and diverse third generation. Establishing a set of councils and boards is essential in addressing critical transition issues. With a Governance Model, Family Businesses can address acute short-term challenges and prepare
[read more]
Governance of Family Businesses must include the concerns of the numerous and diverse third generation. Establishing a set of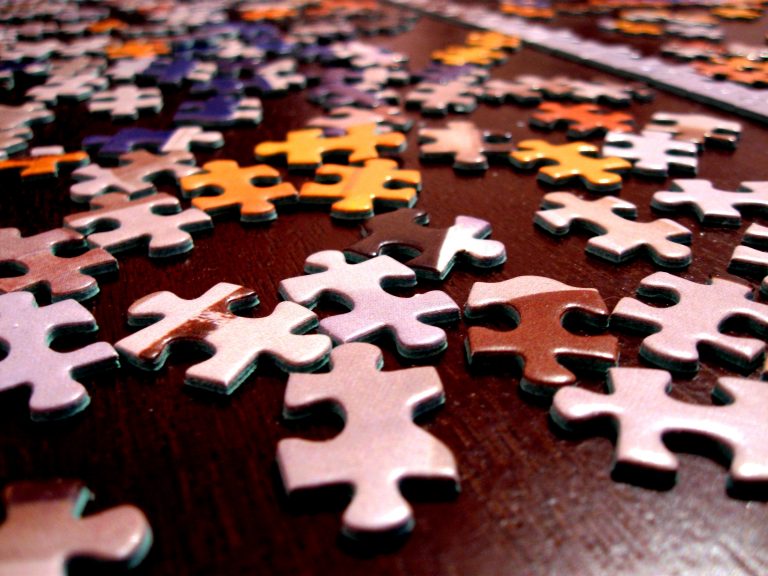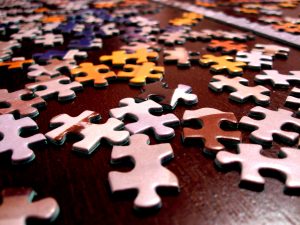 Councils and Boards is essential in addressing critical transition issues. With a Governance Model, Family Businesses can address acute short-term challenges and prepare the business for subsequent generations.
Starting the change process can be difficult. Ideally, aunts and uncles will call the cousins together and say,
"What has worked so well for us and makes us proud of what we have achieved will not work for you. You must go out and find your own model."
When siblings are wise enough to give such a mandate, the cousin generation has a greater chance of enlisting support from the earlier generation and being successful. However, many sibling groups avoid or delay dealing with the issue, leaving it up to the cousins to organize themselves. In most cases, highly educated and qualified cousins leave the business once they find the barriers to establishing Governance Structures so high.
Given the way that Family Businesses tend to become more complex over time, it is often up to the third-generation owners to redefine the role of the family and set the direction of the business. Setting up an effective Governance Model puts the Family Business on a new trajectory for success.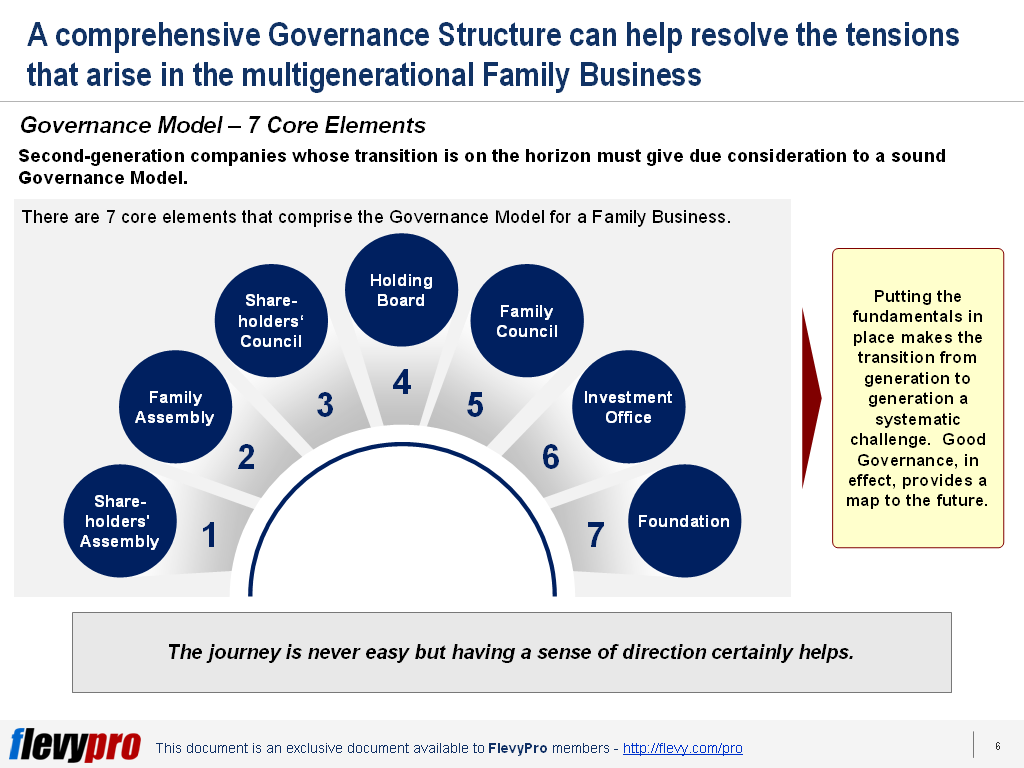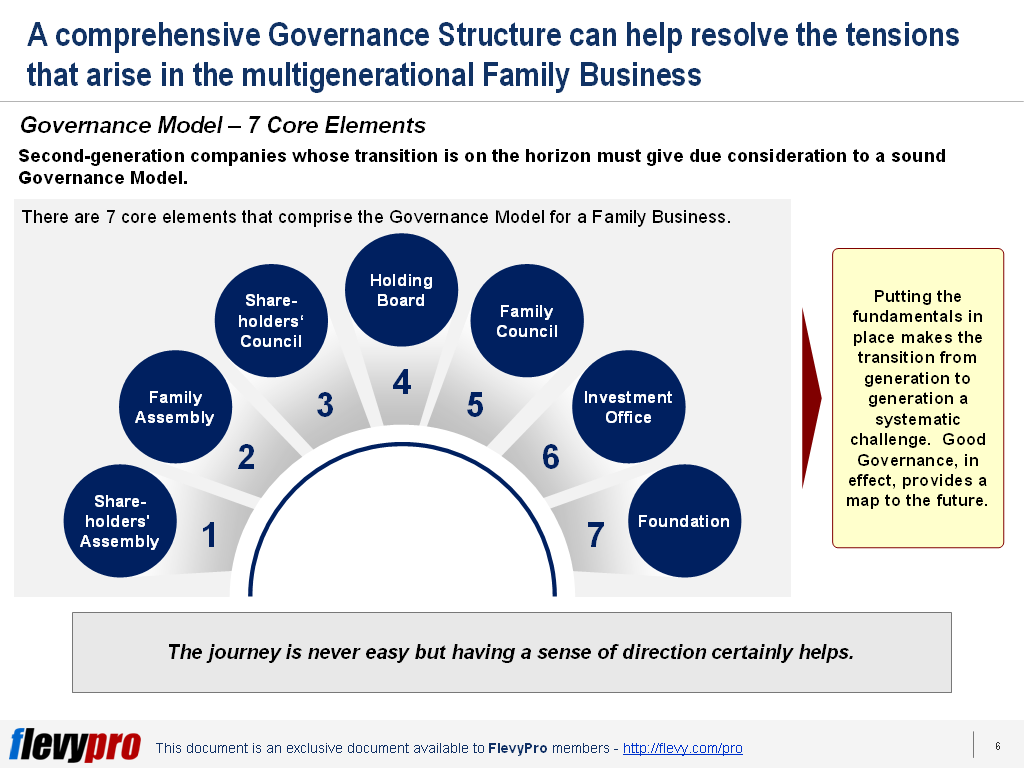 Shareholders' Assembly – The Shareholders' Assembly is primarily responsible for dealing with classical legal functions
Family Assembly – The Family Assembly instills family values in the next generation and make sure that responsible shareholders are raised.
 Shareholders' Council – The Shareholders' Council is the most important link to the company. It is responsible for regulating relationships among family shareholders and between shareholders and the business.
 Holding Board – The Holding Board is the link between Management and the Shareholders' Council. It is responsible for the overall performance of the group and its CEO.
Family Council – It is the Family Council's mission to transfer values and traditions across generations. It serves as an important communications bridge between the business and the individual family members.
Investment Office – The Investment Office is responsible for managing the family assets other than the core business. It provides a sense of security to those distant from the business and that their interests are being considered.
Foundation – The Foundation is the one responsible for the family's social and charitable investments. It nurtures consensus from generation to generation on the direction of their philanthropic activities.
Taking that Giant Step to Governance
Kickstarting the change process can be a challenging part of the sibling-to-cousins transition. There are cases that exist where highly educated and qualified cousins find the barriers to establishing Governance structures so high that they leave the business.
In making sure that the Family Business can keep the Governance up and running, it must be able to master two critical steps to Governance.
One of the two steps is developing a clear idea both of the status quo and of the desired destination. What are our goals? Are there existing gaps in the structure? What are our priorities? These must be clear before we can ever start the Family Business Governance running.
Missing on this step (and the second step as well) will lead Family Business to a difficult turn and very bumpy road to success.
Interested in gaining more understanding of Family Business: Governance? You can learn more and download an editable PowerPoint about Family Business: Governance here on the Flevy documents marketplace.
Do You Find Value in This Framework?
You can download in-depth presentations on this and hundreds of similar business frameworks from the FlevyPro Library. FlevyPro is trusted and utilized by 1000s of management consultants and corporate executives. Here's what some have to say:
"My FlevyPro subscription provides me with the most popular frameworks and decks in demand in today's market. They not only augment my existing consulting and coaching offerings and delivery, but also keep me abreast of the latest trends, inspire new products and service offerings for my practice, and educate me in a fraction of the time and money of other solutions. I strongly recommend FlevyPro to any consultant serious about success."

– Bill Branson, Founder at Strategic Business Architects
"As a niche strategic consulting firm, Flevy and FlevyPro frameworks and documents are an on-going reference to help us structure our findings and recommendations to our clients as well as improve their clarity, strength, and visual power. For us, it is an invaluable resource to increase our impact and value."

– David Coloma, Consulting Area Manager at Cynertia Consulting
"As a small business owner, the resource material available from FlevyPro has proven to be invaluable. The ability to search for material on demand based our project events and client requirements was great for me and proved very beneficial to my clients. Importantly, being able to easily edit and tailor the material for specific purposes helped us to make presentations, knowledge sharing, and toolkit development, which formed part of the overall program collateral. While FlevyPro contains resource material that any consultancy, project or delivery firm must have, it is an essential part of a small firm or independent consultant's toolbox."

– Michael Duff, Managing Director at Change Strategy (UK)
"FlevyPro has been a brilliant resource for me, as an independent growth consultant, to access a vast knowledge bank of presentations to support my work with clients. In terms of RoI, the value I received from the very first presentation I downloaded paid for my subscription many times over! The quality of the decks available allows me to punch way above my weight – it's like having the resources of a Big 4 consultancy at your fingertips at a microscopic fraction of the overhead."

– Roderick Cameron, Founding Partner at SGFE Ltd
"Several times a month, I browse FlevyPro for presentations relevant to the job challenge I have (I am a consultant). When the subject requires it, I explore further and buy from the Flevy Marketplace. On all occasions, I read them, analyze them. I take the most relevant and applicable ideas for my work; and, of course, all this translates to my and my clients' benefits."

– Omar Hernán Montes Parra, CEO at Quantum SFE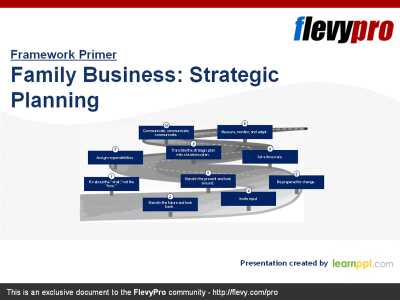 24-slide PowerPoint presentation
Family Businesses need to change and develop new strategies if they are to remain healthy and financially viable. The dynamic external environment, driven by increasing competitive markets, make it difficult for companies to maintain the status quo. Key issues stay constant year-on-year
[read more]
Do You Want to Implement Business Best Practices?
You can download in-depth presentations on Family Business and 100s of management topics from the FlevyPro Library. FlevyPro is trusted and utilized by 1000s of management consultants and corporate executives.
For even more best practices available on Flevy, have a look at our top 100 lists:
These best practices are of the same as those leveraged by top-tier management consulting firms, like McKinsey, BCG, Bain, and Accenture. Improve the growth and efficiency of your organization by utilizing these best practice frameworks, templates, and tools. Most were developed by seasoned executives and consultants with over 20+ years of experience.
Readers of This Article Are Interested in These Resources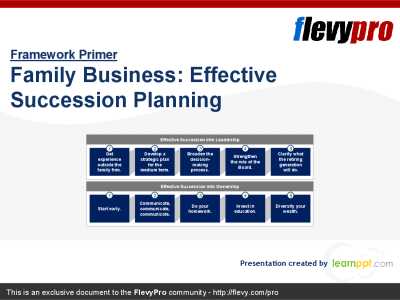 21-slide PowerPoint presentation
The Family Business sector continues to be vibrant, successful, and ambitious despite tough economic conditions and accelerating pace of change. Family businesses are vital to all economies, offering stability, a commitment for the long term, and responsibility to their communities and employees.
[read more]
26-slide PowerPoint presentation

20-slide PowerPoint presentation
About Joseph Robinson
Joseph Robinson is the Vice President of Strategy at Flevy.
Flevy
is the marketplace for best practices in business management. Learn how the Fortune 100 and global consulting firms do it. Improve the growth and efficiency of your organization by leveraging Flevy's library of best practice methodologies and templates. The documents at Flevy (https://flevy.com) are of the same caliber as those produced by top-tier management consulting firms, like McKinsey, BCG, Bain, and Accenture. Most were developed by seasoned executives and consultants with 20+ years of experience. Flevy covers
200+ management topics
, ranging from
Digital Transformation
to
Growth Strategy
to
Lean Management
. You can peruse a full list of
management topics available on Flevy here
. Prior to Flevy, Joseph worked as an Associate at BCG and holds an MBA from the Sloan School of Management at MIT. You can
connect with Joseph on LinkedIn here.