Family Businesses need to change and develop new strategies if they are to remain healthy and financially viable. The dynamic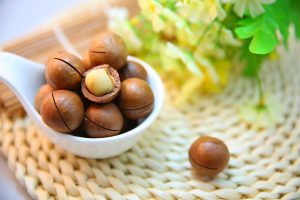 external environment, driven by increasing competitive markets, make it difficult for companies to maintain the status quo.
Key issues stay constant year-on-year relative to particular qualities of the family firm and the strengths and challenges inherent in this model. However, there is a definite sense of evolution. In 2012, the dominant themes were skills, scale, and succession. By 2014, this has evolved to focus on the need to professionalize. There is now a need to sharpen up processes and institute robust governance.
To date, the shift is more fundamental. It has shifted from the short term and the tactical to the medium term and the strategic. The challenge is in the middle: having a strategic plan that links where the business is now to the long term and where it could be. This is what we call the "Missing Middle."
Strategic Planning: Bridging the Gap to Future Growth
A robust Strategic Planning process within Family Business can help these organizations bridge the gap to future growth. In the strategic level, Strategic Planning can determine whether the business has the appropriate capital structure. It can also determine whether there is access to funding that the business needs to take advantage of future opportunities.
On the tactical side, it can determine whether the business can free up capital for investment. It can also determine if funding is on the right terms and source is secured. In short, Strategic Planning can lead Family Businesses to enhance its capability to finance growth.
The 10 Steps to Strategic Planning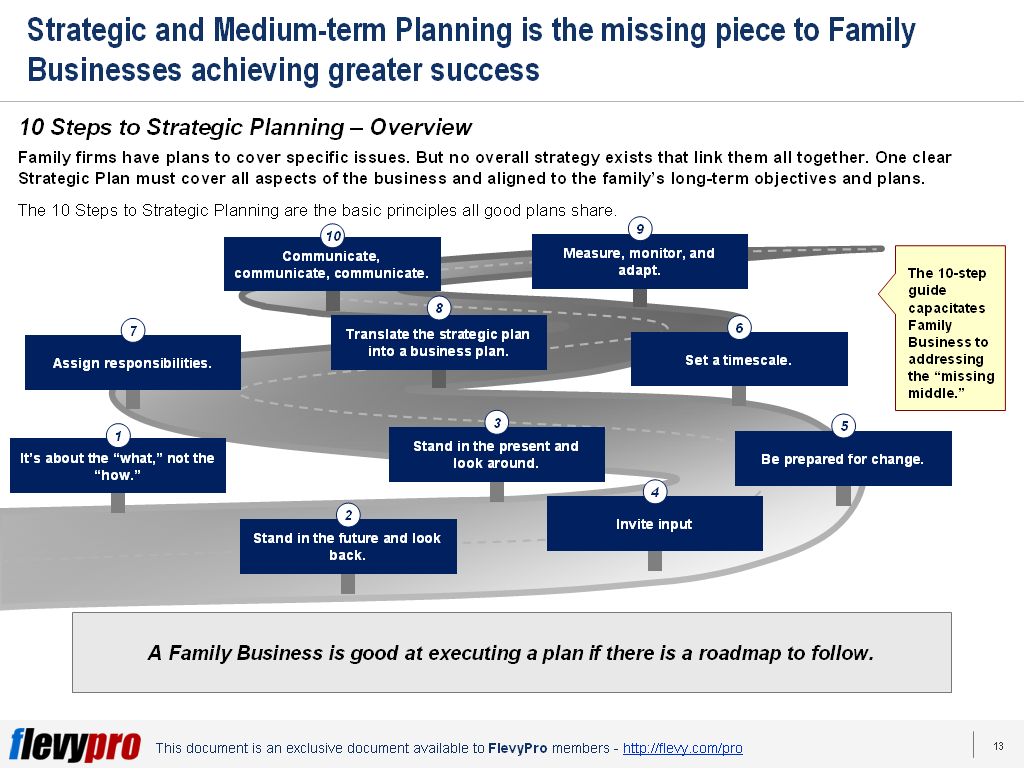 It's about the "what" not the "how."
A Strategic Planning process starts with a shared vision of objectives. We must be able to decide the direction of the firm and set business goals over the medium term.
 Stand in the future and look back.
In planning, we need to be absolutely clear about what the future looks like.
Stand in the present and look around.
Take a hard look at the business as it is right now. Are your ambitions realistic? What do we need to change?
Invite input.
The Strategic Planning process is never a one-man show. We need to involve people from across the organization and trusted advisers outside.
Be prepared for change.
Preparing for change is synonymous to Strategic Planning. Change is inevitable in Strategic Planning.
Set a timescale.
A good Strategic Plan must be developed like an itinerary – with its milestones and final destination.
Assign responsibilities.
Significantly, CEOs and the Board play a vital role in Strategic Planning as they take ultimate ownership of the plan and support it.
Translate the strategic plan into a business plan.
Strategic Plans must be operational, monitored, and communicated. A robust Strategic Plan is action-directed.
Measure, monitor, and adapt.
Implementing the Strategic Plan is not sufficient. It must be measured, monitored, and adapted to current situations or conditions.
Communicate, communicate, communicate.
Strategic Plans become more effective when there is shared commitment, energy, and a common sense of direction. We can achieve this if we communicate, communicate, and communicate.
When undertaking Strategic Planning, it is essential that we have a good grasp of where we are, what we are, and how we are going to do it. The 10 Steps to Strategic Planning can be our company's stepping stone towards a clearly written and result-directed Strategic Plan.
Interested in gaining more understanding of these 10 Steps to Strategic Planning in a Family Business? You can learn more and download an editable PowerPoint about 10 Steps to Strategic Planning here on the Flevy documents marketplace.
Are you a management consultant?
You can download this and hundreds of other consulting frameworks and consulting training guides from the FlevyPro library.