BENEFITS OF DOCUMENT
Provides of Future ready HR Business Partner
Provides of HR Business Partner Metrics & HR Strategy and Business Result
Provides of Presenter Note which contains detailed presentation material to facilitate understanding in the explanation of the ppt presentation.
DOCUMENT DESCRIPTION
This product (
Critical Human Resource Business Partner

) is a 72-slide PowerPoint presentation (PPTX) with a supplemental Word document, which you can download immediately upon purchase.

Critical Human Resource Business Partner PPT

Contents
1. Future ready HR Business Partner
2. HR Business Partner Metrics
3. HR Management Cycle
4. HR Strategy and Business Result
5. Manpower Planning Framework
6. Manpower Planning Factors
7. Technique to Determine Number of Recruits
8. Recruitment from External Resources
9. Recruitment Source & Yield Pyramid
10. Basic Concept & Types of Selection Tests
11. Cognitive Ability Test, Personality Test & Interview
12. Training Process
13. Assessing Training Needs
14. Competency Analysis
15. Competency Profile Per Position
16. Training Matrix for Competency Development
17. Enhance Training Effectiveness
18. Type of Training Program
19. Evaluation of Training Effectiveness
20. Why Performance Appraisal?
21. Performance Management Cycle
22. Problems & Bias in Performance Appraisal
23. Performance Appraisal (Competencies & Performance Results)
24. Career Planning and Development
25. Typical Career movement
26. Career Stage & Career Anchors
27. Career Management and the First Assignment

The definition of a HR business partner is an experienced human resource professional who works directly with an organization's senior leadership to develop and direct an HR agenda that closely supports organizational goals. Rather than working primarily as part of the internal human resources department, the HR business partner works closely with senior leadership, perhaps sitting on the board of directors or collaborating regularly with the C-suite.

Placing a human resources professional in close contact with executive leadership makes HR a part of the organizational strategy. The business partner model for human resources is becoming more and more popular among business organizations.

The role of the HR business partner is to make sure human resource policy and procedure throughout the organization fit the needs, goals, and aims of the organization and its top leadership. There is less focus on administration, compliance, and management. Rather than performing the day-to-day trainings or dealing with policy wording or the details of benefits packages and hiring, the HR business partner works with the big picture.

The person in this position determines and steers the objectives of the human resources department of the organization, focusing more on developing strategy rather than implementing policy. The HR business partner ensures that HR strategy fits into the organization's overall business strategy.

The HR business partner is not a vice president, nor is this person a human resource manager. Instead, an HR business partner is more of a consultant who works in human resources, building relationships and providing resources in departments throughout the organization.

A strategic business partner is a leader who is included in conversations about the future, mission, goals, and overall strategy of a company or organization. A strategic business partner, while not a member of the C-suite or executive leadership team, has a voice in their HR conversations. A strategic business partner is a consultant whose opinions and ideas are valued. The HR business partner is generally considered to be a strategic business partner that can offer recommendations, make decisions, and carry out goals.

To be valued as a strategic business partner and merit an invitation to conversations about the organization's future, a human resources professional must have a certain set of skills and knowledge. This professional must understand all areas and departments of the business, and how HR can benefit these aspects. The individual is skilled in listening to problems and ideas, and in clearly articulating solutions.

Regards,

UJ Consulting

Got a question about the product? Email us at [email protected] or ask the author directly by using the "Ask the Author a Question" form. If you cannot view the preview above this document description, go here to view the large preview instead.

Source: Best Practices in Human Resources PowerPoint Slides: Critical Human Resource Business Partner PowerPoint (PPTX) Presentation, UJ Consulting

ABOUT THE AUTHOR: UJ CONSULTING

UJ Consulting

Untung Juanto ST., MM. Founder of UJ Consulting. He is professionally experienced business and management consultant in several local and multinational companies. [read more] He has an experience in managing an effective and efficient company with various approach methods adapted to different industries because He had a career from the lower management level as Supervisor before finally being at the top management level. His Top Management experience started from the position of General Manager, VP Operation, HR Director and Business Development Director

He completed his undergraduate education majoring in Architecture at Diponegoro University, Semarang, Central Java, Indonesia. After that, He continued to Master of Management level majoring in Human Resource Management with cum laude predicate with a GPA of 3.94 at Mercubuana University, Jakarta, Indonesia.

His last work experience as Deputy President Director at Hutahaean Group in charge of 14 business units engaged in various industries including CPO Production, Oil Palm Plantation, Cassava Plantation, Tapioca flour production, 4 and 5 star hotels, waterparks, golf courses and housing with a total of employees more than 3,000 employees.

His biggest achievement was in 2021 when He served as Deputy President Director at Hutahaean Group Indonesia by increasing the company's revenue from IDR 700 billion to IDR 1.1 trillion (y/y) and increasing the profit margin by more than 20%. Doing a turn around on business units that have lost in the last 5 years become profits. In addition, He have also succeeded in creating an efficient and effective management system by redesigning the Business Process Management (BPM), reviewing Standard Operating Procedures (SOP) and Work Instructions and compiling the appropriate Key Performance Indicator Management (KPIM) to increase employee productivity.

He is currently active as a part-time business and management consultant (online) at Enquire Corp. and Flevy Corp. In addition, He also teach part-time at several universities for courses in strategic management, human resource management, project management, entrepreneurship and business.

UJ Consulting has published 171 additional documents on Flevy.
---
$25.00
All fees included. Immediate download upon purchase.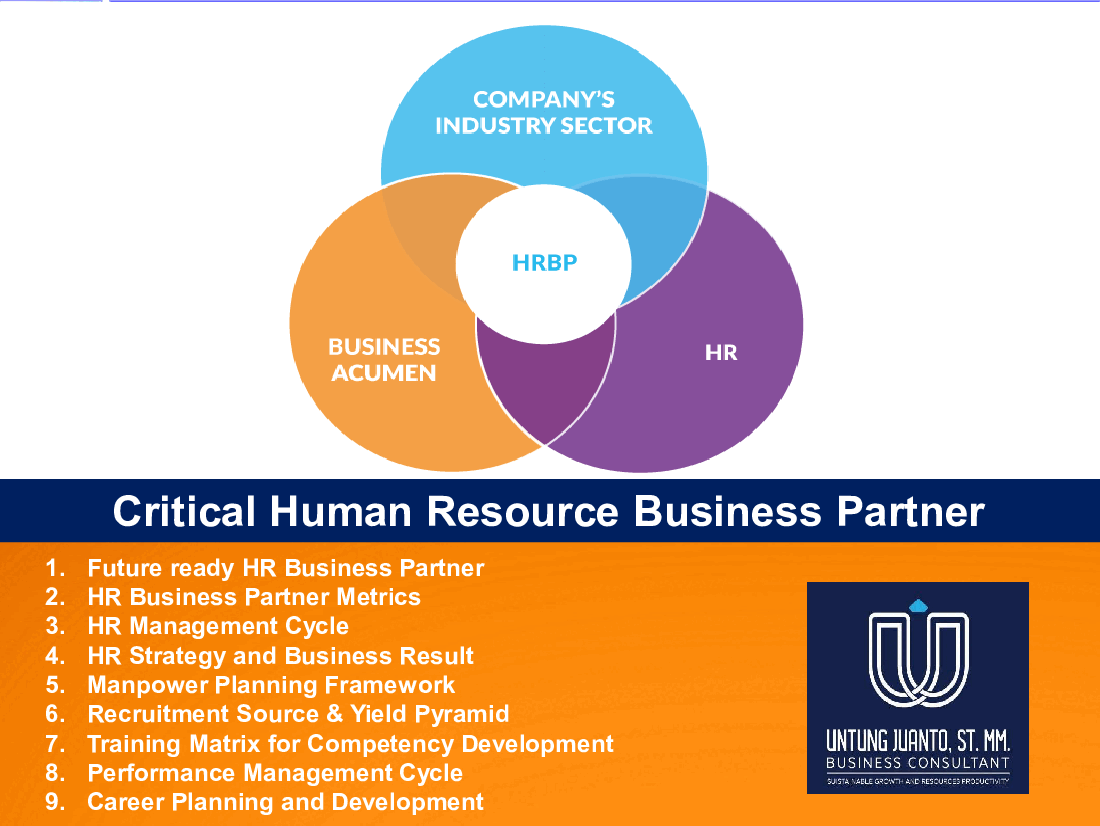 DOCUMENT DETAILS
File Type:
PowerPoint

(
pptx
)
File Size: 1.2 MB
Number of Slides: 72 (includes cover and all slides)
Immediate digital download upon purchase.
Lifetime document updates included with purchase.
Completely editable & customizable PPTX document.
Supplemental DOCX document also included.
Initial upload date (first version): Nov 5, 2022
Most recent version published: Nov 8, 2022
---