BENEFITS OF DOCUMENT
Provide a The Paradoxical Characteristics of Creative Groups
Provide a Problem Statement & Solving
Provide a Tools for Creating New Ideas
DOCUMENT DESCRIPTION
This product (
Creative Thinking Handbook

) is a 46-page Word document, which you can download immediately upon purchase.

Creative Thinking Handbook
How to be Innovative and Develop Great Ideas

Contents
1. Blocks and Blockbusters to Creativity
2. Conceptual Blocks
3. Types of Conceptual Blocks
4. Constancy
5. Compression
6. Complacency
7. The Paradoxical Characteristics of Creative Groups
8. Myths about Creativity
9. Tools for Defining Problems
10. Kipling Method
11. Problem Statement & Solving
12. Challenge Method
13. Tools for Creating New Ideas
14. Listing
15. Brainstorming
16. Organizational Characteristics that Support Creativity and Innovation
17. Creating a Creative Climate

What is creativity?
• Creative thinking is defined as finding or using new ways to look at problem and trying to solve them from a different perspective. Creative thinking is often dubbed unsettling or unorthodox because they often require such drastic change in the norm of solving or looking at problems.

• There are many companies that are successful when they use creative thinking in handling their business and problems related to it. Although many deemed them as radical or the suggestions they're implying are extreme, the people who thinks creatively often proved to be ones that get the last laugh

Why creative thinking skills are important?
1. Despite being deemed as radical or extreme, creative thinking skills challenges a person to look beyond the problem and instead of focusing on one or two ways of solving it, a creative thinker is able to look for ways around the problem

2. For HR managers who deal with many different aspect of a company on daily basis, creative thinking skills can't be more important. Not only HR managers require certain skill sets such as people management, multitasking skills, excellent communication skills and a strong business acumen, these skill sets often require creative thinking skills to complement them

3. Creative thinking skills are important, especially for HR managers, because:

4. This skill enables a manager to see new ways to manage a business more efficiently. As mentioned, because HR department deals with several different issues in a day, creative thinking will help HR managers delegate and/or solve issues without the common hassle of management problems

5. Creative thinking, other than looking for new ways to handle an issue, is also about building up on old ideas through new methods. This can be achieved if a HR manager is knowledgeable in many different fields or aspects. He or she will be able to compile ideas from these areas and then look at these from a different angle While it's true that experience may hinder a person from thinking creatively due to its constraints to use what has been tried and tested before, a creative thinker is able to use the knowledge from that experience and develop that into a new idea using creative ways of looking at things and solving any issues relating to them

6. It encourages discussion. Brainstorming is one of the methods to adopt and improve creative thinking skills. When a group of people is pooled together to discuss, opinions and ideas flow better because not one person thinks the same way even though they may have similar ideas. The more people discuss on an issue the more solutions can be found. This way, it encourages people to look beyond what is in front of them and search for other alternatives

7. Creative thinking requires a person to push the boundaries of expectations in solving problems. Due to this, a manager who thinks creatively will increase his or her ability to let go of the existing paradigm and changes the framework of reference in handling day to day issues

8. With a creative thinking environment being encouraged at work, it can optimize the work environment for every employee. Rather than having a mundane way of working, employees are encouraged to try new things and explore as many plausible solutions to handle a task or a problem as possible

9. In the HR department, while every employee's case might need different kind of handling, office work can still be routine and tedious. Creative thinking skills will allow managers and employees alike to develop new perspective at looking at old issues and seek new ways in solving practical problems

10. Creative thinking brings people together. During discussion or brainstorming, managers and employees are able to put their heads together to look for the alternative solutions. During this course, everyone has a chance to engage, motivate and encourage each other to voice out their ideas. HR managers get access to multiple perspectives that he or she can use or discuss with the team further. This creates a healthy working environment where open discussion and sharing ideas are encouraged

11. hen there are many people giving out ideas, HR managers have the chance to develop these ideas either together or individually. Ideas that are generated during brainstorming are usually useful and unique. These ideas are worthy of further elaboration to suit the direction and objective of the department

Thank you for your attention.

Regards,

UJ Consulting

Got a question about the product? Email us at [email protected] or ask the author directly by using the "Ask the Author a Question" form. If you cannot view the preview above this document description, go here to view the large preview instead.

Source: Best Practices in Creativity Word: Creative Thinking Handbook Word (DOCX) Document, UJ Consulting

ABOUT THE AUTHOR: UJ CONSULTING

UJ Consulting

Untung Juanto ST., MM. Founder of UJ Consulting. He is professionally experienced business and management consultant in several local and multinational companies. [read more] He has an experience in managing an effective and efficient company with various approach methods adapted to different industries because He had a career from the lower management level as Supervisor before finally being at the top management level. His Top Management experience started from the position of General Manager, VP Operation, HR Director and Business Development Director

He completed his undergraduate education majoring in Architecture at Diponegoro University, Semarang, Central Java, Indonesia. After that, He continued to Master of Management level majoring in Human Resource Management with cum laude predicate with a GPA of 3.94 at Mercubuana University, Jakarta, Indonesia.

His last work experience as Deputy President Director at Hutahaean Group in charge of 14 business units engaged in various industries including CPO Production, Oil Palm Plantation, Cassava Plantation, Tapioca flour production, 4 and 5 star hotels, waterparks, golf courses and housing with a total of employees more than 3,000 employees.

His biggest achievement was in 2021 when He served as Deputy President Director at Hutahaean Group Indonesia by increasing the company's revenue from IDR 700 billion to IDR 1.1 trillion (y/y) and increasing the profit margin by more than 20%. Doing a turn around on business units that have lost in the last 5 years become profits. In addition, He have also succeeded in creating an efficient and effective management system by redesigning the Business Process Management (BPM), reviewing Standard Operating Procedures (SOP) and Work Instructions and compiling the appropriate Key Performance Indicator Management (KPIM) to increase employee productivity.

He is currently active as a part-time business and management consultant (online) at Enquire Corp. and Flevy Corp. In addition, He also teach part-time at several universities for courses in strategic management, human resource management, project management, entrepreneurship and business.

UJ Consulting has published 168 additional documents on Flevy.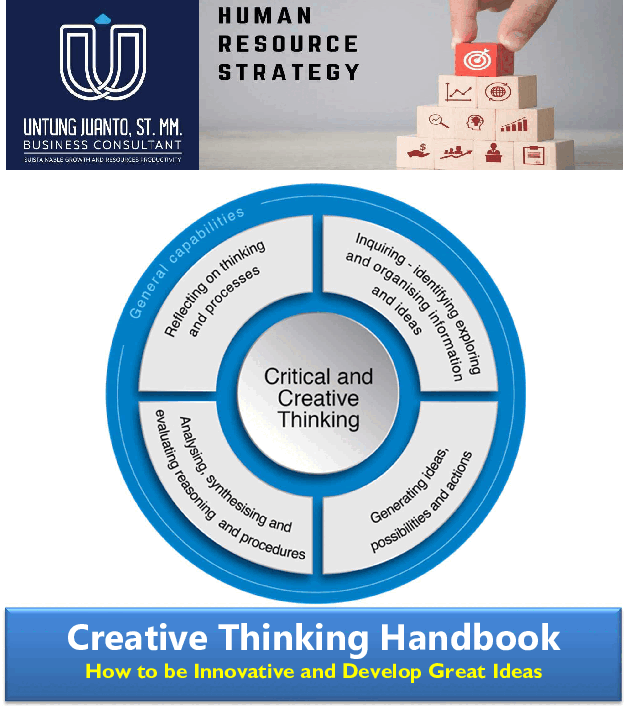 DETAILS
This business document is categorized under the function(s): Organization, Change, & HR Strategy, Marketing, & Sales
It applies to All Industries
File Size: 533 KB
Number of Pages: 46
Related Topic(s): Creativity
Purchase includes lifetime product updates. After your purchase, you will receive an email to download this document.
Initial upload date (first version): Jan 14, 2023
Most recent version published: Jan 18, 2023