BENEFITS OF BUNDLE
Provides of Strategic HRM Best Practice PPT
Provides of Critical Human Resource Process PPT
Provides of How to Build Organization Design & Culture Best Practice PPT
BUNDLE DESCRIPTION
This product (
Complete Strategic HRM Best Practices

) is a Document Bundle, which you can download immediately upon purchase.

Complete Strategic HRM Best Practices PPT

Strategic human resource management (strategic HRM) provides a framework linking people management and development practices to long-term business goals and outcomes. It focuses on longer-term resourcing issues within the context of an organization's goals and the evolving nature of work. It also informs other HR strategies, such as reward or performance, determining how they are integrated into the overall business strategy.

Strategic HRM, or 'people strategy', is about creating a coherent planned framework for employees to be hired, managed and developed in ways that supports an organization's long-term goals. It helps ensure that the various aspects of people management work together to drive the behavior and climate needed to create value and meet performance targets. It focuses on longer-term people issues, matching resources to future needs, and large-scale concerns about structure, quality, culture, values and commitment. It must also be a response to the evolving nature of work itself, which is explored in our Megatrends series and our Profession for the Future work.

There's no single HRM strategy that will deliver success in all cases. Organizations must define their own unique strategy according to their specific context, culture and objectives. People professionals are instrumental in applying their expertise to understanding organizational circumstances, and designing human capital value chains that reflect stakeholder demands.

A good business strategy is informed by people factors. This is driving demand for greater evaluation and reporting of human capital data.

Most organizations today recognize that people are fundamental to sustainable value creation, which is why they are often referred to as a business' 'most important asset'. The idea of 'human capital' is important here. Employees' knowledge, skills and abilities are assets which the organization should invest in and use to create sustainable value for the organization and its various stakeholders. The intangible value of an organization relating to the people it employs is gaining recognition among accountants and investors, and its implications for long-term sustained performance is now generally accepted.

Individual HR strategies may be shaped by the business strategy. For example, a business strategy for improving customer service may translate into discrete HR strategies involving the use of training plans or performance improvement plans. However, it's too simplistic to suggest that strategic HRM simply follows on from business strategy – the two must inform one another. The way in which people are managed, motivated and deployed, and the availability of skills and knowledge, should all shape the business strategy. Indeed, it's now increasingly common to find business strategies that are inextricably linked with, and incorporated into, strategic HRM, defining the management of all resources within the organization.

It emphasized the importance of individual HR strategies fitting with each other and operating within a strategic framework that incorporates both people and business issues. This research has also found that individual HR practices alone do not drive better business performance. For example, highly skilled individuals with valuable human capital can only generate value if they also have positive relationships with their managers in a supportive environment with strong values. All these factors will promote 'discretionary behavior', that is, the willingness of the individual to perform above the minimum necessary or give extra effort. Hence strategic HRM should take account of the need to foster employee engagement and related states, such as motivation and commitment, all of which support organizational performance.


THERE ARE 7 PRODUCTS ARE IN THIS BUNDLE:

Got a question about the product? Email us at [email protected] or ask the author directly by using the "Ask the Author a Question" form.

ABOUT THE AUTHOR: UJ CONSULTING

UJ Consulting

Untung Juanto ST., MM. Founder of UJ Consulting. He is professionally experienced business and management consultant in several local and multinational companies. [read more] He has an experience in managing an effective and efficient company with various approach methods adapted to different industries because He had a career from the lower management level as Supervisor before finally being at the top management level. His Top Management experience started from the position of General Manager, VP Operation, HR Director and Business Development Director

He completed his undergraduate education majoring in Architecture at Diponegoro University, Semarang, Central Java, Indonesia. After that, He continued to Master of Management level majoring in Human Resource Management with cum laude predicate with a GPA of 3.94 at Mercubuana University, Jakarta, Indonesia.

His last work experience as Deputy President Director at Hutahaean Group in charge of 14 business units engaged in various industries including CPO Production, Oil Palm Plantation, Cassava Plantation, Tapioca flour production, 4 and 5 star hotels, waterparks, golf courses and housing with a total of employees more than 3,000 employees.

His biggest achievement was in 2021 when He served as Deputy President Director at Hutahaean Group Indonesia by increasing the company's revenue from IDR 700 billion to IDR 1.1 trillion (y/y) and increasing the profit margin by more than 20%. Doing a turn around on business units that have lost in the last 5 years become profits. In addition, He have also succeeded in creating an efficient and effective management system by redesigning the Business Process Management (BPM), reviewing Standard Operating Procedures (SOP) and Work Instructions and compiling the appropriate Key Performance Indicator Management (KPIM) to increase employee productivity.

He is currently active as a part-time business and management consultant (online) at Enquire Corp. and Flevy Corp. In addition, He also teach part-time at several universities for courses in strategic management, human resource management, project management, entrepreneurship and business.

UJ Consulting has published 169 additional documents on Flevy.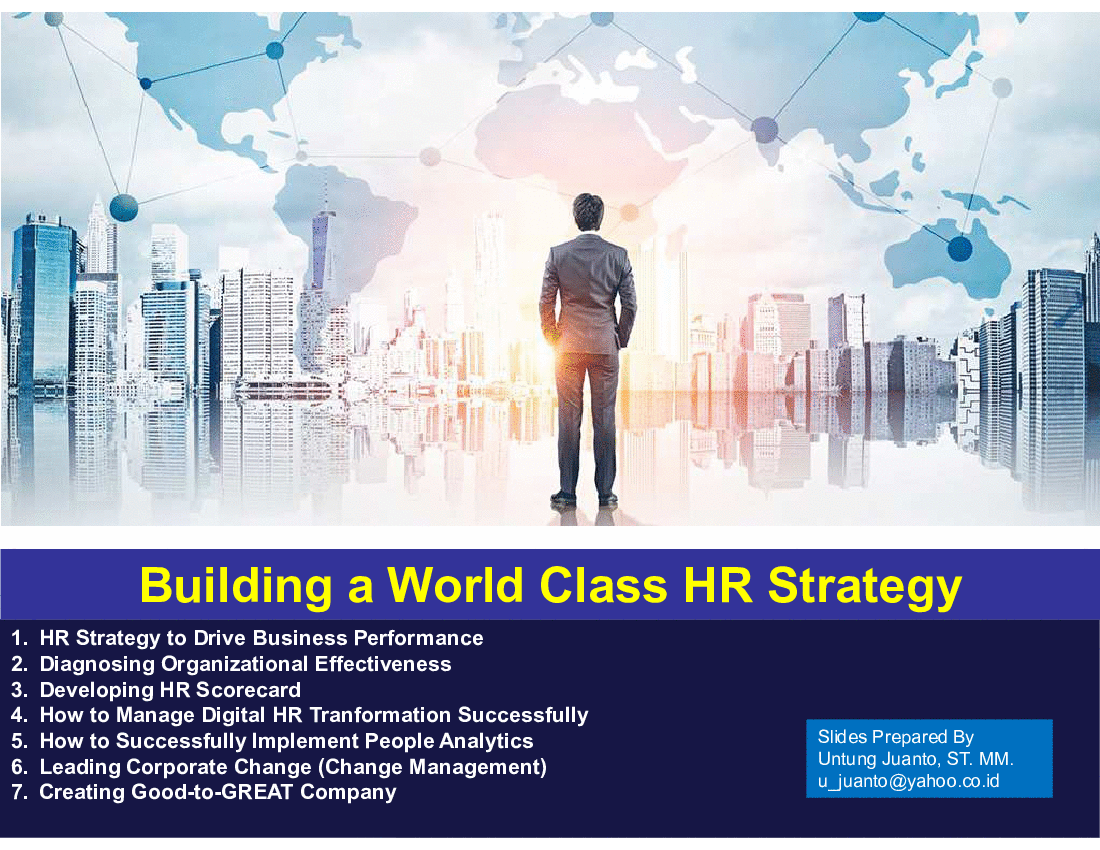 DETAILS
This business document is categorized under the function(s): Operations Organization, Change, & HR
It applies to All Industries
Purchase includes lifetime product updates. After your purchase, you will receive an email to download the documents in this bundle.
Initial upload date (first version): Oct 18, 2022