DOCUMENT DESCRIPTION
This product (
Startup Freemium SaaS Financial Model: 5 Year

) is an Excel workbook (XLSX), which you can download immediately upon purchase.

Recent Updates: 3-statement model integration, cap table, improvement in global assumption layout, dynamic capex schedule. A freemium business model can be modeled with a few basic levers.

This template makes it easy to configure and forecast the timing, pricing, and resulting financial forecast of a freemium strategy. Simply, this means you have some source of traffic, offer that traffic a free service and upsell a paid service and/or upsell an ad free service for better user experience.

The revenue drivers adjust over 5 years and include:

• Start year of model
• Start month of traffic
• Start month freemium service begins
• Start month paid service begins
• Starting monthly traffic and CAGR per year
• Percentage of visitors converted to the free service
• Expected impressions and earnings per impressions of per ads shown to the free pool -Average churn of free pool
• Percentage of free user pool converting to paid per month
• Monthly price of paid service
• Churn of paid pool moving back down to free
• Churn of paid pool closing account
• Percentage of traffic signing up to paid service directly

Expense assumptions are based on a dynamic fixed cost schedule that can be defined per category (G&A, S&M, R&D, and/or COGS) as well as plenty of slots per category with varying start month and monthly cost over 5 years. COGS can be defined by a cost per user per month on average or a fixed percentage of revenue.

Final output reports include a monthly and annual pro forma that drives to operating income, taxable income, net income after taxes, and cash flow after taxes. Additionally, there is a high level annual summary of key financial line items and cash flow items as well as KPI's.

There are over 13 visualizations to make the results more digestible and clear. Final IRR is displayed based on minimum cash requirements and expected cash flow per year. There is an option to define an exit value based on a defined multiple of annual revenue in the final year. Any funding from debt that still has a balance is assumed to be repaid on the exit month.

Got a question about the product? Email us at [email protected] or ask the author directly by using the "Ask the Author a Question" form. If you cannot view the preview above this document description, go here to view the large preview instead.

Source: Best Practices in Integrated Financial Model, SaaS Excel: Startup Freemium SaaS Financial Model: 5 Year Excel (XLSX) Spreadsheet, Jason Varner | SmartHelping

ABOUT THE AUTHOR: JASON VARNER | SMARTHELPING

I graduated in 2011 with a Bachelors degree in Accounting. From there, I worked at a few small businesses doing financial reporting and some bookkeeping. After a few years of that, I started doing freelance financial consulting work on Elance and Upwork.

After over 400 jobs completed with a 100% success rate, I now run my own modeling/consulting practice and continue to build new financial models every few weeks. [read more]

I occasionally take on custom financial modeling work.

Jason Varner | SmartHelping has published 123 additional documents on Flevy.
---
$45.00
All fees included. Immediate download upon purchase.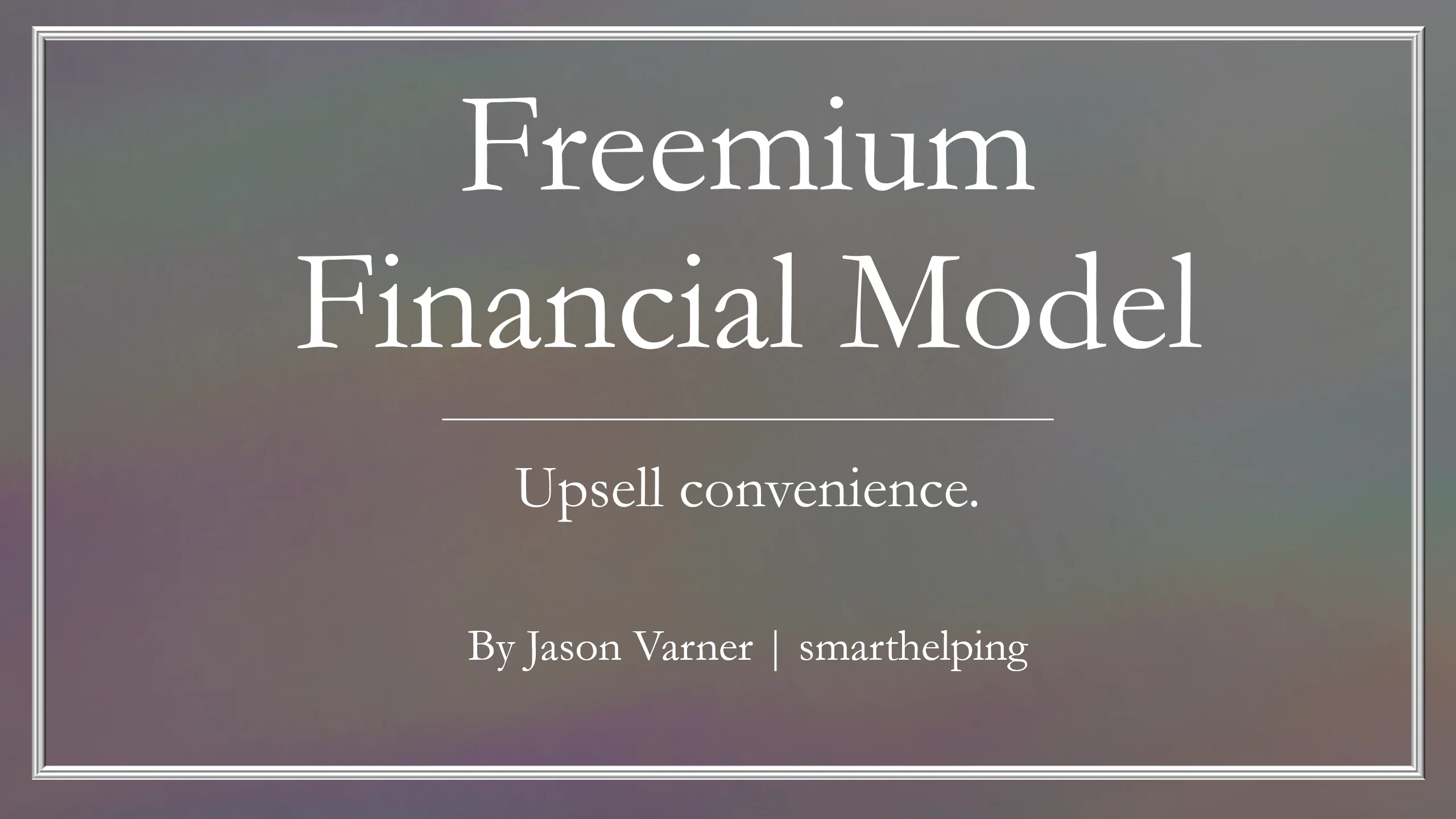 DOCUMENT DETAILS
File Size: 550.6 KB
Immediate digital download upon purchase.
Lifetime document updates included with purchase.
Completely editable & customizable XLSX document.
Initial upload date (first version): Feb 16, 2023
Most recent version published: Feb 17, 2023
---