BENEFITS OF DOCUMENT
Provides of Developing HR Scorecard Based on Balanced Scorecard (PPT)
Provides of KPI of HR Manager Based on Balanced Scorecard (PPT)
Provides of Presenter Note of Guidelines & Templates HR Scorecard - Step by Step (Doc)
DOCUMENT DESCRIPTION
This product (
Guidelines & Templates of HR Scorecard Based on BSC

) is a 24-slide PowerPoint presentation (PPTX) with a supplemental Word document, which you can download immediately upon purchase.

Guidelines & Templates of HR Scorecard Based on BSC

Contents
1. The HR Strategy Map
2. Key Components of the Human Resource Scorecard
3. KPI Based on Balanced Scorecard
4. The Benefits of HR Scorecard
5. Key Steps in Implementing HR Scorecard
6. Methods, Tools, Framework of HR Scorecard

The HR Strategy Map

The term balanced scorecard (BSC) refers to a strategic management performance metric used to identify and improve various internal business functions and their resulting external outcomes. Used to measure and provide feedback to organizations, balanced scorecards are common among companies in the United States, the United Kingdom, Japan, and Europe. Data collection is crucial to providing quantitative results as managers and executives gather and interpret the information. Company personnel can use this information to make better decisions for the future of their organizations.

1. A balanced scorecard is a performance metric used to identify, improve, and control a business's various functions and resulting outcomes.
2. The concept of BSCs was first introduced in 1992 by David Norton and Robert Kaplan, who took previous metric performance measures and adapted them to include nonfinancial information.
4. BSCs were originally developed for for-profit companies but were later adapted for use by nonprofits and government agencies.
5. The balanced scorecard involves measuring four main aspects of a business: Learning and growth, business processes, customers, and finance.
6. BSCs allow companies to pool information in a single report, to provide information into service and quality in addition to financial performance, and to help improve efficiencies.

Financial. This pertains to how well the firm is doing with regards to financial aspect; particularly expenses and revenue. Such considerations comprised of cost of benefits, rent, equipment, salaries, taxes, training, supplies and travel expenses. This data can aid Human resource in identifying methods to cut costs is specific areas.
• to drive long-range shareholder value
• to significantly improve the Return on Investment of Human Resource Strategic Initiatives
• to improve worker productivity

Internal Customers. This deals with the delivery of product, customer satisfaction as well as the immediate response to whatever issues customers encounter. Such concerns composed of the costs incurred for delivering and packing a certain product and the quality of the product. Human resource can conduct surveys to customers in order to identify their levels of concerns and satisfaction. in addition to this, the firm can then focus on areas and come up with quick and the required improvements.
• to establish positive work environment
• to intensify employee satisfaction or internal customer

Human Resource Internal Process. This includes the IT software and hardware to find out the efficiency in cost and time. In the same way, the firm has to specify and account for accounting functions in accordance to the rules of accounting.

Human Resource can also determine if the processes such as maintaining employees, orientation, staffing and recruiting are providing the aimed business outcomes.
• to apply a more exceptional Recruitment Process
• to promote Strategic Employee Competencies
• to carry out Best Talent Management Practices
• to greatly upgrade Performance Management System

Learning. This refers to how much the firm has improved and learned at the time of operation. Here, morale and employee satisfaction are deemed as two crucial factors. On the other hand, other facets composed of change and continuous improvement. Human resource can function to develop weaker areas through the means of cultivating a vigorous performance development and training systems. Creating recognition and ward systems can be another Human resource strategy practice recognized by the HR scorecard.
• to cultivate Internal Human Resource Capabilities
• to establish outstanding Human Resources Information System

Got a question about the product? Email us at [email protected] or ask the author directly by using the "Ask the Author a Question" form. If you cannot view the preview above this document description, go here to view the large preview instead.

Source: Best Practices in Balanced Scorecard PowerPoint Slides: Guidelines & Templates of HR Scorecard Based on BSC PowerPoint (PPTX) Presentation, UJ Consulting

ABOUT THE AUTHOR: UJ CONSULTING

UJ Consulting

Untung Juanto ST., MM. Founder of UJ Consulting. He is professionally experienced business and management consultant in several local and multinational companies. [read more] He has an experience in managing an effective and efficient company with various approach methods adapted to different industries because He had a career from the lower management level as Supervisor before finally being at the top management level. His Top Management experience started from the position of General Manager, VP Operation, HR Director and Business Development Director

He completed his undergraduate education majoring in Architecture at Diponegoro University, Semarang, Central Java, Indonesia. After that, He continued to Master of Management level majoring in Human Resource Management with cum laude predicate with a GPA of 3.94 at Mercubuana University, Jakarta, Indonesia.

His last work experience as Deputy President Director at Hutahaean Group in charge of 14 business units engaged in various industries including CPO Production, Oil Palm Plantation, Cassava Plantation, Tapioca flour production, 4 and 5 star hotels, waterparks, golf courses and housing with a total of employees more than 3,000 employees.

His biggest achievement was in 2021 when He served as Deputy President Director at Hutahaean Group Indonesia by increasing the company's revenue from IDR 700 billion to IDR 1.1 trillion (y/y) and increasing the profit margin by more than 20%. Doing a turn around on business units that have lost in the last 5 years become profits. In addition, He have also succeeded in creating an efficient and effective management system by redesigning the Business Process Management (BPM), reviewing Standard Operating Procedures (SOP) and Work Instructions and compiling the appropriate Key Performance Indicator Management (KPIM) to increase employee productivity.

He is currently active as a part-time business and management consultant (online) at Enquire Corp. and Flevy Corp. In addition, He also teach part-time at several universities for courses in strategic management, human resource management, project management, entrepreneurship and business.

UJ Consulting has published 171 additional documents on Flevy.
---
$25.00
All fees included. Immediate download upon purchase.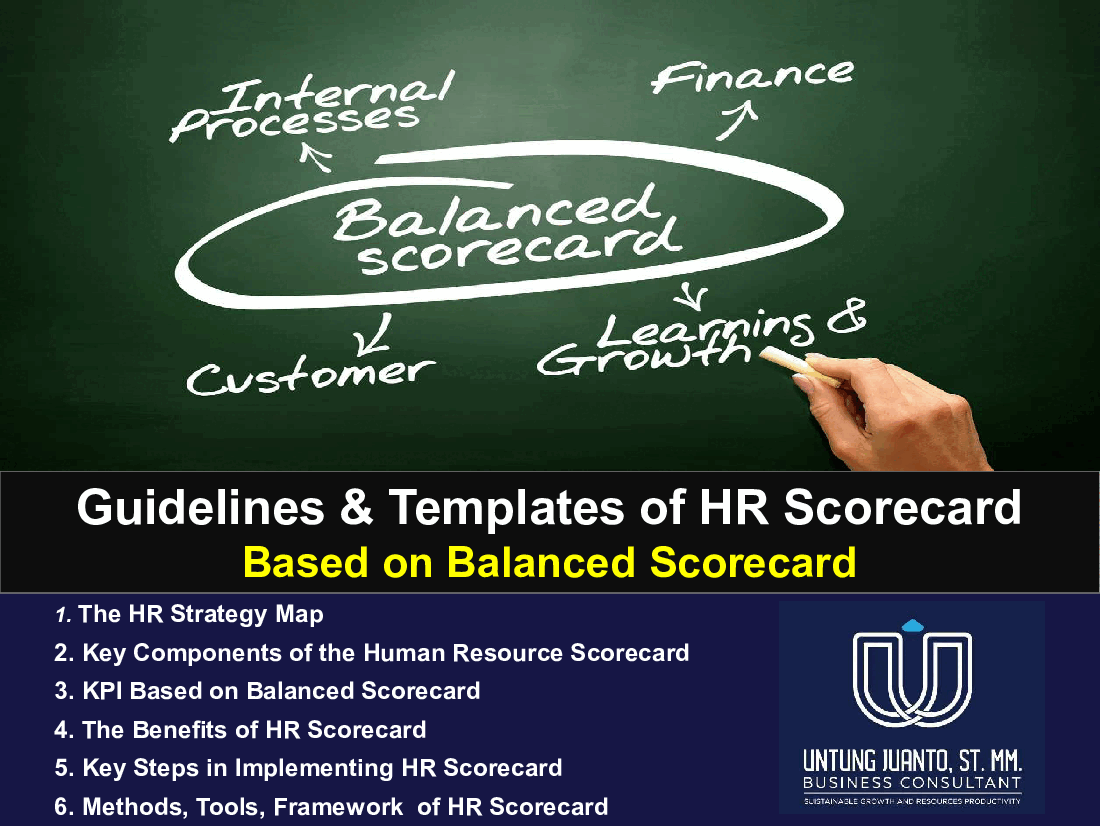 DOCUMENT DETAILS
File Type:
PowerPoint

(
pptx
)
File Size: 2.3 MB
Number of Slides: 24 (inc. cover, transition, & marketing slides)
Immediate digital download upon purchase.
Lifetime document updates included with purchase.
Completely editable & customizable PPTX document.
Supplemental DOCX document also included.
Initial upload date (first version): Oct 29, 2022
Most recent version published: Nov 1, 2022
---