BENEFITS OF DOCUMENT
Provides of Sample of KPI for HR Manager PPT
Provides of Template of KPI for HR Manager PPT
Provides of How to Create KPI Measurement PPT
DOCUMENT DESCRIPTION
This product (
Sample & Template of KPI for HR Manager

) is a 16-slide PowerPoint presentation (PPTX) with a supplemental Word document, which you can download immediately upon purchase.

Sample & Template of KPI for HR Manager PPT

Key Performance Indicators (KPIs) are the critical (key) indicators of progress toward an intended result. KPIs provides a focus for strategic and operational improvement, create an analytical basis for decision making and help focus attention on what matters most. As Peter Drucker famously said, "What gets measured gets done."

Managing with the use of KPIs includes setting targets (the desired level of performance) and tracking progress against that target. Managing with KPIs often means working to improve leading indicators that will later drive lagging benefits. Leading indicators are precursors of future success; lagging indicators show how successful the organization was at achieving results in the past.

Discussion of Company Performance through KPI based on Balanced Scorecard :
1. Performance Management Framework
2. Performance Management Component
3. Performance Management Cycle
4. Managing Performance with Balanced Scorecard
5. 4 Perspectives in Balanced Scorecard
6. Strategy and Balanced Scorecard
7. Strategy Map Framework
8. Strategic Objectives in Financial
9. Strategic Objectives in Customer
10. Strategic Objectives in Internal Process
11. Strategic Objectives in Learning & Growth
12. Strategy Map Template
13. KPI Guideline
14. KPI Family Dimension
15. KPI Category Dimension
16. Integration Corporate with Division and Department
17. Corporate and Division Scorecard
18. Division Strategy Map Template
19. HR/IT/Finance/Marketing Strategy Map Template

BSCs are used extensively in business and industry, government, and nonprofit organizations worldwide. More than half of major companies in the US, Europe, and Asia are using the BSC, with use growing in those areas as well as in the Middle East and Africa. A recent global study by Bain & Co listed balanced scorecard fifth on its top ten most widely used management tools around the world. BSC has also been selected by the editors of Harvard Business Review as one of the most influential business ideas of the past 75 years.

The BSC suggests that we examine an organization from four different perspectives to help develop objectives, measures (KPIs), targets, and initiatives relative to those views.

1. Financial (or Stewardship): views an organization's financial performance and the use of financial resources
2. Customer/Stakeholder: views organizational performance from the perspective of the customer or key stakeholders the organization is designed to serve
3. Internal Process: views the quality and efficiency of an organization's performance related to the product, services, or other key business processes
4. Organizational Capacity (or Learning & Growth): views human capital, infrastructure, technology, culture, and other capacities that are key to breakthrough performance

One of the most powerful elements in the BSC methodology is the use of strategy mapping to visualize and communicate how value is created by the organization. A strategy map is a simple graphic that shows a logical, cause-and-effect connection between strategic objectives.

For each objective on the strategy map, at least one measure or Key Performance Indicator (KPI) will be identified and tracked over time. KPIs indicate progress toward a desirable outcome. Strategic KPIs monitor the implementation and effectiveness of an organization's strategies, determine the gap between actual and targeted performance and determine organization effectiveness and operational efficiency.

Cascading a balanced scorecard means to translate the corporate-wide scorecard (referred to as Tier 1) down to first business units, support units or departments (Tier 2) and then teams or individuals (Tier 3).

Cascading strategy focuses the entire organization on strategy and creating line-of-sight between the work people do and high level desired results. As the management system is cascaded down through the organization, objectives become more operational and tactical, as do the performance measures. Accountability follows the objectives and measures, as ownership is defined at each level. This alignment step is critical to becoming a strategy-focused organization.

Got a question about the product? Email us at support@flevy.com or ask the author directly by using the "Ask the Author a Question" form. If you cannot view the preview above this document description, go here to view the large preview instead.

Source: Best Practices in Human Resources, KPI PowerPoint Slides: Sample & Template of KPI for HR Manager PowerPoint (PPTX) Presentation, UJ Consulting

ABOUT THE AUTHOR: UJ CONSULTING

UJ Consulting

Untung Juanto ST., MM. Founder of UJ Consulting. He is professionally experienced business and management consultant in several local and multinational companies. [read more] He has an experience in managing an effective and efficient company with various approach methods adapted to different industries because He had a career from the lower management level as Supervisor before finally being at the top management level. His Top Management experience started from the position of General Manager, VP Operation, HR Director and Business Development Director

He completed his undergraduate education majoring in Architecture at Diponegoro University, Semarang, Central Java, Indonesia. After that, He continued to Master of Management level majoring in Human Resource Management with cum laude predicate with a GPA of 3.94 at Mercubuana University, Jakarta, Indonesia.

His last work experience as Deputy President Director at Hutahaean Group in charge of 14 business units engaged in various industries including CPO Production, Oil Palm Plantation, Cassava Plantation, Tapioca flour production, 4 and 5 star hotels, waterparks, golf courses and housing with a total of employees more than 3,000 employees.

His biggest achievement was in 2021 when He served as Deputy President Director at Hutahaean Group Indonesia by increasing the company's revenue from IDR 700 billion to IDR 1.1 trillion (y/y) and increasing the profit margin by more than 20%. Doing a turn around on business units that have lost in the last 5 years become profits. In addition, He have also succeeded in creating an efficient and effective management system by redesigning the Business Process Management (BPM), reviewing Standard Operating Procedures (SOP) and Work Instructions and compiling the appropriate Key Performance Indicator Management (KPIM) to increase employee productivity.

He is currently active as a part-time business and management consultant (online) at Enquire Corp. and Flevy Corp. In addition, He also teach part-time at several universities for courses in strategic management, human resource management, project management, entrepreneurship and business.

UJ Consulting has published 171 additional documents on Flevy.
---
$25.00
All fees included. Immediate download upon purchase.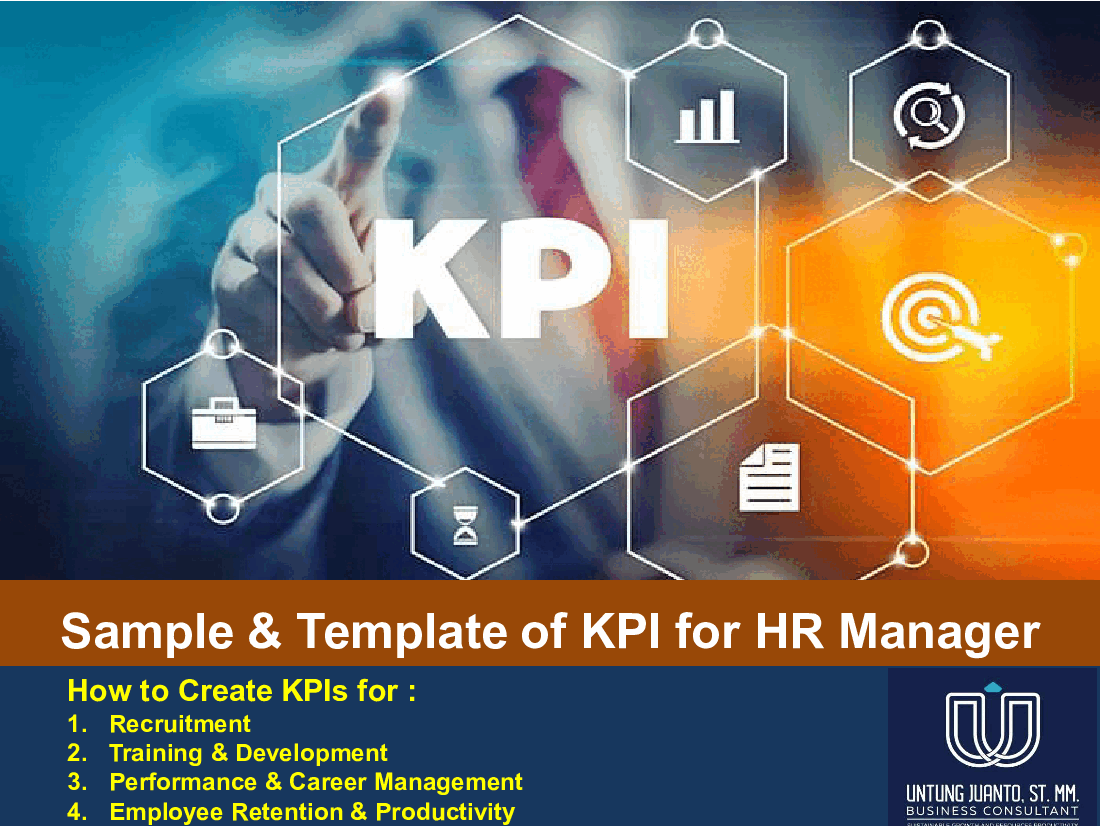 DOCUMENT DETAILS
File Type:
PowerPoint

(
pptx
)
File Size: 502.2 KB
Number of Slides: 16 (includes cover and all slides)
Immediate digital download upon purchase.
Lifetime document updates included with purchase.
Completely editable & customizable PPTX document.
Supplemental DOCX document also included.
Initial upload date (first version): Oct 20, 2022
Most recent version published: Oct 21, 2022
---