BENEFITS OF BUNDLE
Provides of Human Resource Management Framework PPT
Provides of Critical Human Resource Process PPT
Provides of HR Strategies and HR Operations Best Practice PPT
BUNDLE DESCRIPTION
This product (
Complete HRM Best Practices [Strategy & Operations]

) is a Document Bundle, which you can download immediately upon purchase.

The Complete Guide to HRM Best Practices (Strategy & Operations) PPT

Strategic HRM PPT, or 'people strategy', is about creating a coherent planned framework for employees to be hired, managed and developed in ways that supports an organization's long-term goals. It helps ensure that the various aspects of people management work together to drive the behaviour and climate needed to create value and meet performance targets. It focuses on longer-term people issues, matching resources to future needs, and large-scale concerns about structure, quality, culture, values and commitment. It must also be a response to the evolving nature of work itself, which is explored in our Megatrends series and our Profession for the Future work.

A human resources strategy allows you to maximize the potential of your employees while aligning all HR activities so that they coincide with your organizational objectives. Learning how to analyze the skills of your workforce and forecast your company's needs will help you create an effective HR strategy and better reach your company's goals.

Having an HR strategy is important because it determines how HR processes work in your company and ensures they are in alignment with the organization's goals. HR practices can increase employee productivity, positively impact employee learning and improve a business's overall performance. A successful human resources strategy can:
1. Improve employee and supervisor relations
2. Hasten the speed of HR policy implementation
3. Foster an environment conducive to your company's culture and encourage strong workplace ethics
4. Inspire fair treatment of and cooperation between team members regardless of age, sex or background
5. Dampen a high turnover rate by improving employee loyalty
6. How to create a human resources strategy

HR strategy is a road map for addressing an organization's most pressing issues through people-centered solutions. This method necessitates HR input during policy development and emphasises the significance of recruitment, talent management, compensation, succession planning, and corporate culture.

Best practices for human resources strategies
Use these best practices for implementing human resources strategies in your organization:
1. HR professionals must be involved: The HR professional in your organization should understand and, ideally, be involved in the creation of your strategy.
2. HR practices should align with strategy: After you create a plan, evaluate all HR initiatives and practices to ensure they're aligned with your new strategy.
3. Strategies should be measured: Monitor and measure the results of your HR strategies to ensure the key performance indicators (KPIs) you're tracking are aligned with your goals.
4. Goals and incentives should be aligned with strategy: Make sure your goals and performance incentives are aligned with the execution of the strategy.
5. Management must be in agreement: Your HR strategy must have the support of your management team as well as an appropriate budget and any technology it needs to succeed.

Strategic human resource management (strategic HRM PPT) provides a framework linking people management and development practices to long-term business goals and outcomes. It focuses on longer-term resourcing issues within the context of an organization's goals and the evolving nature of work. It also informs other HR strategies, such as reward or performance, determining how they are integrated into the overall business strategy.


THERE ARE 15 PRODUCTS ARE IN THIS BUNDLE:

Got a question about the product? Email us at [email protected] or ask the author directly by using the "Ask the Author a Question" form.

ABOUT THE AUTHOR: UJ CONSULTING

UJ Consulting

Untung Juanto ST., MM. Founder of UJ Consulting. He is professionally experienced business and management consultant in several local and multinational companies. [read more] He has an experience in managing an effective and efficient company with various approach methods adapted to different industries because He had a career from the lower management level as Supervisor before finally being at the top management level. His Top Management experience started from the position of General Manager, VP Operation, HR Director and Business Development Director

He completed his undergraduate education majoring in Architecture at Diponegoro University, Semarang, Central Java, Indonesia. After that, He continued to Master of Management level majoring in Human Resource Management with cum laude predicate with a GPA of 3.94 at Mercubuana University, Jakarta, Indonesia.

His last work experience as Deputy President Director at Hutahaean Group in charge of 14 business units engaged in various industries including CPO Production, Oil Palm Plantation, Cassava Plantation, Tapioca flour production, 4 and 5 star hotels, waterparks, golf courses and housing with a total of employees more than 3,000 employees.

His biggest achievement was in 2021 when He served as Deputy President Director at Hutahaean Group Indonesia by increasing the company's revenue from IDR 700 billion to IDR 1.1 trillion (y/y) and increasing the profit margin by more than 20%. Doing a turn around on business units that have lost in the last 5 years become profits. In addition, He have also succeeded in creating an efficient and effective management system by redesigning the Business Process Management (BPM), reviewing Standard Operating Procedures (SOP) and Work Instructions and compiling the appropriate Key Performance Indicator Management (KPIM) to increase employee productivity.

He is currently active as a part-time business and management consultant (online) at Enquire Corp. and Flevy Corp. In addition, He also teach part-time at several universities for courses in strategic management, human resource management, project management, entrepreneurship and business.

UJ Consulting has published 169 additional documents on Flevy.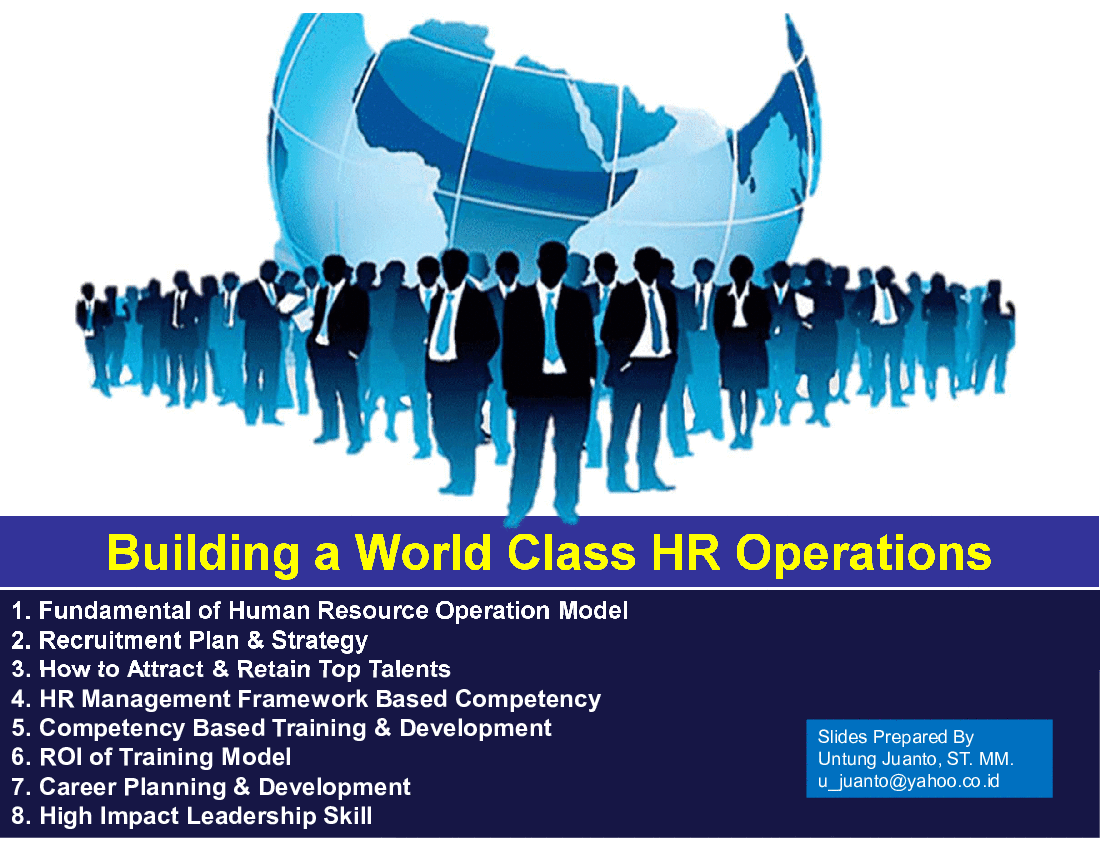 DETAILS
This business document is categorized under the function(s): Operations Organization, Change, & HR
It applies to All Industries
Purchase includes lifetime product updates. After your purchase, you will receive an email to download the documents in this bundle.
Initial upload date (first version): Oct 13, 2022