BUNDLE DESCRIPTION
This product (
Complete SOP Industrial Relation [IR]

) is a Document Bundle, which you can download immediately upon purchase.

Complete SOP Industrial Relation (IR)

Standard operating procedures (SOPs) provide HR teams with a standardized set of instructions to carry out procedures for attracting and retaining talent, managing employee performances, and implementing company-wide policies at scale.

HR teams wear many hats. From selling company values to potential employees and keeping existing employees happy, to maintaining legal compliance with security and payroll protocol, HR teams regularly juggle responsibilities that are mission-critical to every business' bottom line.

Each of these processes requires attention to detail, especially when managing sensitive communication with multiple employees, stakeholders, and vendors. Employees spend an average of five hours every week waiting to get in touch with people that have the knowledge they need. At scale, it's inefficient for anyone across the company to use up all this time scrambling for documents, templates and files every single time a new policy or team member is introduced.

You want to spend your time creating detailed documentation that your team can plug and play into regular company initiatives. SOPs serve as the foundation for current HR initiatives to be implemented smoothly while ensuring companies are able to improve and evolve existing processes for the future.

Industrial relations has become one of the most delicate and complex problems of modern industrial society. Industrial progress is impossible without cooperation of labors and harmonious relationships. Therefore, it is in the interest of all to create and maintain good relations between employees (labor) and employers (management).

The term 'Industrial Relations' comprises of two terms: 'Industry' and 'Relations'. "Industry" refers to "any productive activity in which an individual (or a group of individuals) is (are) engaged". By "relations" we mean "the relationships that exist within the industry between the employer and his workmen.". The term industrial relations explains the relationship between employees and management which stem directly or indirectly from union-employer relationship.
Thank you for your attention.

The main objectives of industrial relations system are:-

1. To safeguard the interest of labour and management by securing the highest level of mutual understanding and good-will among all those sections in the industry which participate in the process of production.

2. To avoid industrial conflict or strife and develop harmonious relations, which are an essential factor in the productivity of workers and the industrial progress of a country.

3. To raise productivity to a higher level in an era of full employment by lessening the tendency to high turnover and frequency absenteeism.

4. To establish and promote the growth of an industrial democracy based on labor partnership in the sharing of profits and of managerial decisions, so that ban individuals personality may grow its full stature for the benefit of the industry and of the country as well.

5. To eliminate or minimize the number of strikes, lockouts and gheraos by providing reasonable wages, improved living and working conditions, said fringe benefits.

6. To improve the economic conditions of workers in the existing state of industrial managements and political government.

7. Socialization of industries by making the state itself a major employer

8. Vesting of a proprietary interest of the workers in the industries in which they are employed.

Regards,

UJ Consulting


THERE ARE 9 PRODUCTS ARE IN THIS BUNDLE:

Got a question about the product? Email us at support@flevy.com or ask the author directly by using the "Ask the Author a Question" form.

ABOUT THE AUTHOR: UJ CONSULTING

UJ Consulting

Untung Juanto ST., MM. Founder of UJ Consulting. He is professionally experienced business and management consultant in several local and multinational companies. [read more] He has an experience in managing an effective and efficient company with various approach methods adapted to different industries because He had a career from the lower management level as Supervisor before finally being at the top management level. His Top Management experience started from the position of General Manager, VP Operation, HR Director and Business Development Director

He completed his undergraduate education majoring in Architecture at Diponegoro University, Semarang, Central Java, Indonesia. After that, He continued to Master of Management level majoring in Human Resource Management with cum laude predicate with a GPA of 3.94 at Mercubuana University, Jakarta, Indonesia.

His last work experience as Deputy President Director at Hutahaean Group in charge of 14 business units engaged in various industries including CPO Production, Oil Palm Plantation, Cassava Plantation, Tapioca flour production, 4 and 5 star hotels, waterparks, golf courses and housing with a total of employees more than 3,000 employees.

His biggest achievement was in 2021 when He served as Deputy President Director at Hutahaean Group Indonesia by increasing the company's revenue from IDR 700 billion to IDR 1.1 trillion (y/y) and increasing the profit margin by more than 20%. Doing a turn around on business units that have lost in the last 5 years become profits. In addition, He have also succeeded in creating an efficient and effective management system by redesigning the Business Process Management (BPM), reviewing Standard Operating Procedures (SOP) and Work Instructions and compiling the appropriate Key Performance Indicator Management (KPIM) to increase employee productivity.

He is currently active as a part-time business and management consultant (online) at Enquire Corp. and Flevy Corp. In addition, He also teach part-time at several universities for courses in strategic management, human resource management, project management, entrepreneurship and business.

UJ Consulting has published 172 additional documents on Flevy.
---
$89.00
All fees included. Immediate download upon purchase.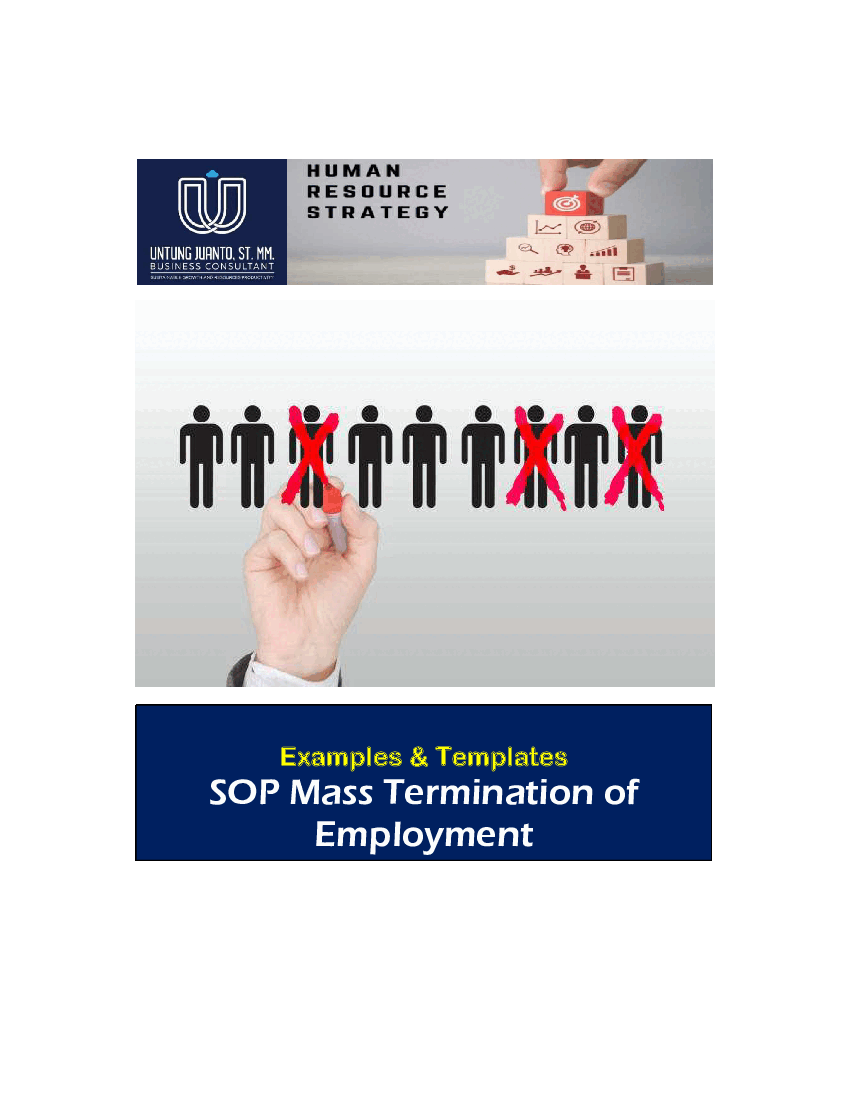 DOCUMENT DETAILS
This is a discounted bundle of multiple documents.
Immediate digital download upon purchase.
Lifetime document updates included with purchase.
Initial upload date (first version): Dec 13, 2022
---