BENEFITS OF DOCUMENT
Provides a framework for continuous improvement based on the Kaizen principles and practices.
Provides guidelines on the use of common Kaizen methods and tools to eliminate waste and improve productivity.
Provides information on the Kaizen approach to improving personal and team effectiveness.
DOCUMENT DESCRIPTION
This product (
Kaizen

) is a 187-slide PowerPoint presentation (PPTX) with a supplemental PDF document, which you can download immediately upon purchase.

Kaizen is a powerful strategy that has played a critical role in the success of many Japanese companies, including Toyota. At its core, Kaizen is all about continuous improvement. It is a Lean methodology that involves everyone in the organization, from top management to frontline employees, in the pursuit of perfection.

The philosophy of Kaizen is based on the idea that every aspect of our lives, from our work to our social and home lives, can be improved. The principles of Kaizen have been instrumental in the development of many uniquely Japanese management practices, including TQC, QC circles, and labor relations.

Kaizen is much more than just a management concept; it is a way of life. The philosophy of Kaizen is built around the idea that every day, something can be improved somewhere in the organization. This approach encourages a culture of continuous improvement, where everyone is encouraged to identify and address problems as they arise.

One of the key benefits of Kaizen is its ability to solve cross-functional problems. By encouraging collaboration and joint efforts across departments, Kaizen can help organizations develop new products and services that meet the needs of their customers.

Kaizen is also a customer-driven strategy for improvement. By focusing on quality, cost, and scheduling, organizations can better meet the needs of their customers and stay competitive in today's fast-paced business environment.

Finally, Kaizen emphasizes the importance of process-oriented thinking. By focusing on the processes that drive organizational performance, Kaizen encourages continuous improvement and helps organizations achieve their goals.

At its core, Kaizen is about eliminating waste and improving efficiency. This Kaizen PPT training presentation is designed to help managers, supervisors, facilitators, and continuous improvement steering committees kick-start and implement Kaizen activities in their work areas. By following the principles of Kaizen, organizations can drive meaningful change and achieve lasting success.

||||||||||||||||||||||||||||||||||||||||||||||||||||||||||||||||||||||||||||||||||||||||||||||||||||||||||||||||||||||||||||||||||||||||||||||||||||||
1. Kaizen PPT training presentation (PowerPoint format)
2. Kaizen poster (PDF format, in color and monochrome, printable in A3 size)
||||||||||||||||||||||||||||||||||||||||||||||||||||||||||||||||||||||||||||||||||||||||||||||||||||||||||||||||||||||||||||||||||||||||||||||||||||||

LEARNING OBJECTIVES:

1. Understand the key concepts of Kaizen
2. Gain knowledge on the management and practices of Kaizen
3. Learn how to implement Kaizen activities to eliminate waste and improve the organization's performance
4. Learn the tools and techniques for problem solving
5. Understand the critical role of management in Kaizen implementation

CONTENTS:

1. Introduction to Kaizen
2. Kaizen & Waste
3. Key Concepts of Kaizen
4. Kaizen Management
5. Kaizen Practices
6. Kaizen Implementation
7. Problem Solving Tools & Technique
8. Developing "Kaizen Eyes"
9. Role of Management
10. Critical Success Factors

Note: This training presentation can be used together with the "Kaizen Event Guide", "Office Kaizen" and the "Six Steps of Kaizen" (sold separately).

Got a question about the product? Email us at [email protected] or ask the author directly by using the "Ask the Author a Question" form. If you cannot view the preview above this document description, go here to view the large preview instead.

Source: Best Practices in Process Improvement, Kaizen, Operational Excellence, Continuous Improvement PowerPoint Slides: Kaizen PowerPoint (PPTX) Presentation, Operational Excellence Consulting

ABOUT THE AUTHOR: OPERATIONAL EXCELLENCE CONSULTING

Operational Excellence Consulting is a leading management training and consulting firm dedicated to helping individuals and organizations improve their effectiveness and productivity in the post-pandemic new normal. Our mission is to drive lasting beneficial change by leveraging design thinking and lean management approaches. [read more]

We work with a diverse range of clients, including government bodies, multinational corporations, and small and medium-sized enterprises, across a wide spectrum of industries.

Our firm offers a comprehensive suite of capabilities, including Design Thinking, Customer Experience Management, Business Model Innovation, Lean Process Redesign, Total Quality Management (TQM), Total Productive Maintenance (TPM), Kaizen, Value Stream Improvement, Hoshin Kanri (Policy Deployment), Problem Solving Techniques & Tools (e.g. PDCA, 8D, A3, etc.), Training Within Industry (TWI), Suggestion System and Benchmarking.

To ensure the widespread adoption of operational excellence techniques and tools, we pride ourselves on developing high-quality, customizable training materials, presentations, frameworks, and templates to complement your training and business needs.

Operational Excellence Consulting has published 209 additional documents on Flevy.
---
$79.00
All fees included. Immediate download upon purchase.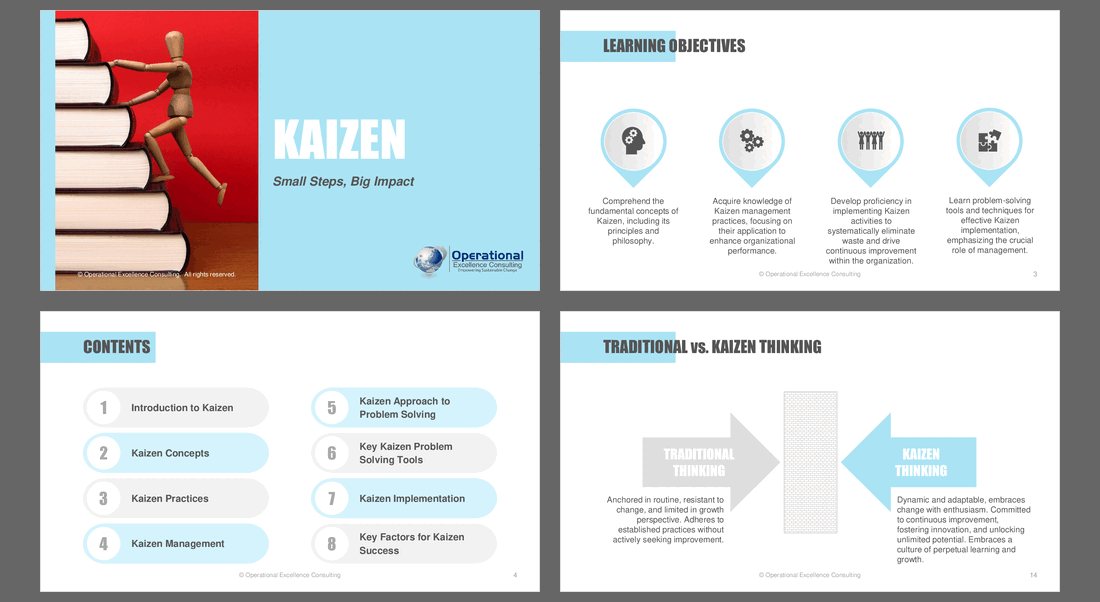 DOCUMENT DETAILS
File Type:
PowerPoint

(
pptx
)
File Size: 8.7 MB
Number of Slides: 187 (includes cover and all slides)
Immediate digital download upon purchase.
Lifetime document updates included with purchase.
Completely editable & customizable PPTX document.
Supplemental PDF document also included.
Terms of usage
(for all documents from Operational Excellence Consulting)
Initial upload date (first version): Feb 23, 2013
Most recent version published: Aug 30, 2021
---