BENEFITS OF BUNDLE
Provides of Framework of Strategic Marketing Management
Provides of Planning, Process and Execution of Strategic Marketing
Provides of SWOT Analysis to support of Implementation Strategic Marketing
BUNDLE DESCRIPTION
This product (
The Ultimate Strategic Marketing Management

) is a Document Bundle, which you can download immediately upon purchase.

The Ultimate Strategic Marketing Management

Strategic Marketing is the way a firm effectively differentiates itself from its competitors by capitalising on its strengths (both current and potential) to provide consistently better value to customers than its competitors. In principle it's that simple, but it means a lot more than getting creative with the marketing mix.

Strategic marketing is a method through which an organisation differentiates itself from its competition by focusing on its strengths to provide better service and value to its customers. In a nutshell, the goal of strategic marketing is to make the most of an organisation's positive differentiation over its competition through the consumers' perspective.

The Role of Strategic Marketing is to decide:
1. Which markets to compete in (where to compete).
2. What the basis of the firm's competitive advantage is going to be (how to compete), and
3. When and how the firm will enter each market (when to compete)

It's only when these three questions have been answered can the marketing planning begin.

Phases involved in the strategic marketing planning process:
Planning phase: In this phase, the various aspects of an organisation, such as its strenghts, weaknesses and technology are assessed. The overall state of the organisation is also presented to the management. This phase comprises of four components, which include:

1. SWOT analysis: This method analyses the strengths, weaknesses, opportunities and threats related to the organisation. The results of this analysis help in developing a strategic marketing proposal for the organisation.

2. Marketing mix strategy: Once the SWOT analysis has been conducted, a proper marketing mix strategy is then prepared. Marketing mix strategy consists of combining and analysing a variety of components that help in strengthening a company's brand and in selling its products or services.

The importance of strategic marketing in an organisation:

1. Helps in evaluating the current environment: Strategic marketing helps in assessing the positioning and performance of an organisation. It is important to know what resources are at the disposal of an organisation at any given time. The data that is collected helps in understanding how well an organisation is performing within the overall competitive environment. This will also help the organisation in planning for future strategic marketing activities or plans.

2. Helps in establishing clear marketing objectives: Having a strategic marketing plan in place helps in establishing achievable marketing objectives. The objectives should have a specific time-frame and should be measurable.

3. Streamlines product development: Strategic marketing helps in creating products and services that provide the organisation with high profits. This is because strategic marketing starts off by conducting a SWOT analysis of the organisation, a market analysis of the consumers and the existing trends in the market. This information is then used to create the optimal products and services for the consumers.

Regards,

UJ Consulting


THERE ARE 10 PRODUCTS ARE IN THIS BUNDLE:

Got a question about the product? Email us at [email protected] or ask the author directly by using the "Ask the Author a Question" form.

ABOUT THE AUTHOR: UJ CONSULTING

UJ Consulting

Untung Juanto ST., MM. Founder of UJ Consulting. He is professionally experienced business and management consultant in several local and multinational companies. [read more] He has an experience in managing an effective and efficient company with various approach methods adapted to different industries because He had a career from the lower management level as Supervisor before finally being at the top management level. His Top Management experience started from the position of General Manager, VP Operation, HR Director and Business Development Director

He completed his undergraduate education majoring in Architecture at Diponegoro University, Semarang, Central Java, Indonesia. After that, He continued to Master of Management level majoring in Human Resource Management with cum laude predicate with a GPA of 3.94 at Mercubuana University, Jakarta, Indonesia.

His last work experience as Deputy President Director at Hutahaean Group in charge of 14 business units engaged in various industries including CPO Production, Oil Palm Plantation, Cassava Plantation, Tapioca flour production, 4 and 5 star hotels, waterparks, golf courses and housing with a total of employees more than 3,000 employees.

His biggest achievement was in 2021 when He served as Deputy President Director at Hutahaean Group Indonesia by increasing the company's revenue from IDR 700 billion to IDR 1.1 trillion (y/y) and increasing the profit margin by more than 20%. Doing a turn around on business units that have lost in the last 5 years become profits. In addition, He have also succeeded in creating an efficient and effective management system by redesigning the Business Process Management (BPM), reviewing Standard Operating Procedures (SOP) and Work Instructions and compiling the appropriate Key Performance Indicator Management (KPIM) to increase employee productivity.

He is currently active as a part-time business and management consultant (online) at Enquire Corp. and Flevy Corp. In addition, He also teach part-time at several universities for courses in strategic management, human resource management, project management, entrepreneurship and business.

UJ Consulting has published 170 additional documents on Flevy.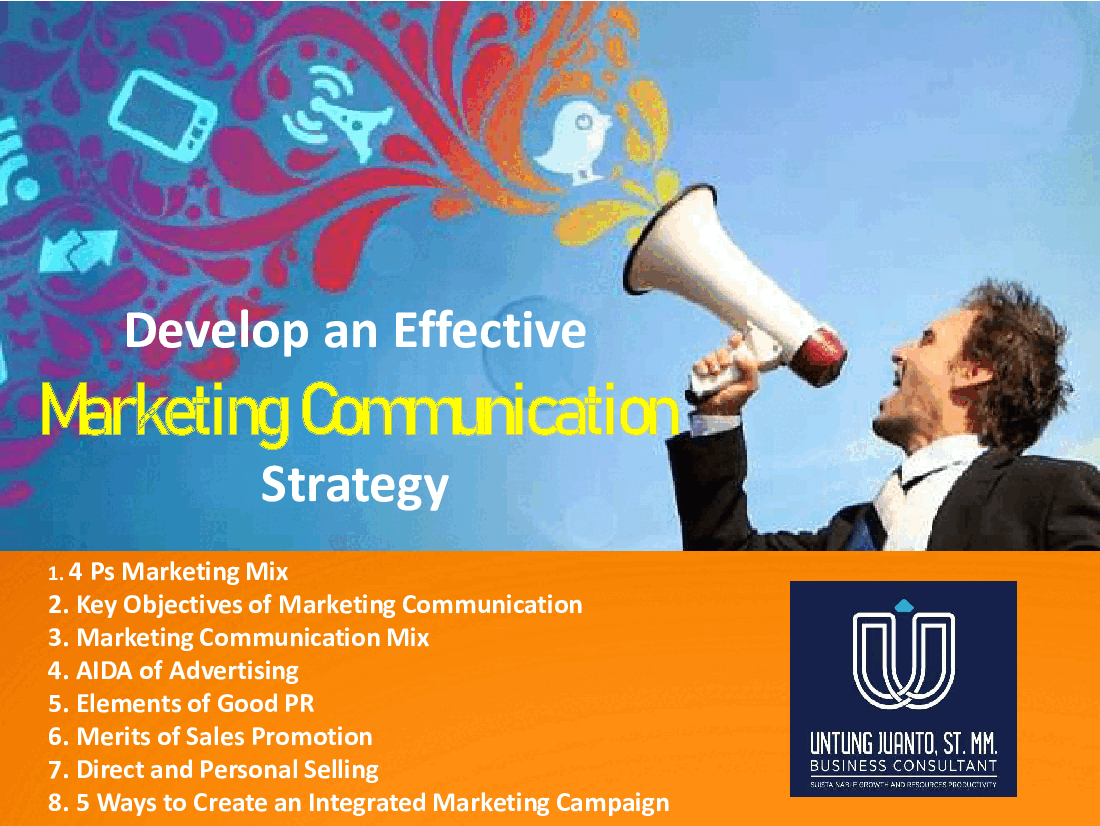 DETAILS
This business document is categorized under the function(s): Operations Strategy, Marketing, & Sales
It applies to All Industries
Purchase includes lifetime product updates. After your purchase, you will receive an email to download the documents in this bundle.
Initial upload date (first version): Nov 24, 2022