BENEFITS OF BUNDLE
Provides of Competency Iceberg Model (Best Practice) PPT
Provides of Competencies with Proficiency Level (Best Practice) PPT
Provides of How to Improve Soft Skills (Best Practice) PPT
BUNDLE DESCRIPTION
This product (
How to Improve Soft Skills [Best Practices]

) is a Document Bundle, which you can download immediately upon purchase.

How to improve Soft Skills Best Practices PPT

Soft skills are a mix of interpersonal skills, common sense, personality, emotional intelligence and attitude towards people and are very important for success in the workplace as they impact how we perform and interact with our cooworkers. Soft skills either can't be acquired or are notoriously hard to acquire through traditional education, although they're transferable. What does it mean?

Soft skills are abilities that relate to how you work and how you interact with other people. Popular soft skills include communication, teamwork and other interpersonal skills. Employers look for soft skills in candidates because these skills are hard to teach and are important for long-term success. Soft skills are different from hard skills, which are technical and job-specific.

Other names for soft skills: personal skills, interpersonal skills, non-technical skills, essential skills, transferable skills

Soft skills are personality traits and behaviors that will help candidates get hired and succeed in their work. Unlike technical skills or "hard" skills, soft skills are interpersonal and behavioral skills that help you work well with other people and develop your career.

In short, transferable skills aren't job-specific. You have them regardless of the job you're doing.
For example, if you're a great communicator you'll remain one whatever you do.
Soft skills in the workplace are the driving force behind any company's success.

It's thanks to soft skills that team members are able to effectively collaborate with each other and achieve synergistic results. You can teach people to use new software, or perform certain job-specific tasks rather quickly. But you can't teach them common sense. Or change their character.

Why are soft skills important?
Soft skills play an important role in resume writing, interviewing, job performance and finding success in communicating with people at work and in other areas of your life. For example, as you look for jobs, you may find that many employers list specific soft skills on their job posts in the "required" or "desired" sections.

For example, a job posting for a human resources associate may list "attention to detail" as a desired trait, while a job for a marketing specialist could list "leadership" and "great communication skills" as required traits.

Soft skills are often transferable across careers and industries. As a result, you may find that you possess many of the required traits even if you don't match the exact profile in a job description. As you search for jobs, pay special attention to posts calling for candidates with soft skills or traits you possess.

Even if the job title isn't a great fit, you may find that the description makes sense for you. As you progress through the job search process, keep your resume updated to reflect soft skills most relevant to the jobs you're applying for.

While having your soft skills on your resume can catch the attention of an employer, the interview is where you'll be able to showcase that you actually possess these skills. While you can display some skills like good communication, you may consider weaving others into your answers to interview questions.

For example, you might talk about your problem-solving skills when answering a question like, "Tell me about a time you overcame an obstacle." If the employer prompts you to provide references, think of those that can speak to examples that verify your soft skills and other strengths.


THERE ARE 7 PRODUCTS ARE IN THIS BUNDLE:

Got a question about the product? Email us at support@flevy.com or ask the author directly by using the "Ask the Author a Question" form.

ABOUT THE AUTHOR: UJ CONSULTING

UJ Consulting

Untung Juanto ST., MM. Founder of UJ Consulting. He is professionally experienced business and management consultant in several local and multinational companies. [read more] He has an experience in managing an effective and efficient company with various approach methods adapted to different industries because He had a career from the lower management level as Supervisor before finally being at the top management level. His Top Management experience started from the position of General Manager, VP Operation, HR Director and Business Development Director

He completed his undergraduate education majoring in Architecture at Diponegoro University, Semarang, Central Java, Indonesia. After that, He continued to Master of Management level majoring in Human Resource Management with cum laude predicate with a GPA of 3.94 at Mercubuana University, Jakarta, Indonesia.

His last work experience as Deputy President Director at Hutahaean Group in charge of 14 business units engaged in various industries including CPO Production, Oil Palm Plantation, Cassava Plantation, Tapioca flour production, 4 and 5 star hotels, waterparks, golf courses and housing with a total of employees more than 3,000 employees.

His biggest achievement was in 2021 when He served as Deputy President Director at Hutahaean Group Indonesia by increasing the company's revenue from IDR 700 billion to IDR 1.1 trillion (y/y) and increasing the profit margin by more than 20%. Doing a turn around on business units that have lost in the last 5 years become profits. In addition, He have also succeeded in creating an efficient and effective management system by redesigning the Business Process Management (BPM), reviewing Standard Operating Procedures (SOP) and Work Instructions and compiling the appropriate Key Performance Indicator Management (KPIM) to increase employee productivity.

He is currently active as a part-time business and management consultant (online) at Enquire Corp. and Flevy Corp. In addition, He also teach part-time at several universities for courses in strategic management, human resource management, project management, entrepreneurship and business.

UJ Consulting has published 169 additional documents on Flevy.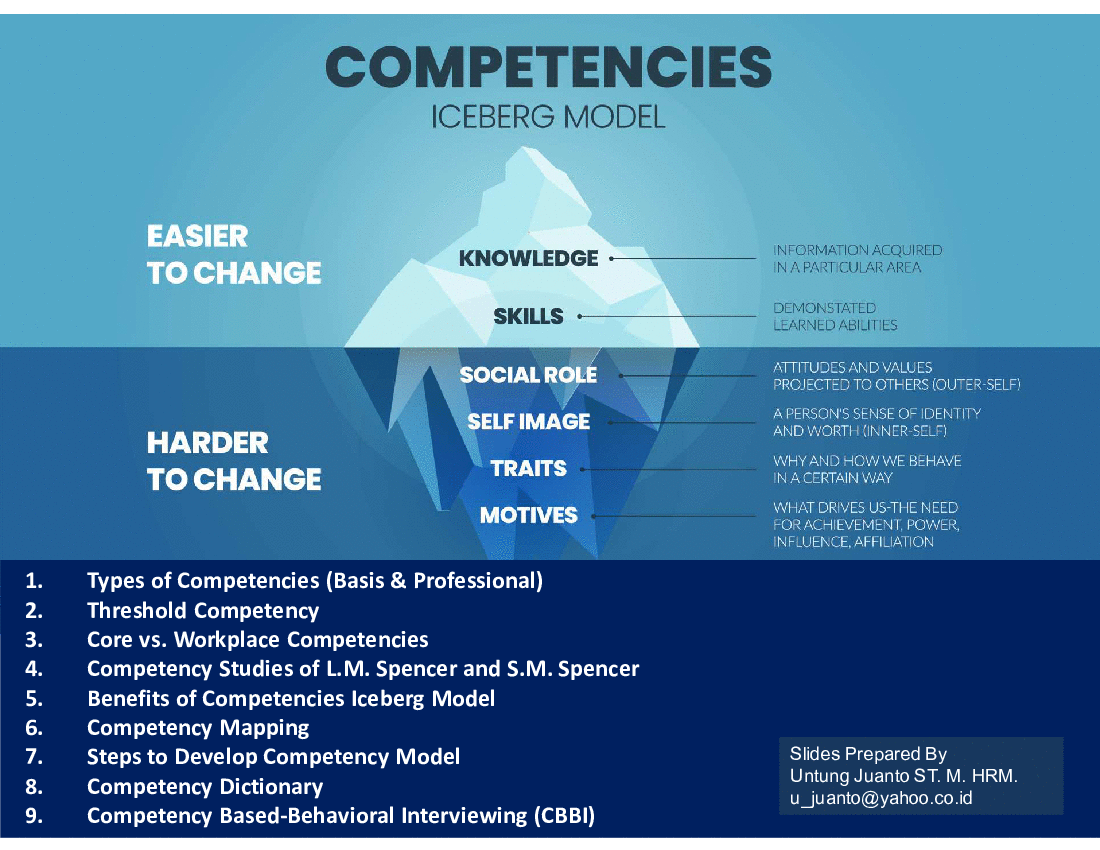 DETAILS
This business document is categorized under the function(s): Organization, Change, & HR
It applies to All Industries
Purchase includes lifetime product updates. After your purchase, you will receive an email to download the documents in this bundle.
Initial upload date (first version): Oct 17, 2022