BENEFITS OF DOCUMENT
Provide of Alternative working capital policies
Provides of Cash, inventory, and A/R management
Provides of Bank debt and commercial paper
DOCUMENT DESCRIPTION
This product (
Working Capital Management

) is a 48-slide PowerPoint presentation (PPT), which you can download immediately upon purchase.

Every company always needs funds to finance its daily operations, for example to provide additional purchases of raw materials, pay labor wages, employee salaries, and so on, where the money or funds that have been spent are expected to be able to return to the company in a timely manner. short through the sale of its production. The money that comes in from the sale of these products will be immediately released again to finance further operations. Thus, these funds will continue to rotate every period during the life of the company. Funds used to finance the company's day-to-day operations are called working capital management PPT.

Working Capital Management PPT is a business strategy designed to ensure that an organization operates efficiently by monitoring and using its current assets and liabilities to their most effective use. The efficiency of Working Capital Management PPT can be quantified using Ratio Analysis.

Working capital management PPT are management and elements of current assets and elements of current debt. Working capital policies shows the basic decisions regarding the target of each element of current assets and how these current assets are spent. The purpose of working capital management PPT is to manage current assets and current liabilities in order to obtain proper net working capital and ensure the company's liquidity level. and funding (especially current or short-term liabilities) needed to support current assets.

Working Capital Management PPT aims at a more efficient use of the organization's resources by monitoring and optimizing the use of current assets and liabilities. The goal is to maintain sufficient cash flow to meet its short-term operating costs and short-term debt obligations and maximize profitability. Working Capital Management PPT is key to the cash conversion cycle (CCC), or the amount of time a firm uses to convert working capital into usable cash. Thus, Working Capital Management PPT can improve a company's cash flow management and earnings quality through the efficient use of its resources.

Working capital policy is reflected in a firm's current ratio, quick ratio, turnover of cash and securities, inventory turnover, and DSO. These ratios indicate SKI has large amounts of working capital relative to its level of sales. Thus, SKI is following a relaxed policy.

A relaxed policy may be appropriate if it reduces risk more than profitability. However, SKI is much less profitable than the average firm in the industry. This suggests that the company probably has excessive working capital.

This 40+ slide PowerPoint presentation on Working Capital Management PPT discusses the following topics:

1. Alternative working capital policies
2. Cash, inventory, and A/R management
3. Accounts payable management
4. Short-term financing policies
5. Bank debt and commercial paper
6. Cash Conversion Cycle
7. Elements of Credit Policy
8. What's the goal of cash management?
9. Ways to Minimize Cash Holdings
10. Cash Budget: The Primary Cash Management Tool
11. What are some other potential cash inflows besides collections
12. Should depreciation be explicitly included in the cash budget?
13. How could bad debts be worked into the cash budget?
14. Inventory Management: Categories of Inventory Costs
15. Do firms have much control over amount of accruals
16. What is trade credit?
17. What are the disadvantages of short-term debt vs. long-term debt?

This Working Capital Management PPT begins with an introduction to some basic definitions (and formulas) for gross working capital, net working capital, net operating working capital (NOWC), working capital management, and working capital policy. It also uses an illustrative example of a hypothetical company (SKI) throughout the presentation.

Got a question about the product? Email us at [email protected] or ask the author directly by using the "Ask the Author a Question" form. If you cannot view the preview above this document description, go here to view the large preview instead.

Source: Best Practices in Cash Flow Management, Cash Conversion Cycle PowerPoint Slides: Working Capital Management PowerPoint (PPT) Presentation, UJ Consulting

ABOUT THE AUTHOR: UJ CONSULTING

UJ Consulting

Untung Juanto ST., MM. Founder of UJ Consulting. He is professionally experienced business and management consultant in several local and multinational companies. [read more] He has an experience in managing an effective and efficient company with various approach methods adapted to different industries because He had a career from the lower management level as Supervisor before finally being at the top management level. His Top Management experience started from the position of General Manager, VP Operation, HR Director and Business Development Director

He completed his undergraduate education majoring in Architecture at Diponegoro University, Semarang, Central Java, Indonesia. After that, He continued to Master of Management level majoring in Human Resource Management with cum laude predicate with a GPA of 3.94 at Mercubuana University, Jakarta, Indonesia.

His last work experience as Deputy President Director at Hutahaean Group in charge of 14 business units engaged in various industries including CPO Production, Oil Palm Plantation, Cassava Plantation, Tapioca flour production, 4 and 5 star hotels, waterparks, golf courses and housing with a total of employees more than 3,000 employees.

His biggest achievement was in 2021 when He served as Deputy President Director at Hutahaean Group Indonesia by increasing the company's revenue from IDR 700 billion to IDR 1.1 trillion (y/y) and increasing the profit margin by more than 20%. Doing a turn around on business units that have lost in the last 5 years become profits. In addition, He have also succeeded in creating an efficient and effective management system by redesigning the Business Process Management (BPM), reviewing Standard Operating Procedures (SOP) and Work Instructions and compiling the appropriate Key Performance Indicator Management (KPIM) to increase employee productivity.

He is currently active as a part-time business and management consultant (online) at Enquire Corp. and Flevy Corp. In addition, He also teach part-time at several universities for courses in strategic management, human resource management, project management, entrepreneurship and business.

UJ Consulting has published 168 additional documents on Flevy.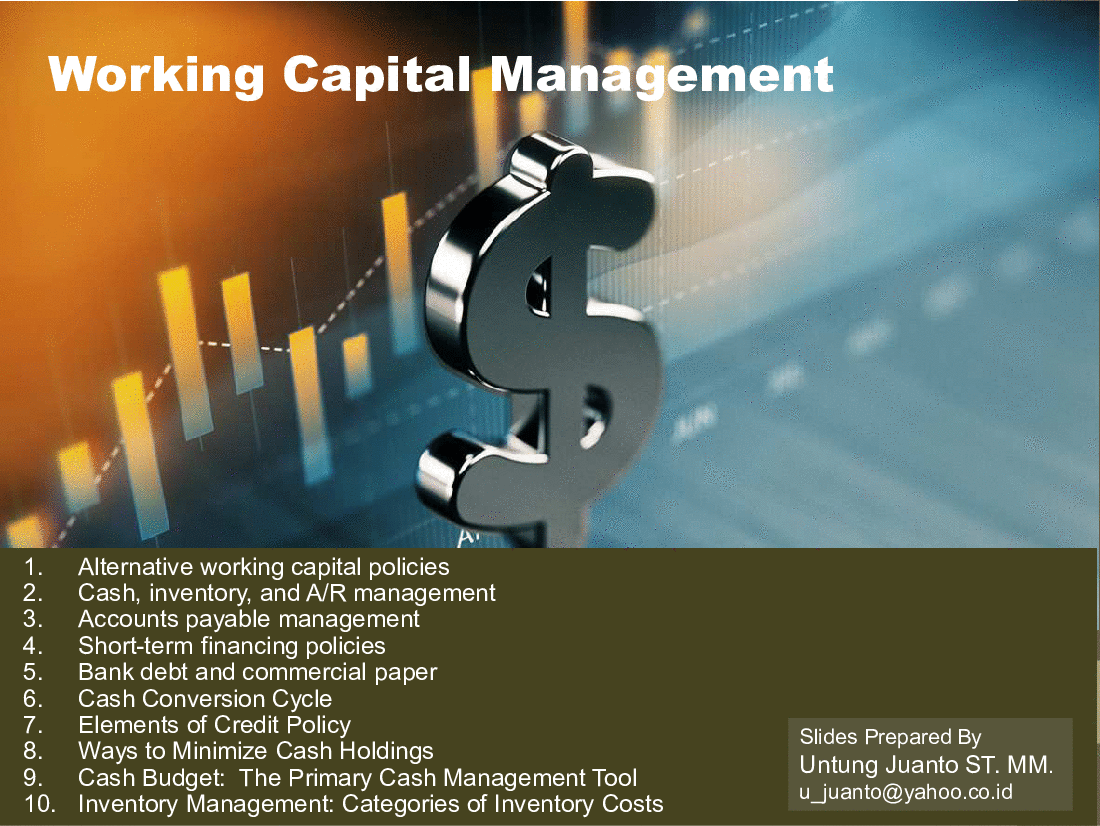 DETAILS
This business document is categorized under the function(s): Corporate Finance Operations
It applies to All Industries
File Type: PowerPoint

(ppt)
File Size: 665 KB
Number of Slides: 48 (includes cover, transition, & marketing slides)
Related Topic(s): Cash Flow Management Cash Conversion Cycle
Purchase includes lifetime product updates. After your purchase, you will receive an email to download this document.
Initial upload date (first version): Jul 6, 2022
Most recent version published: Oct 6, 2022