BUNDLE DESCRIPTION
This product (
Complete Working Capital Best Practices

) is a Document Bundle, which you can download immediately upon purchase.

Complete Working Capital Best Practice PPT

Working capital management is a business strategy designed to ensure that a company operates efficiently by monitoring and using its current assets and liabilities to their most effective use.

Working capital management is defined as the process through which a company plans for utilizing its current assets and liabilities in the best possible manner to ensure operational effectiveness.

Working capital management allows organizations to maintain cash flows and lets them meet short-term targets, while also factoring in unexpected costs and unlocking cash that's often tied up on the balance sheet.

The primary purpose of working capital management is to enable the company to maintain sufficient cash flow to meet its short-term operating costs and short-term debt obligations. A company's working capital is made up of its current assets minus its current liabilities.

Current assets include anything that can be easily converted into cash within 12 months. These are the company's highly liquid assets. Some current assets include cash, accounts receivable, inventory, and short-term investments. Current liabilities are any obligations due within the following 12 months. These include accruals for operating expenses and current portions of long-term debt payments.

The efficiency of working capital management can be quantified using ratio analysis.

1. Working capital management requires monitoring a company's assets and liabilities to maintain sufficient cash flow to meet its short-term operating costs and short-term debt obligations.

2. Working capital management involves tracking various ratios, including the working capital ratio, the collection ratio, and the inventory ratio.

3. Working capital management can improve a company's cash flow management and earnings quality by using its resources efficiently.

Working capital management helps maintain the smooth operation of the net operating cycle, also known as the cash conversion cycle (CCC)—the minimum amount of time required to convert net current assets and liabilities into cash.

Working capital management can improve a company's cash flow management and earnings quality through the efficient use of its resources. Management of working capital includes inventory management as well as management of accounts receivable and accounts payable.

Working capital management also involves the timing of accounts payable (i.e., paying suppliers). A company can conserve cash by choosing to stretch the payment of suppliers and to make the most of available credit or may spend cash by purchasing using cash—these choices also affect working capital management.

How to Improve Working Capital Management
Accelerating the cash conversion cycle can help a company's working capital position, but it may have unintended consequences. For instance, withholding payments to suppliers may improve your cash position, but will affect your relationship with suppliers.

This may hurt your relationships with suppliers and could even make it difficult for cash-strapped suppliers to fulfill your orders on time.

As a result, efficient working capital management entails taking initiatives to strengthen the company's working capital position while preventing negative consequences elsewhere in your supply chain. It often requires companies to strike a balance between liquidity and profitability.

Appropriate working capital management ensures that the firm always has enough cash to support its short-term operational expenses and debt obligations. It also facilitates the smooth functioning of the business and can help boost earnings and profitability.


THERE ARE 6 PRODUCTS ARE IN THIS BUNDLE:

Got a question about the product? Email us at [email protected] or ask the author directly by using the "Ask the Author a Question" form.

ABOUT THE AUTHOR: UJ CONSULTING

UJ Consulting

Untung Juanto ST., MM. Founder of UJ Consulting. He is professionally experienced business and management consultant in several local and multinational companies. [read more] He has an experience in managing an effective and efficient company with various approach methods adapted to different industries because He had a career from the lower management level as Supervisor before finally being at the top management level. His Top Management experience started from the position of General Manager, VP Operation, HR Director and Business Development Director

He completed his undergraduate education majoring in Architecture at Diponegoro University, Semarang, Central Java, Indonesia. After that, He continued to Master of Management level majoring in Human Resource Management with cum laude predicate with a GPA of 3.94 at Mercubuana University, Jakarta, Indonesia.

His last work experience as Deputy President Director at Hutahaean Group in charge of 14 business units engaged in various industries including CPO Production, Oil Palm Plantation, Cassava Plantation, Tapioca flour production, 4 and 5 star hotels, waterparks, golf courses and housing with a total of employees more than 3,000 employees.

His biggest achievement was in 2021 when He served as Deputy President Director at Hutahaean Group Indonesia by increasing the company's revenue from IDR 700 billion to IDR 1.1 trillion (y/y) and increasing the profit margin by more than 20%. Doing a turn around on business units that have lost in the last 5 years become profits. In addition, He have also succeeded in creating an efficient and effective management system by redesigning the Business Process Management (BPM), reviewing Standard Operating Procedures (SOP) and Work Instructions and compiling the appropriate Key Performance Indicator Management (KPIM) to increase employee productivity.

He is currently active as a part-time business and management consultant (online) at Enquire Corp. and Flevy Corp. In addition, He also teach part-time at several universities for courses in strategic management, human resource management, project management, entrepreneurship and business.

UJ Consulting has published 169 additional documents on Flevy.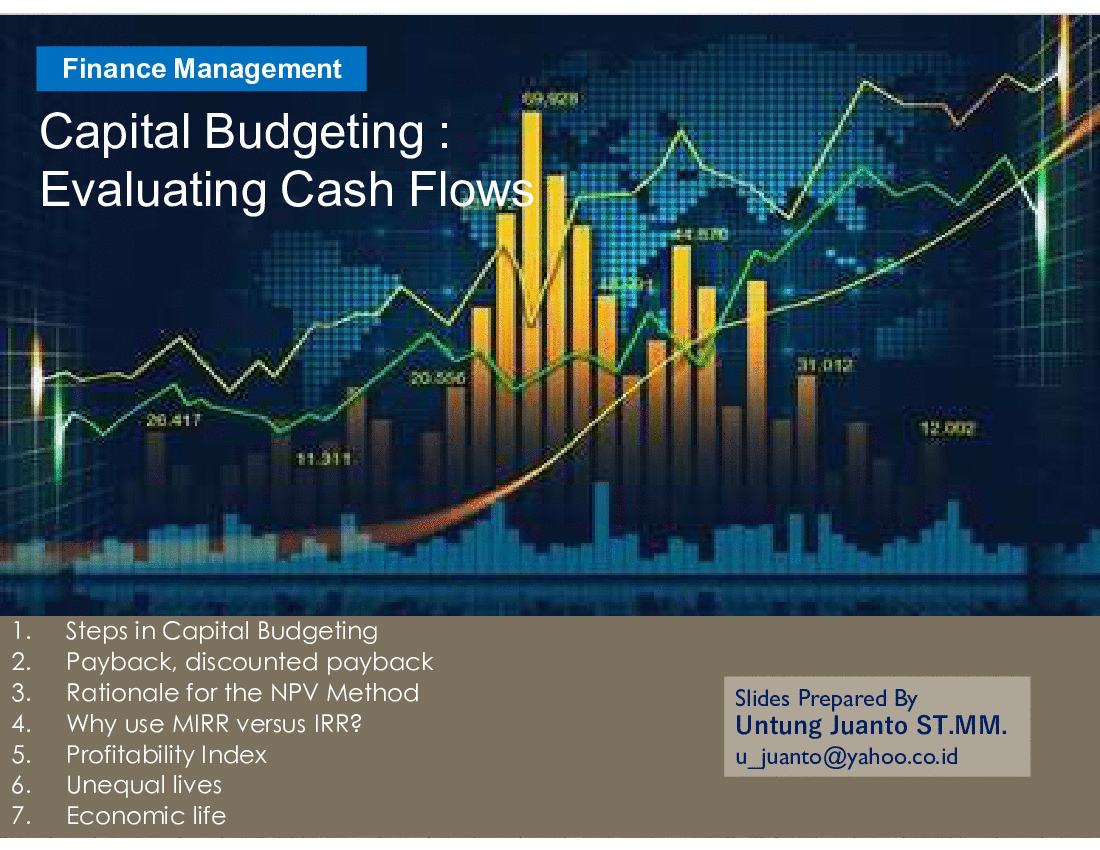 DETAILS
This business document is categorized under the function(s): Corporate Finance Operations
It applies to All Industries
Purchase includes lifetime product updates. After your purchase, you will receive an email to download the documents in this bundle.
Initial upload date (first version): Oct 17, 2022