BENEFITS OF BUNDLE
Acquire the knowledge and skills to reinforce Lean practices with this complete TWI training package (JI, JM, JR, JS & PS).
This training package comes with Training Slides, Pocket Cards, Job Breakdown Sheets, Worksheets and a Case Study.
These TWI training materials are closely based on the original TWI training manuals developed by the TWI Service (United States Department of War).
BUNDLE DESCRIPTION
This product (
The Complete TWI Programs: JI, JM, JR, JS & PS Training

) is a Document Bundle, which you can download immediately upon purchase.

This is a complete TWI PPT training package comprising the three original programs called Job Instruction (JI), Job Methods (JM) and Job Relations (JR), and the two additional programs called Job Safety (JS) and Problem Solving (PS).

Altogether, these three-plus-two TWI programs address the processes of instructing people on the best way to perform jobs, problem solving and continuous improvement, improved communication and leadership skills and increased workplace safety.

1. JOB INSTRUCTION TRAINING (JI): Train supervisors in how to instruct a person to perform a job correctly and safely; and to be productive as quickly as possible, while creating less scrap, rework, and damage to tools and equipment.

2. JJOB RELATIONS TRAINING (JR): Train supervisors in how to solve personnel problems using an analytical, non-emotional method combined with some basic foundations of human relations.

3. JOB METHODS TRAINING (JM): Train supervisors in how to improve the way jobs are performed in order to consistently produce greater quantities of quality products in less time using available manpower, machines and materials.

4. JOB SAFETY TRAINING (JS): The JS program creates a simple and logical framework by which supervisors can prevent accidents from happening by learning how to analyze the causes of accidents and eliminating them before they happen.

5. PROBLEM SOLVING TRAINING (PS): Train supervisors in how to solve problems in order to achieve the desired results. The PS program integrates and elevates the three original TWI skills (JI, JM and JR) into a problem-solving focus.

This TWI PPT training package is specially tailored for your organization's Internal TWI or On-The-Job Trainer. The training slides can be used to conduct training in the classroom, with practice demonstrations by participants done either in the classroom and/or shopfloor as appropriate. The job aids such as Job Breakdown Sheet, Training Timetable, JBS for Work Analysis, etc. can be put to immediate use or customized.

You may deliver each TWI program/module separately, spread them over 2-hourly sessions, or adapt them to suit your operational requirements.

||||||||||||||||||||||||||||||||||||||||||||||||||||||||||||||||||||||||||||||||||||||||||||||||||||||||||||||||||||||||||||||||||||||||||||||||||||
NOTE: This TWI PPT training package includes a set of training slides (Powerpoint format), worksheets (Word & Excel formats), a case study (Word format) and printing guidelines for pocket cards.
||||||||||||||||||||||||||||||||||||||||||||||||||||||||||||||||||||||||||||||||||||||||||||||||||||||||||||||||||||||||||||||||||||||||||||||||||||

CONTENTS

1. Job Instruction (JI)
• Four Steps for Job Instruction
• Four Steps to Get Ready
• Job Breakdown, Important Steps, Key Points & Reasons
• Training Timetables
• Special Instruction Problems
• Job Instruction & Standard Work
• Activities & Discussions
• Practice Demonstrations by Participants

2. Job Methods (JM)
• Four Steps for Job Methods Improvement
• Job Breakdown Sheet
• 5W1H
• Eliminate, Combine, Rearrange & Simplify
• Job Method Improvement Proposal Sheet
• Resistance & Resentment
• Activities & Discussions
• Practice Demonstrations by Participants

3. Job Relations (JR)
• Chart on Supervisory Responsibility
• Foundations for Good Relations
• Chart on the Individual
• How Problems Arise
• Four Steps for Job Relations
• How to Get Feelings & Opinions
• How to See Problems Coming
• Activities & Discussions
• Practice Demonstrations by Participants

4. Job Safety (JS)
• Definition of Safety Incident
• The Incident Chain
• Heinrich's Accident Pyramid
• Four Steps for Job Safety
• Job Safety Breakdown
• Job Safety Instruction
• How to Spot Hazards
• How to Avoid Hazards
• Three Rules for Making Safety Instructions
• Major Safety Responsibilities of Supervisors

5. Problem Solving (PS)
• Introduction to Problem Solving
• Objective of Problem Solving
• What Is a Problem?
• 4 Steps for Problem Solving
• Step 1: Isolate the Problem
• Step 2: Prepare for Solution
• Step 3: Correct the Problem
• Step 4: Check and Evaluate Results


THERE ARE 5 DOCUMENTS ARE IN THIS BUNDLE:

Got a question about the product? Email us at [email protected] or ask the author directly by using the "Ask the Author a Question" form.

ABOUT THE AUTHOR: OPERATIONAL EXCELLENCE CONSULTING

Operational Excellence Consulting is a management training and consulting firm that is dedicated to helping individuals and organizations become more effective and productive in the post-pandemic new normal. [read more]

Founded with a mission to "helping individuals and organizations become more effective and productive using design thinking and lean management approaches," our aim is to support our clients in designing, managing and executing lasting beneficial change.

We work with government bodies, multinational corporations and small and medium-sized enterprises of a wide spectrum of industries.

Our firm's key capabilities are Design Thinking, Customer Experience Management, Business Model Innovation, Lean Process Redesign, Total Quality Management (TQM), Total Productive Maintenance (TPM), Kaizen, Value Stream Improvement, Hoshin Kanri (Policy Deployment), Problem Solving Techniques & Tools (e.g. PDCA, 8D, A3, etc.), Training Within Industry (TWI), Suggestion System and Benchmarking.

As a means to spread the adoption of operational excellence techniques and tools to benefit organizations, businesses and society, we take pride in designing and developing high quality training and customizable presentations, frameworks and templates to add value and complement your training and business needs.

Operational Excellence Consulting has published 197 additional documents on Flevy.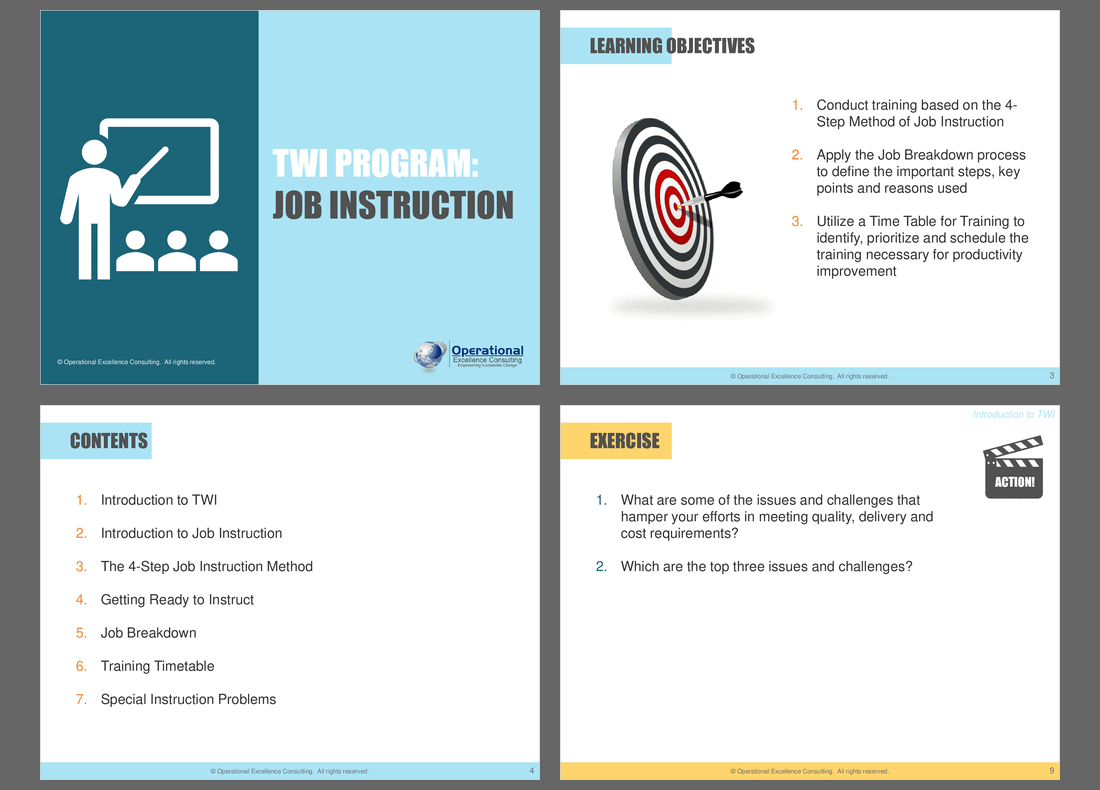 DETAILS
This business document is categorized under the function(s): Operations Organization, Change, & HR
It applies to All Industries
Purchase includes lifetime product updates. After your purchase, you will receive an email to download the documents in this bundle.
Terms of usage (for all documents from Operational Excellence Consulting)
Initial upload date (first version): Mar 12, 2016