BENEFITS OF DOCUMENT
No back orders: a value to your customers.
Customer Service knows that what is on the screen is in the warehouse: no worries throughout the company.
Cost savings: eliminating the physical inventory.
DOCUMENT DESCRIPTION
This product (
Daily Cycle Counting for Inventory Records Accuracy

) is a 15-slide PowerPoint presentation (PPTX), which you can download immediately upon purchase.

What good is Inventory Management if the inventory is not 98-100% accurate daily, everyday? No good! Cycle Counting is important to every department in your company.

Inaccurate inventory leads to loss of sales, poor customer experience, and may indicate a more drastic issue of retail theft. Inventory Records Accuracy (IRA) is an area most business people take for granted. Daily Cycle Counting and Root Cause Analysis for a goal of 98-100% daily accuracy is critical to all departments in the company: Purchasing, Finance, Supply Chain, Distribution, Warehousing, Accounting, etc.

The on hand number on the computer screen has to be the same as the on hand number in the Warehouse, especially when shipping anything to the customer. The shipments have to be accurate. Back orders are frowned upon. Most companies assume they have an accurate inventory, and state, ?Oh, it?s about 90-95% accurate.? When you do a sample cycle count, you find the assumed number to be a lot less than 90-95% accurate.

You should know your Inventory Records Accuracy percent every single day.

Software people all talk about managing inventory with ERP and other IT tools. Sure these tools are helpful, but they are not effective unless the inventory accuracy is near 100% accurate.

What is formal, daily cycle counting?

The Warehouse is your Bank. There is MONEY in it. Not pallets, parts, items, bins or boxes, but the company?s MONEY. Protect it. Care for it. It has to be secure. There has to be genuine discipline and teamwork to meet the goal of 98-100% accuracy daily.

Goal: The on hand number in the warehouse equals (=) the on hand number in your ERPWMS or Computer software 98-100% of the time.

THERE MUST BE NO TRANSACTIONS OF ANY KIND TAKING PLACE WHEN CYCLE COUNTING:

Cycle count the Computer generated items provided daily by part number (with no on hand balance showing) from the ERP/Computer software system. It is imperative that you count the warehouse on hand amount first in all locations and then compare it to the ERP/Computer on hand amount. This is known as a ?blind count.? Knowing the ERP/Computer on hand balance while you are counting the warehouse on hand balance, will jeopardize the cycle count and influence your counts. You can cycle count by location daily until you do the entire warehouse, use the A, B, C inventory value classification of items or the 80/20 Pareto principal wherein 20 items out of a list of 100 are 80% of the total. Cycle count ONLY when warehouse, or any transaction, activity is frozen. Post today?s % accuracy on the cycle count board/inventory accuracy report to track progress to the 98-100% goal.

Both numbers should be the same. When you tell a customer you see 100 on hand in the computer, the warehouse on hand also must be 100 units.

Once the root cause is found (see some root causes in the (Power Point Presentation), a Standard Operating Procedure (SOP) written to avoid the root cause from happening again. See root cause examples on the daily cycle count sheet.

No computer system? No problem: IN-OUT-BALANCE SHEET: Once you are through cycle counting a part number in a bin location, use the ?in-out-balance? sheet (a check and balance system) to keep inventory accurate in that bin, as items are received or withdrawn (picked) and the balance in the bin location changes. When you cycle count that bin location again, the in-out-balance should be an accurate count of that bin, but you do a blind count anyway to check the balance on the in-out-balance sheet. Eventually, as the warehouse becomes completed with cycle counts, and inventory accuracy increases, as seen on the cycle count board, this balance on the in-out-balance sheet can be used when you cycle count.

COST SAVINGS: once you have a few months of 98-100% accuracy daily YOU CAN ELIMINATE THE LABOR INTENSIVE PHYSICAL INVENTORY which only causes more errors.

Got a question about the product? Email us at [email protected] or ask the author directly by using the "Ask the Author a Question" form. If you cannot view the preview above this document description, go here to view the large preview instead.

Source: Best Practices in Inventory Management PowerPoint Slides: Daily Cycle Counting for Inventory Records Accuracy PowerPoint (PPTX) Presentation, Charles M. Intrieri Consulting

ABOUT THE AUTHOR: CHARLES M. INTRIERI CONSULTING

Independent consultant of over 25 years. [read more] Expertise include:

OPERATIONAL EXCELLENCE
• Planning - Strategic to Tactical
• Leadership, Coaching & Mentoring
• Budgeting & Reporting
• Risk Management, Compliance & Audit
• Process Improvement

SUPPLY CHAIN & LOGISTICS
• Warehouse, Distribution & Fulfillment
• Inventory Management
• Purchasing & Contract Negotiations

METRICS-DRIVEN MANAGEMENT
• Lean/Continuous Improvement
• Data Analytics & Data Mining
• Technology/ERP System Implementation
• Product Planning & Development

Charles M. Intrieri Consulting has published 14 additional documents on Flevy.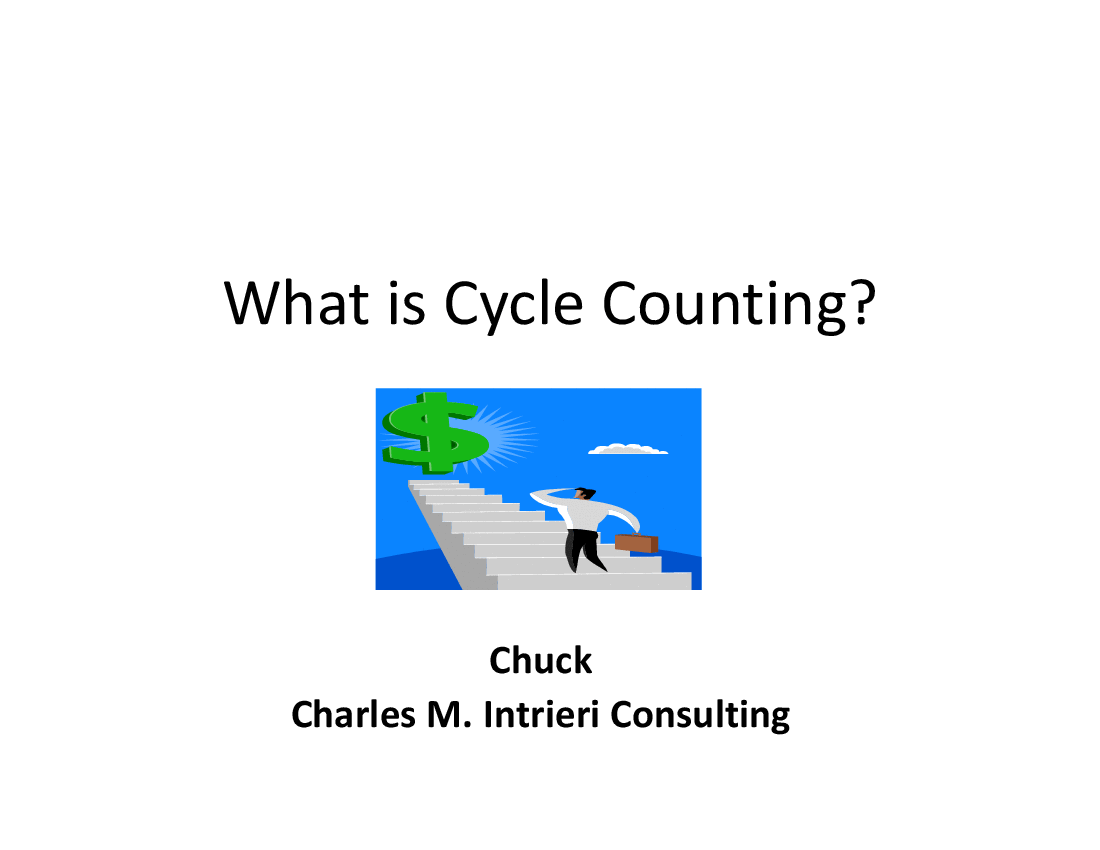 DETAILS
This business document is categorized under the function(s): Operations
It applies to All Industries
File Type: PowerPoint

(pptx)
File Size: 466 KB
Number of Slides: 15 (includes cover, transition, & marketing slides)
Related Topic(s): Inventory Management
Purchase includes lifetime product updates. After your purchase, you will receive an email to download this document.
Initial upload date (first version): Oct 16, 2016
Most recent version published: Oct 16, 2016