Editor's Note: The Natural Evolution of Things is an in-depth is a 5-part series that describes 13 the catalysts of Organizational Change and Competitiveness, based on the theme of Michael Porter's Five Forces. To read the full series, take a look at the author's profile page found here.
* * * *
Technology Adoption and Adaptation; Technology Innovation; and Technology Optimization
For many years, senior management looked for the quick technological fix to problems and issues. Oh we need to become more efficient! Fine, let's get rid of people and plug in a piece of technology which handles some of the customer contacts instead – never asking the customer, of course.
Well, you know and we know that we are a long way from this point. What we know is that technology should be something that adds value to the organization and the customer as well as other key stakeholders. If it doesn't then stay away from it – you haven't found the right technology. The challenge is to identify what, out of a myriad of new technologies, are the 'right ones' for your organization – for your customers and other key stakeholders and that will better enable you to achieve your key business objectives more effectively and efficiently or not. Therein lays the first challenge.
Once the right technology has been identified and understood, the question is how do we integrate it into our organization and its systems – IT and otherwise, to give us what we need? This is the second challenge.
It may in fact be that our CTO or Director of R&D or other technical staff may need to innovate further on this chosen technology to adapt it – or we look for some organization around the globe that has already made such modifications – such innovations on this technology which would make it easier for us to adapt.
The last point, optimization, is simply that there must always be a balance between 'high-tech' and 'high-touch' – that balance must be optimized to enhance the customer experience. Among other things as we will mention in a moment if you go too far one way a sterile, impersonal customer experience could be created which turns customers off and causes them to defect to a competitor. On the other hand, the balance could be too much the other way in which case the impact of having the technology integrated into the organization is so nominal that no one notices the difference – in fact, in some cases it may actually complicate the situation. No return on your investment!
Insights Paradigm believes that there are four (4) core uses of technology. Here they are:
Technology needs to be viewed as an enabler to help employees do their jobs better and faster
Technology needs to viewed as helping the organization perform its core business activities more effectively and efficiently
Technology needs to ensure that it makes it easier and faster for the customer to do business with your organization – both economically and emotionally
Technology needs to ensure it makes it easier and faster for your organization and its supply chain (value chain) organizations to interact and to exchange information and ideas on how to increase value to the end user or customer.
The Four Disruptive Forces Breaking all the Trends
The disruptive forces which we are going to identify below supersede much of what we have been discussing. They are macro-level disruptive forces. Some of these are already being experienced, others are coming, some are growing at almost an exponential rate. Bottom line?  They are going to disrupt your operating environment and force you to think differently and hopefully better about what these mean to your organization and how you are going to address the ones that apply.
The Age of Urbanization
Accelerating Technological Change
Challenges of an Aging World
Greater Global Connections
So which ones are on your radar screen? Which ones apply to your organization? What are you planning to do about it? More detail can be found on SlideShare. Look for 'No Ordinary Disruption – The Four Forces Breaking all the Trends'
Relative 'Agility' of Your Organization Compared to the Competitors in Your Industry
It was Sun Tzu who said, and I paraphrase, never assume your enemy is sleeping. And so it is that while you may be preparing to make your organization more agile, the competition is doing the same and possibly some of them are, in fact, having greater success and achieving the goal faster than you! How would you know? How much of a difference could it make?
Well, Insights Paradigm defines 'agility' as the capability of an organization to identify, assess and act on opportunities or blunt threats better and faster than competition. What are the implications if you are at the back of the pack?
How long can you remain competitive?
Understanding Complexity and Big data; Advanced Analytics to Unlock the Information Value of Big Data; Techniques for Decomposing Complexity
While the sound volume regarding 'complexity' rose as a crescendo to a scary pinnacle, things seem to have become more quiet recently. Let's face it life is more complex let alone business. It's a fact of life and either adjust to the fact that we may have to make decisions based on incomplete information or take greater risks than we ever imagined we could. Plato may have said, 'incomplete information is worth nothing' but with all due respect we know that's nonsense because normally all we have is incomplete information yet life goes on and so does business. If that had truly been the case most of today's technological inventions propbably wouldn't exist.
Yes, the fact is we are faced with big data. But who is to blame? In most cases in organizations, as we stated above, the mantras in operation are: (1) if it moves measure it; (2) if a little data is good then a lot of data must be better. So here we are stuck with mountains of data. The thing about data is that in reality, aside from the fact that 98%+ of data collected in an organization is irrelevant to any given decision as stated above, data is like sand. If someone gave you a handful of sand, what could you do? Well, let's face it – your choices are somewhat limited. You could fill a hole. You could put it in your child's sandbox so he or she could play a bit better with their cars and trucks. You could throw it in the face of some would be attacker. Beyond that, what else? Who knows, but probably not too much. On the other hand if you heated that sand intensely and possibly added a few other select ingredients, you could possibly create a drinking glass – which has value. In other words, through this process of applying intense heat you were able to unlock the true value inherent in the sand – to transform it into something of value.
It's the same with data. The only way you are going to unlock the true actionable information value of the data is through use of the best analytic techniques. Yet few organizations even as of this late date, have anyone (let alone a whole department) dedicated to understanding and applying these techniques in the ways needed most by senior management and others in the organization – to give them the ad hoc reports they need when they need them or the most appropriate dashboards. Instead management receives reports which are tables of numbers which they then have to take time to review and try to understand creating great frustration and little understanding.
Even if you are still bothered by complexity, Insights Paradigm in their Hyper-Decision Making Process have ways to decompose complexity to make it manageable – to literally break it into logical pieces, complete analysis and then re-integrate it to form the needed insights required for optimal and fast decision making.
The 5 Forces of Organizational Competitiveness
In closing this article, we would remiss if we did not provide Insights Paradigm's view of the 5 Forces of organizational competitiveness.
These 5 elements are found in more detail in Dr. Ted Marra's book, 'The Wisdom Chronicles: Competing to Win.'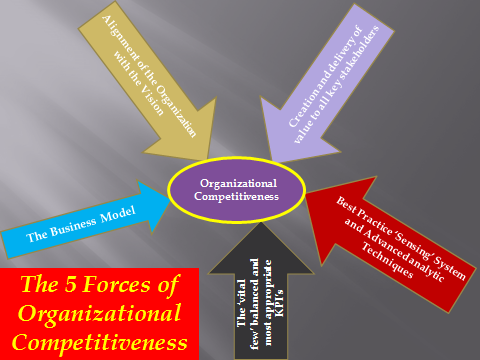 The Forces identified in the above diagramme have been discussed at some point in the previous pages so there is no need to go into detail regarding each one again. More information can be found in Dr. Marra's book, 'The Wisdom Chronicles: Competing to Win.'