Editor's Note: The Natural Evolution of Things is an in-depth is a 5-part series that describes 13 the catalysts of Organizational Change and Competitiveness, based on the theme of Michael Porter's Five Forces. To read the full series, take a look at the author's profile page found here.
* * * *
Value Creation and Delivery to all Key Stakeholders Resulting in 'Secure' Relationships
Often we find 'value' being defined in a somewhat commoditized way, namely, 'what you get for what you pay'. Or, even worse because it simply gives the illusion of true value creation, namely what is called 'shareholder value' – really nothing more than a code phrase for profiteering by taking advantage of all the loop holes or other possible approaches to make a 'buck' – to look good to the financial analysts and keep those dividends coming to stockholders stimulating investments being made in your organization.
The fact is that 'value' is one of the most significant strategic concepts developed in the past 20 years. However, the way Insights Paradigm believes 'value' should be defined is different – and we think correct. We believe 'value is any tangible or intangible benefit which customers or other stakeholders believe the competition or other providers are either unwilling or unable to provide'. As such, 'value' is an immediate source of differentiation and competitive advantage for your organization. There are at least 9 sources of value an organization can provide to key stakeholders, yet the vast majority of organizations only focus on 2-3 of them and don't do a particularly good job on those. In our minds, this is a tremendous underutilized capability which could lead to not only significantly greater competitiveness but also greater profitable growth if properly developed.
Those that succeed in creating and delivering value in a broader range of areas are able to build 'secure' relationships with their key stakeholders. Having 'secure' relationships with key stakeholders also provides greater stability in times of changes as well as greater profitability. By 'secure' we mean that these stakeholders would not terminate their relationship with you even if a gun was held to their head. Unfortunately, in many organizations less than 10% of the customer base is 'secure'. The other implication is that to be 'secure' you must also be viewed by the stakeholder as one or more of the following: solutions provider; trusted advisor; business partner; or valuable resource. How many of your stakeholder relationships are secure?
Core and Organizational Competencies
Discussions of core competencies was all the rage back in the 80's and 90's and rightfully so. Core competencies are those critical capabilities which enable you to produce the products and services you offer in the market. For example, with Honda, it is their capability to build highly efficient small engines. For Sony as mentioned above it is miniturisation. From time to time, organizations must make the decision to invest in developing their existing core competencies to a higher level to make their organization more competitive long-term or to acquire or merge with other organizations that either also have that core competencies or new ones they see will be needed in the future for success and greater competitiveness. For one of the best discussions on core competencies see Hamel and Prahalad, 'Competing for the Future', 1996.
But what are organizational competencies? They are softer competencies – not hard technical competencies as is often the case, but not always, with core competencies. These organizational competencies are what you might almost refer to a cultural competencies such as innovation, agility, customer & market focus and so. Again using our research base, during interviews with CEO's and Managing Directors Insights Paradigm has was told that these types of organizational competencies are absolutely essential to success. These are competencies – capabilities which are literally woven into the fabric of your organization's culture and strengthen it. They can make all the difference in terms of making your organization more competitive or not. Do you know your organizational competencies? How strong are they? If you wanted to create a culture of innovation, for example, how would you do it?
Disruptive Entrants with Blue Ocean Strategies
The fact of the matter today is that if an organization decides to enter your industry, they are more and more likely to do so by following a totally nontraditional path – a disruptive path based on a blue ocean strategy which could well end up redefining your industry and the way you will have to do business in the future if you want to survive. Or, they will introduce a totally new product as Apple is famous for with their 'iPad' and create a new market/industry niche.
Here is where 'agility' is a critical success factor for you along with those issues discussed earlier in this document such as a world-class 'sensing' system. Here too is where you will have to unlock the creativity of your organization as never before as through such innovations as Creativity Labs which Insights Paradigm has developed and received testimonials on as to how we have easily and in a very short period of time been able to transform even low performers into superstars!
The clock is ticking. You have to at least get ahead of your standard competition in getting to new solutions, new ways of doing business as well as new products and services as appropriate. Otherwise, your competitiveness will decline significantly – something you can't afford to let happen.
Possibly you may even consider establishing a 'skunk works' to develop your own counter blue ocean strategy. See 'Blue Ocean Strategy' by Kim and Mauborgne from INSEAD Business School for more details.
Level of Volatility (rapid or unexpected) in you Operating Environment versus Organizational Resiliency
Take a quick look at the following diagramme. This is a simplified perspective, but it makes the key point we wish to leave you with: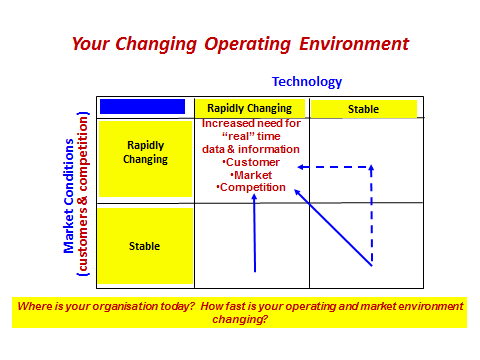 Here we look only at technology and market conditions. The questions are shown on the chart. Where is your organization today? How fast is your operating environment changing? Where will you be 18 month to 3 years from now? The fact of the matter is, like it or not, every organization on the planet is gradually – some more suddenly – moving toward the most uncomfortable box in this matrix where everything is changing at a rapid pace.
When Insights Paradigm talks about resiliency, we mean how well and how fast is your organization able to absorb shocks or stresses which impact performance and competitiveness and then get back to what you consider a normal level of performance. That recovery capability is critical. How good is yours?