BENEFITS OF DOCUMENT
Practical application of Lean and Six Sigma in real-world situations.
Comprehensive knowledge about application of tools in solving problems from various industries.
DOCUMENT DESCRIPTION
This product (
Six Practical Six Sigma Case Studies You Want to Learn From

) is a 20-page PDF document with a supplemental Zip archive file document, which you can download immediately upon purchase.

SIX LEAN SIX SIGMA CASE STUDIES

Case studies should demonstrate the practical application of what we have learned in the classrooms or online in real-world situations. This bundle includes case studies from various industries and shows how the Six Sigma methodology was applied to solve the problem and achieve the targets. These case studies are derived from our team's experiences with the projects led by Lean Six Sigma teams across these industries.

The documents included in this bundle contain the following:
• Detailed methods used.
• Outcomes as a result of that.
• Effective application of tools and techniques.
• Statistical analysis to validate several hypotheses before implementation and innovative tools and concepts that made the teams complete the projects with successful outcomes.

The following case studies are included in this bundle:

1. Customer Satisfaction (CSAT) Survey and Analysis –

One of the typical approaches followed in Customer Satisfaction analysis is to equate the area of weakness with the priority of improvement and increase investment to improve those areas. This approach may not be practically significant or help the company gain true bottom-line benefits.

For example, suppose the customer has low satisfaction with "Pricing" and high satisfaction with "Customer Service." In that case, that does not mean there is no need to improve "Customer Service continually" and that the topmost priority for the company is improving "Pricing." "Customer Service" may be the reason customers decide to buy the company's products, and they may expect even further improvement in this area. Conversely, the customer may not like the "Pricing" but may find it reasonable given other considerations.

This case study demonstrates how to identify the overall CSAT level with a specific dimension (factor) of the company that will enable the company to take a comprehensive approach to improve end-customer processes and determine priority items for improvement by assessing the extent to which each factor affects CSAT at the company-level.

Number of pages: 46
Type of document: PDF

2. CSAT Survey Summary – A PowerPoint presentation detailing the report from the case study in #1.

3. Employee Satisfaction

This case study details how customer needs were analyzed, such as improving Employee Satisfaction through Hygiene-Motivational factor ratings and improving the organization's Exit and Retention process efficiency. It demonstrates the use of statistical methods ranging from ANOVA to Logistic Regression to identify factors that significantly affect the satisfaction level of an employee.

Interpretations from four different analyses and recommendations for the next steps are explained in detail. The situation is common to all organizations, so this case study might stimulate ideas for your organization if it conducts an employee satisfaction survey or plans to understand the top three reasons why employees quit the company.

Number of slides: 11
Type of document: PowerPoint

4. Call Center Support Costs and Customer Satisfaction

Most IT services businesses realize that their clients have choices and, within the same pricing range, they gravitate to the support organization where the service is best.

This case study discusses a company that had built up a reasonable capability in Six Sigma only for its management to realize improvement was not as simple as forming a project team and turning them loose on the problem.

The goal for the project was to "Increase the call center's industry-measured customer satisfaction rating from its current level (90th percentile = 75 percent) to the target level (90th percentile = 85 percent) by the end of the fourth quarter without increasing support costs."

The business case was about "Increasing the new business growth from 1 percent to 4 percent (or better), which would increase the company's gross revenues by about $3 million. If the company can do this without increasing our support costs per call, it should realize a net gain of at least $2 million."

Number of slides: 64
Type of document: PowerPoint

5. A Six Sigma Case Study-Tutorial for IT Call Center in SIX parts.

In this case study of an IT services business, benchmarking helped quantify what the business already knew – its competitive position was not secure. There are several ways the company might have responded to the challenge. After working through the benchmarks and other data and with the help of a Black Belt, they could distill enough clues and evidence in the top-level industry figures to select a DMAIC project they could sponsor with facts and supporting data.

This case study is an extended version of the previous case study and walks you step-by-step through the DMAIC phases applied to the problem.

Number of pages: 33
Type of document: PDF

6. Product Support Service

This case study discusses the Six Sigma Methodology (DMAIC), leadership, tools & techniques used to solve a support service problem of an IT company. This case study is a six sigma project completed by a software organization and follows the characterize and optimize roadmap of the six sigma methodology. It demonstrates how the combination of tools and techniques applied logically to the practical problem leads to improved average performance and reduces the degree of variability of the process.

Number of slides: 50
Type of document: PowerPoint

7. IT Systems – Rational Sub-grouping

This is a unique example, a case study that demonstrates the use of Rational Subgroups. The case study includes an example of a project that handles the problem with COPQ (Cost of Poor Quality) that resulted into

• Loss due to the no. of defects produced due to high fanout count
• Loss in % of development time due to high variability between and within teams
• Loss of customers/customer loyalty

The rational subgrouping of the data was done to

• Determine if the overall frequency of flows has been consistent as the design progressed.
• Explore the homogeneity within teams.
• Determine the variation in performance across teams.

Statistical and graphical tools such as Control Charts, Box Plots, Homogeneity of Variance (HOV), and ANOVA (Interval Plot) Fishbone diagrams were effectively used during the project.

Number of slides: 31
Type of document: PowerPoint

8. Finance – Days to Pay

This case study focuses on the practical problem often encountered in finance – Improving days to pay for all payments on equipment. It demonstrates the practical application of Stakeholder Analysis and the use of tools such as SIPOC, Process flow diagram, descriptive statistics, Fishbone analysis, Pareto, HOV, F-test and ANOVA.

The case study also outlines a detailed change plan, Before-after comparison, critical X's to focus on, and practical tips to solve the problem.

Number of slides: 29
Type of document: PowerPoint

Get this bundle today to learn the practical application of Six Sigma in projects.

Got a question about the product? Email us at support@flevy.com or ask the author directly by using the "Ask the Author a Question" form. If you cannot view the preview above this document description, go here to view the large preview instead.

Source: Best Practices in Six Sigma Project PDF: Six Practical Six Sigma Case Studies You Want to Learn From PDF (PDF) Document, QMaxima Inc. - Simplifying Excellence

ABOUT THE AUTHOR: QMAXIMA INC. - SIMPLIFYING EXCELLENCE

[read more] QMaxima is committed to helping you achieve maximums through quality services in:

• Program and Project Management
• Integrating Lean Six Sigma With Digital Technologies & IoT
• Process Performance & Value-Stream Mapping
• Product & Service Quality Improvement
• Lean Six Sigma & Change Management
• Metrics & KPI Management
• Comprehensive Dashboard Deployment

Our offerings include services in Business Process Improvement, Lean Six Sigma, Hoshin Kanri, Kaizen Event Facilitation to manufacturing, healthcare, software, and IT industries.

Our experienced consultants apply simple, yet powerful frameworks, methodologies and tools such as Lean Six Sigma, Process Management, Change Management, PROSCI, CMMI, ISO and others.

Our mission is to help your organization achieve and sustain unprecedented levels of process performance, product and service quality.

QMaxima Inc. - Simplifying Excellence has published 18 additional documents on Flevy.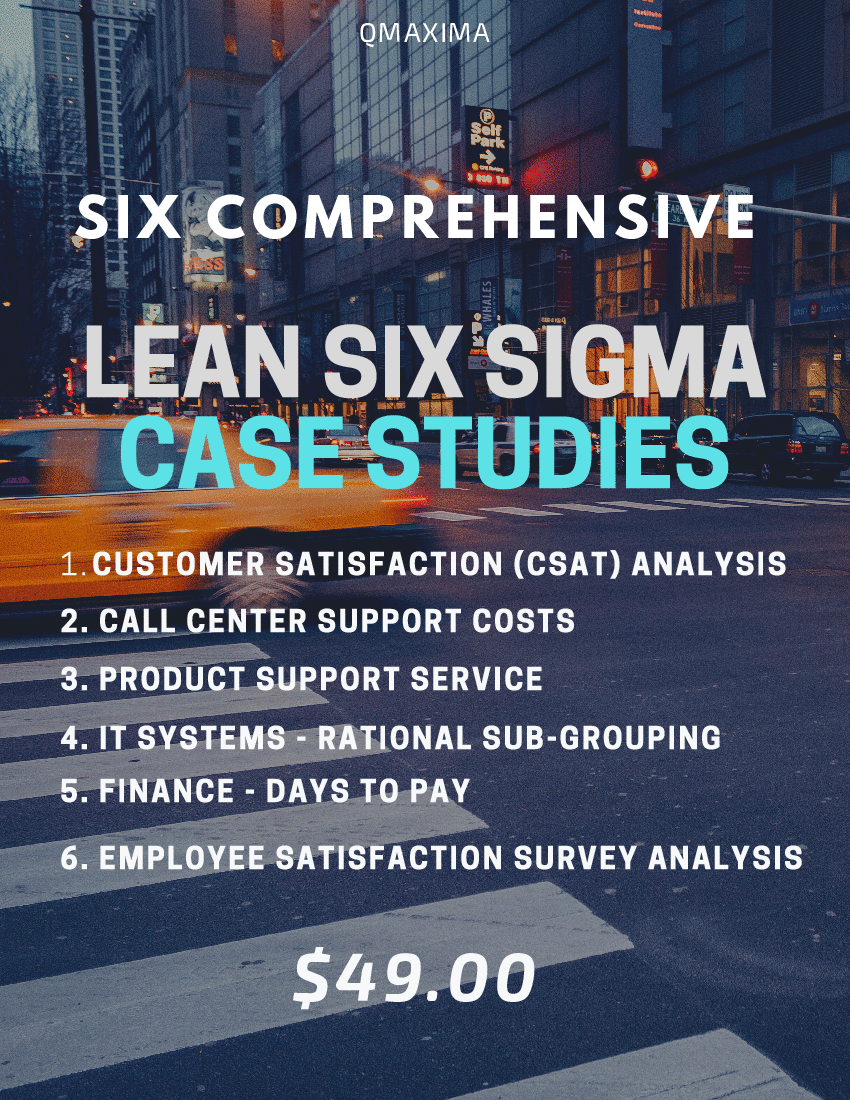 DETAILS
This business document is categorized under the function(s): Operations Strategy, Marketing, & Sales
It applies to All Industries
File Size: 19.5 MB
Number of Pages: 20
Related Topic(s): Six Sigma Project
Purchase includes lifetime product updates. After your purchase, you will receive an email to download this document.
This product contains a supplemental ZIP document.
Initial upload date (first version): Aug 4, 2021
Most recent version published: Sep 1, 2021