BENEFITS OF DOCUMENT
Design your training material using the contents or use is as-is for learning.
Included in the bundle are many examples and Minitab case studies to reinforce the understanding of concepts and tools covered in the training material.
You are eligible for a 30% to 50% discount if you register for QMaxima workshops or other remote services on the website.
DOCUMENT DESCRIPTION
This product (
Design For Six Sigma [DFSS] & Design of Experiments [DoE]

) is a 5-page PDF document with a supplemental Zip archive file document, which you can download immediately upon purchase.

The Design for Six Sigma (DFSS) bundle includes 80 Chapters you need to understand and teach DFSS and DOE, 1970+ slides that contain formulas, theory and practical examples in detail.

The set includes digital copies of 65 presentations and can be a great source to design or shape your existing training material.

The Design of Experiments (DoE) is a comprehensive package with 21 presentations (chapters) covering basic DoE to advanced topics such as EVOP, Robust Design and Steepest Ascent. Use it to learn and apply only what is needed instead of spending hours searching for conflicting content online.

DESIGN FOR SIX SIGMA includes:

Introduction to DFSS
Additional DOE Methods
Advanced Designs
DoE Intro
Fractional DoE
M1-Measure Objectives
M2-Basic Statistics
M3-Minitab
M4-Basic Graphing
M5-PMCECNXSOP
M6-Measurement System Analysis
M7-Process Centering
M8-Sigma Measurement
M9-QFD
M10-DFSS Intro
M11-DFSS Scorecards
M12-CTQ Flowdown
M13-CTQ Jugular
M14-DFSS Process Capability
M15-Design for Reliability
M16-Measure Deliverables
A1-Analyze Objectives
A2-Multivari
A3-Normality
A4-Sample Size & Risk
A5-Statistical Analysis
A6-Chi-square
A7-ANOVA
A8-Corr_Regression
A9-Regression
A10-EHS
A11- Historical_DOE
A12-Analyze Deliverables
A13-Appendix to Characterize
D0 Design for Reliability
D1-Stat Analysis Methods
D2-Stat Analysis Tools and Apps
D3-DoE Optimization
D4-Reliability Testing
D5-Summary and Review
DESIGN TOC
Optimize_DOE_RECAP
Optimize_Exercise_01
Optimize_Exercise_01_Solution
Optimize_Exercise_02_Catapult
Optimize_Process_Monitoring_Control
Optimize_Project Closure
Optimize_SWDFSS-DoE Example
Optimize_Tolerancing
Optimize_Tolerancing_addon

BONUS MATERIAL:
1 Intro To DFSS
2 Software Quality Overview
3 DFSS For Innovation Overview
4 DFSS For Commercial Quality Overview
5 DFSS Example

DESIGN OF EXPERIMENTS includes:

DoE Comprehensive
Introduction to DoE 1
Fractional Factorial Design 1
Experimental Error
DoE Exercises
DoE Analysis Example
Historical DoE
DoE and Robust Design
Steepest Ascent
Evolutionary Operations – EVOP
Center Points and RSM

ADDITIONAL DOE MATERIAL TO ENHANCE YOUR TRAINING DESIGN
Introduction to DoE 2
Fractional Factorial Design 2
Full Factorial Design
DoE Strategy
DoE Analysis In Minitab
Intro to Robust Design
Non-Linear DoE
DoE Recap

Add this document to your library of learning tools today!

Got a question about the product? Email us at [email protected] or ask the author directly by using the "Ask the Author a Question" form. If you cannot view the preview above this document description, go here to view the large preview instead.

Source: Best Practices in Six Sigma Project, Design of Experiments PDF: Design For Six Sigma (DFSS) & Design of Experiments (DoE) PDF (PDF) Document, QMaxima Inc. - Simplifying Excellence

ABOUT THE AUTHOR: QMAXIMA INC. - SIMPLIFYING EXCELLENCE

[read more] QMaxima is committed to helping you achieve maximums through quality services in:

• Program and Project Management
• Integrating Lean Six Sigma With Digital Technologies & IoT
• Process Performance & Value-Stream Mapping
• Product & Service Quality Improvement
• Lean Six Sigma & Change Management
• Metrics & KPI Management
• Comprehensive Dashboard Deployment

Our offerings include services in Business Process Improvement, Lean Six Sigma, Hoshin Kanri, Kaizen Event Facilitation to manufacturing, healthcare, software, and IT industries.

Our experienced consultants apply simple, yet powerful frameworks, methodologies and tools such as Lean Six Sigma, Process Management, Change Management, PROSCI, CMMI, ISO and others.

Our mission is to help your organization achieve and sustain unprecedented levels of process performance, product and service quality.

QMaxima Inc. - Simplifying Excellence has published 18 additional documents on Flevy.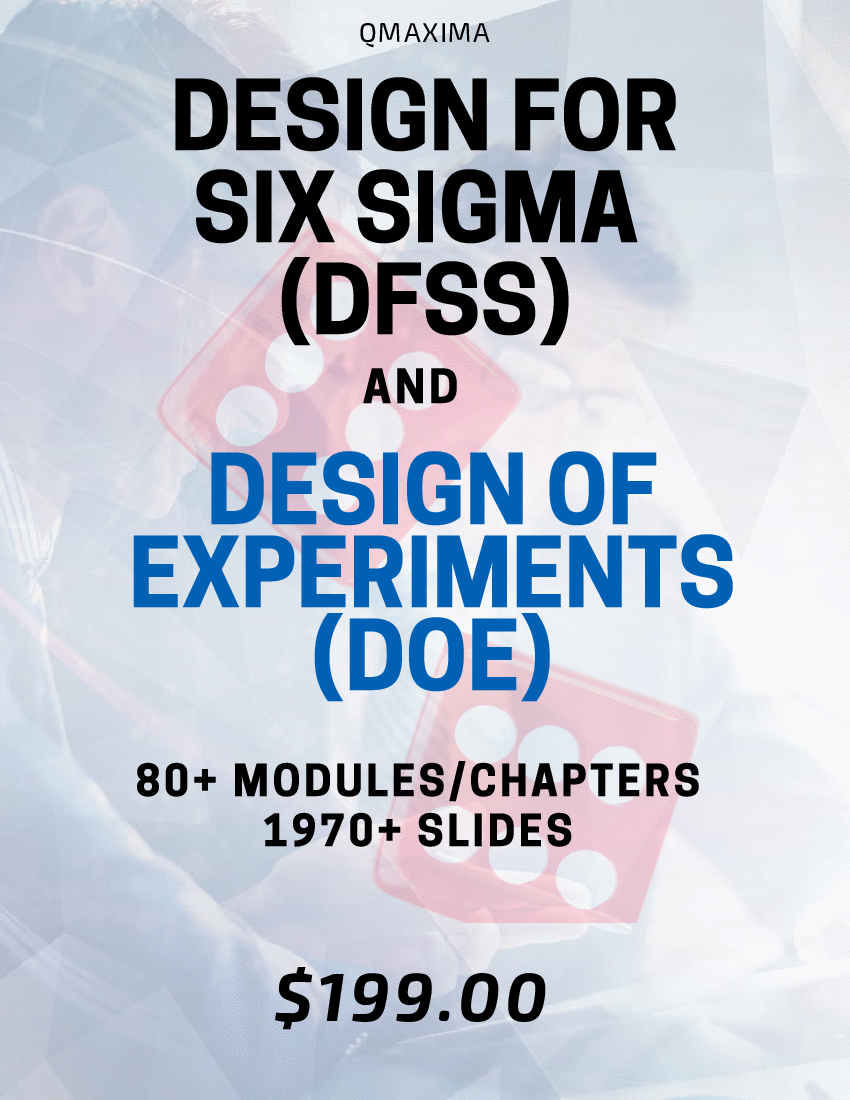 DETAILS
This business document is categorized under the function(s): Operations
It applies to All Industries
File Size: 2.5 MB
Number of Pages: 5
Related Topic(s): Six Sigma Project Design of Experiments
Purchase includes lifetime product updates. After your purchase, you will receive an email to download this document.
This product contains a supplemental ZIP document.
Initial upload date (first version): Jul 29, 2021
Most recent version published: Sep 1, 2021