BENEFITS OF DOCUMENT
Find out how we have gotten to the deplorable state we are in relative to the critical issues inhibiting the people in your organization from reaching their full potential to contribute to the success of your organization.
If you want to be the best you can be as an organization, the Human Resource function must be restructured--find out what needs to be done immediately to ensure your organization's future success.
If you were be asked to create a picture of what the future looks like for managing, leading, inspiring, motivating, and building trust with all employees, how would it look? This white paper provides that future views.
DOCUMENT DESCRIPTION
This product (
Journey from the Age of the Tool to Human Performance Excellence

) is a 38-page Word document, which you can download immediately upon purchase.

What this document is intended to do is stimulate revelations on the topic of Human Resources ? to stimulate the little grey cells further than ever before on this topic. If my 48 years of consulting around the world has shown me anything, it is that the issue of Human Resources still remains somewhat of a mystery to many organizations and their Senior Executives as well as too often being undervalued while at the same time being a critical success factor for your organization.

For literally centuries ? and even into recent times in some organizations where I have had hands-on experience ? well-known organizations you would recognize immediately – employees were cast as ?tools to get a job done ? thinking not required'. Yet we know that in reality this cannot be further from the truth! Just have a look at Fortune Magazine's annual list of ?Best Companies to Work For' and see who is on the list and if your organization is one of them. Done anything innovative in the Human Resources area lately? Based again on what I have seen, probably not. Even if you are on the Fortune list does not mean you can sit idly by twiddling your thumbs feeling complacent or feeling that ?hey we've made it, so let's check that box and move on to something really important!'

But the fact remains that employees are truly an organization's greatest asset! Why then are the appropriate investments not being made pervasively across organizations in all industries and sectors to ensure that the potential contribution from each and every employee is being reached ? maximized – and the organization reaps the greatest return possible? As an aside, keep in mind that your employees should represent a competitive advantage which no other organization can hope to duplicate!

What are the ?true' drivers of employee satisfaction, motivation and engagement? You will find actual research contained within this document which will spell it out. And at the same time do an excellent job of explaining ?employee engagement'. While becoming more recently an overworked phrase see why it is critical to your organization's future success! You need to grasp this concept in its simplicity and the requirements necessary to execute flawlessly against to ensure it happens. What you will be told is that ?employee engagement' is the outcome of doing a lot of things well! Find out what these requirements are at last! Your future may depend on it!

And then there is the matter of the Human Resources function in your organization. In many organizations, while the name has been changed from Personnel to Human Resources possibly to protect the innocent, how often are Top Management in the Human Resource Function treated as true strategic partners by the Leadership Team let alone, in some organizations, even being a full-fledged member of the Leadership Team! Instead, they are too often relegated to the position of being the proverbial ?water boy/girl' or ?whipping boy/girl' who simply follows directions and does what he or she is told to do ? ?no thinking required?'

For your organization to be truly successful ? to reach its full potential, the Human Resource function must be restructured! But how? This document will provide you with the structure you should seriously consider adopting immediately!

Last but not least we take a peek into the future and explore Human Performance Excellence and be even more forward looking, driven by strategic thinking and foresight/vision to thus be shown where things could or should go in the future for your ?people' ? being the wind under their wings to carry them higher than you or they ever thought possible and to ensure remarkable contributions/creativity and innovation from one and all.

If you truly wish your organization to ?be the best it can be' ? to have a commanding leadership role and sustainable competitive advantage, you need to read, absorb, reflect and apply/flawlessly execute what is contained in this document.

Got a question about the product? Email us at [email protected] or ask the author directly by using the "Ask the Author a Question" form. If you cannot view the preview above this document description, go here to view the large preview instead.

Source: Best Practices in Human Resources Word: Journey from the Age of the Tool to Human Performance Excellence Word (DOCX) Document, Dr. Ted Marra

ABOUT THE AUTHOR: DR. TED MARRA

Dr. Ted Marra is a strategic facilitator, organizational mentor, and writer. He has consulted with over 160 organizations in 40 countries during the past 44 years and has guided transformation initiatives in some of the world's most prominent companies, such as Xerox, Shell, IBM, Royal Bank of Scotland Group, Johnson & Johnson, DuPont, Electrolux as well as government agencies, SMEs, and NGOs. [read more] He has led business turnarounds, launched new businesses, and helped SMEs double in size and move from a local to global market reach.

Ted has also lectured in MBA/EMBA programs at universities in Boston, Detroit, the UK, Switzerland, and Croatia.

Ted was also Senior Policy Advisor for President Reagan and has held management positions with such organizations as General Motors and Goodyear, as well as owning and operating two consulting companies--MQI in Boston and The Centre for Innovation Management Europe Ltd. in the U.K.

Dr. Ted Marra has published 3 additional documents on Flevy.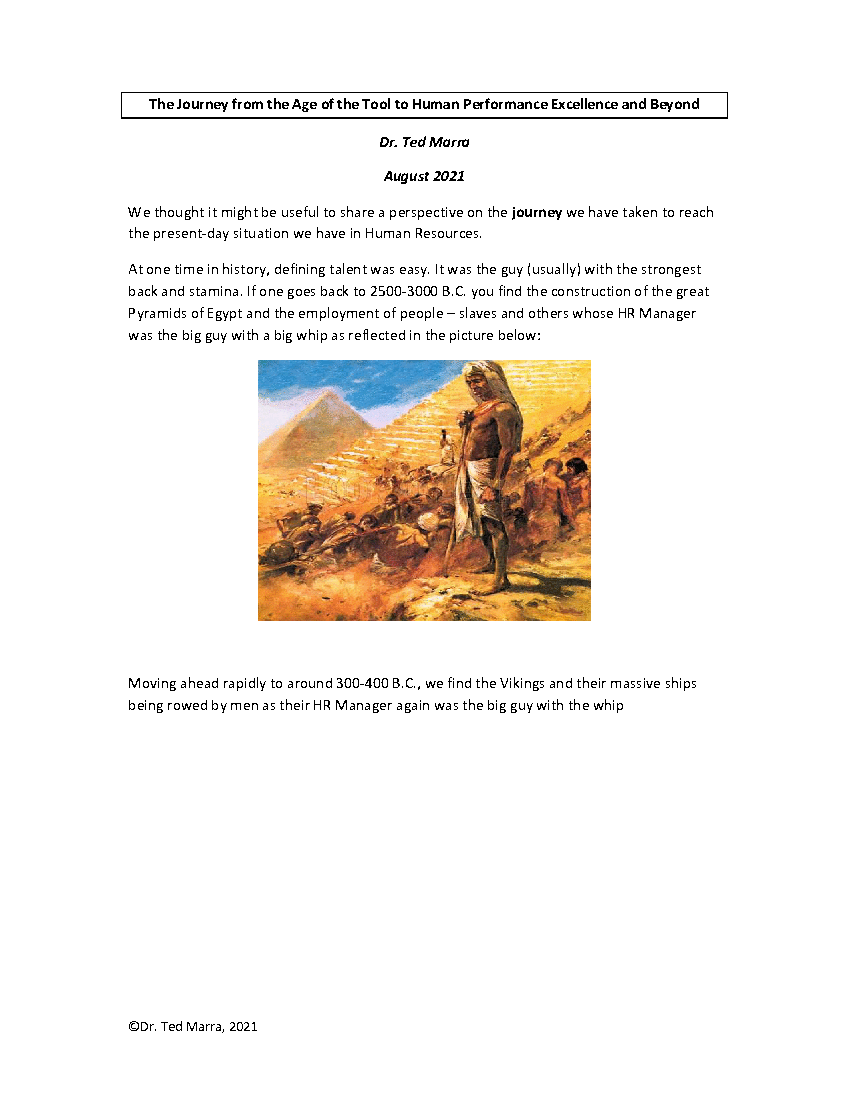 DETAILS
This business document is categorized under the function(s): Organization, Change, & HR
It applies to All Industries
File Size: 4 MB
Number of Pages: 38
Related Topic(s): Human Resources
Purchase includes lifetime product updates. After your purchase, you will receive an email to download this document.
Initial upload date (first version): Aug 31, 2021
Most recent version published: Oct 5, 2021