BENEFITS OF DOCUMENT
Best-in-Class Principles, where you can adopt some-to-all of the drivers presented here that represent a best-in-class sales organization to generate exceptional revenue and marketplace domination. In essence, this means being ranked in the top 5-10%.
Establish a Strategy that has lasting VALUE and STANDARDS where; using Analytics and What if Modeling, organizations one can create decisive competitor advantage.
If you're looking for a quick, easy, cheap plug-n-play solution, I strongly advise you not to attempt to adopt any of the operating principles set forth in this document as you will likely fail. Why? Roadmap to AI is exactly as the word roadmap implies.
DOCUMENT DESCRIPTION
This product (
Roadmap to AI: RevGen and Analytics

) is a 144-page Word document, which you can download immediately upon purchase.

Complexity has become the universal outcome of "change," especially in high end sales organizations. Attaining a Best-in-Class distinction over Industry Average and Laggard firms is quickly becoming a necessity as artificial intelligence (AI) becomes dominant.

Roadmap to AI is an aggressive revenue generation strategy designed specifically for emerging firms that are committed to controlling their markets through a revenue generation strategy. Firms operating in this space are basing their sales approach on best practices utilizing the power of quality data (qdata) analytics to drive growth.

Roadmap to AI is a 140+ page document, organized into 2 volumes:

• VOLUME I: REVGEN

RevGen is an advanced strategy for sales organizations operating in complex environments that when executed will produce exceptional revenue growth and competitor advantage. This volume focuses on a revenue growth strategy with related papers like: Human Capital, Methods, and Tools re: growth, MindMaps, and Disciplines.

Volume I (Plan, Execute, Report, and Manage) is focused on getting the pieces and parts of the strategy right.

• VOLUME II: ANALYTICS

Volume II employs "What If Modeling" (aka: WIM) that is founded on quality data (qdata) to create a decision support system in making better decisions about future
revenue growth.

Volume II is the Manage (Model of Plan, Execute, Report, Manage, and Model). The concept behind PERM is based on continuously "perfecting" the revenue generation strategy model. Volume I is the "building" phase and Volume II is the "finishing" phase

• FREE CONSULTING

As an added bonus, also included with this purchase is a complimentary 45-minute advisory call with the author, J. Howard Highsmith, CMC (Certified Management Consultant) Emeritus and Managing Principal of Endgame Blueprints, LLC.

Got a question about the product? Email us at support@flevy.com or ask the author directly by using the "Ask the Author a Question" form. If you cannot view the preview above this document description, go here to view the large preview instead.

Source: Best Practices in Growth Strategy, Sales, Artificial Intelligence, Analytics Word: Roadmap to AI: RevGen and Analytics Word (DOCX) Document, Howard Highsmith, CMC Emeritus

ABOUT THE AUTHOR: HOWARD HIGHSMITH, CMC EMERITUS

Howard Highsmith, CMC Emeritus, also known as "The Greyfox," is a seasoned Sales Executive and Management Consultant with several decades of Sales Management experience, achieving "breakout sales" consistently. He is the founder and principal mentor advisor of Greyfox Associates, where he serves CEOs of SMBs who are not satisfied with the quality of information they are receiving relative to revenue results vs. [read more] goal attainment.

Howard has extensive frontline marketing and sales management experience devising and executing strategies that have resulted in significant top-line revenue growth in the technology industry sector.

Howard Highsmith, CMC Emeritus has published 12 additional documents on Flevy.
---
$95.00
All fees included. Immediate download upon purchase.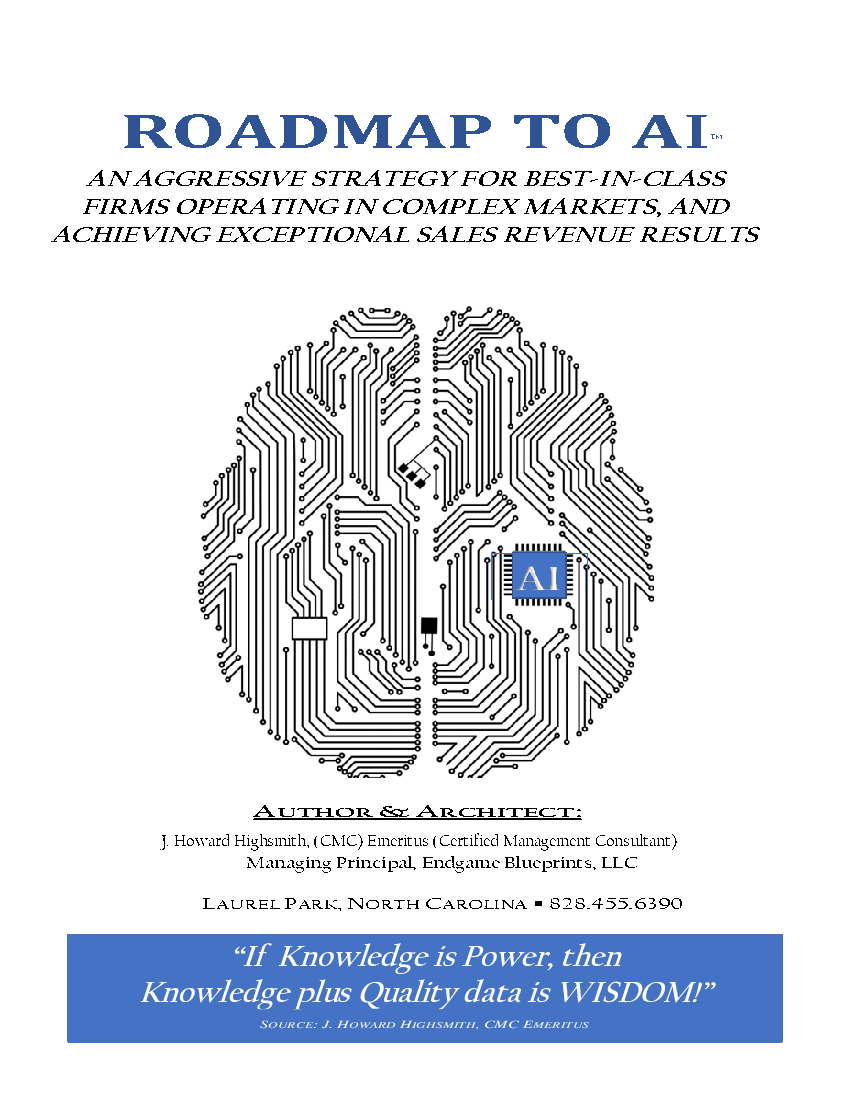 DOCUMENT DETAILS
File Size: 13.4 MB
Number of Pages: 144
Immediate digital download upon purchase.
Lifetime document updates included with purchase.
Completely editable & customizable DOCX document.
Initial upload date (first version): Sep 29, 2021
Most recent version published: Oct 1, 2021
---