BENEFITS OF DOCUMENT
Understand all relevant concepts of AI & CHATGPT
Understand the genesis and evolution of ChatGPT( GPT-2, GPT-3, GPT-3.5, ...)
Optimize the use of CHATGPT as a powerful Chatbot for your Business
DOCUMENT DESCRIPTION
This product (
ChatGPT - The Genesis of Artificial Intelligence

) is a 116-slide PowerPoint presentation (PPTX), which you can download immediately upon purchase.

"Every aspect of learning or other feature of intelligence can, in principle, be so precisely described that a machine can be made to simulate it." – Mission statement of the Dartmouth Conference, 1956

"Artificial intelligence would be the ultimate version of Google. It would understand exactly what you wanted, and it would give you the right thing." – Larry Page, Google Co-Founder, 2000

"Just as electricity transformed everything almost 100 years ago, today I actually have a hard time thinking of an industry that I don't think AI will transform in the next several years." – Andrew Ng, Professor, Stanford University, 2017

For centuries, philosophers and mathematicians have considered the potential of machine-based intelligence. Since the early 20th Century, AI has featured prominently in popular culture and captured human imagination. Futurama at the 1939 World's Fair Exhibits, films and other media featured self-driving cars, thinking machines and other AI applications.

In his seminal 1950 paper Computing Machinery and Intelligence, Alan Turing helped lay the groundwork for modern AI, positing a test of when machines could be said to think: "A computer would deserve to be called intelligent if it could deceive a human into believing that it was human." In the 1950s, research on machine intelligence intensified and became more focused. The term "AI" was coined by John McCarthy in 1956.

Approaches to AI have evolved. Early calculating machines gave rise to "expert systems." Subsequent waves of AI have focused on enabling machines to acquire new understanding based on experience. Such "machine learning" has become a key element of AI. Current applications of AI vary widely and are growing exponentially.

ChatGPT is a chatbot developed by OpenAI and launched in November 2022. Conversational AI models like ChatGPT, developed by OpenAI, are a testament to the rapid advancements in artificial intelligence and language processing capabilities. ChatGPT is a language model trained on massive amounts of data, capable of performing a range of language-related tasks, including answering questions, generating text, and even writing poems. Its impressive performance has attracted significant attention from both researchers and industry professionals, leading to its widespread use in a variety of applications.

It is a variant of the GPT-3 model specifically designed for chatbot applications. It has been trained on a large dataset of conversational text, so it is able to generate responses that are more appropriate for use in a chatbot context. ChatGPT is also capable of inserting appropriate context-specific responses in conversations, making it more effective at maintaining a coherent conversation.

This 116-slide PowerPoint presentation is a primer on Artificial Intelligence & the Genesis of ChatGPT as a Large Language Model (LLM) leading philosophical questions about the Artificial General Intelligence (AGI).

The document is easily customizable and contains many powerful diagrams, ice-breakers, pictures, etc. to gain the holistic view of key concepts related to AI & CHATBOT.

Got a question about the product? Email us at support@flevy.com or ask the author directly by using the "Ask the Author a Question" form. If you cannot view the preview above this document description, go here to view the large preview instead.

Source: Best Practices in Artificial Intelligence, Machine Learning, ChatGPT, Natural Language Processing PowerPoint Slides: ChatGPT - The Genesis of Artificial Intelligence PowerPoint (PPTX) Presentation, RadVector Consulting

ABOUT THE AUTHOR: RADVECTOR CONSULTING

We are a group of aviation experts & specialists (PhDs, Engineers, Pilots, Navigators, ...), leaders in helping organizations to transform their business performance using Methodologies and Principles of Lean, Agile, Six Sigma, and Innovation.

RadVector Consulting has published 93 additional documents on Flevy.
---
$55.00
All fees included. Immediate download upon purchase.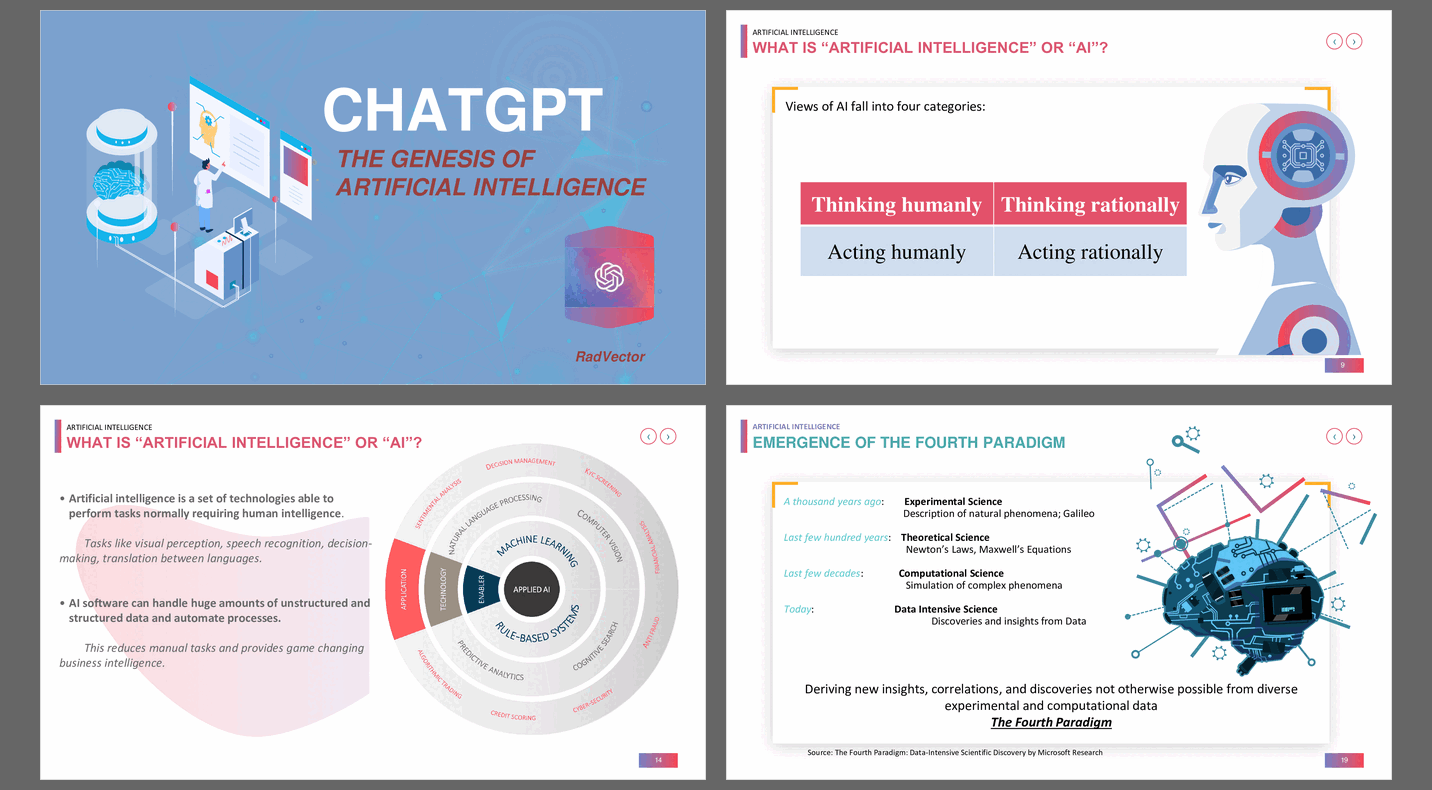 DOCUMENT DETAILS
File Type:
PowerPoint

(
pptx
)
File Size: 16.3 MB
Number of Slides: 116 (includes cover and all slides)
Immediate digital download upon purchase.
Lifetime document updates included with purchase.
Completely editable & customizable PPTX document.
Initial upload date (first version): Feb 25, 2023
Most recent version published: Mar 27, 2023
---