BENEFITS OF DOCUMENT
70+ Professional Project Management Templates all in one place and built up over 21 years of successful delivery
All templates are organized in their respective folders and are accompanied by a PM walkthrough guide
After purchase, all upgrades are FREE on this channel by contacting the author, all details included in download pack including ZIP file link
DOCUMENT DESCRIPTION
This product (
Project Management Planning Templates for PRINCE2 & Agile

) is a 78-page Word document, which you can download immediately upon purchase.

Project Planning Management Templates, FREE Upgrades – Microsoft Excel Project Word and Excel

ZIP package contains 70+ project tracking artifacts / templates in total and is organized into appropriate folders, e.g. plans, trackers, reports, RAIDs etc.

Templates are fully editable and once purchased from Flevy, upgrades to the latest package are FREE. Excel templates are also included for earlier versions.

Pack currently includes (70+ editable PM Microsoft Office templates) :

a) PowerPoint PPT SDLC Plan On a Page template POaP (over 20 slide examples)

b) Detailed SDLC Microsoft Project Plan MSP MPP template plus nine further Project Plan MPP templates (both adaptable for Waterfall and Agile Scrum projects). A full PRINCE2 Version 2017 MSP MS Project plan MPP template file is provided along with a MS Excel PRINCE2 Project Plan with Gantt Chart tracking view. The standard PRINCE2 WORD templates are also supplied to be tailored as required.

c) Detailed SDLC MS Excel Project Plan and Charts template and Overview Excel Plan on a Page (POaP) templates

d) Comprehensive RAID log and Charts (Risk, Action, Issue, Opportunity, Dependency, Lessons Learned, Supplier costs, Expense costs, Annual Leave and Change Request tabs). Also included is a basic RAIDs tracker for simple projects and bids

e) Project Financial Tracker with Charts, for internal and external forecast/ actual costs including margin, variance and expenses. A simpler template is also included to share external costs with the client

f) Walk through Word format document for each of the above templates

g) A weekly / monthly project status report template (one in WORD and two in PowerPoint) to tailor as appropriate

h) Project Organization chart / hierarchy template of project resources to tailor as appropriate

i) Project Meeting Minutes Word template to be tailored as required

j) RACI template for Roles and Responsibilities on the project (Responsible, Accountable, Consulted, Informed) to be tailored as required

k) Stakeholder Analysis Plan template (Involve, Inform, Consult, Inform / Monitor) ? Stakeholder Influence versus Impact charting

l) Benefits Realization Plan template to be tailored as required

m) Agile Story Dependency Tracking template for when Agile stories have hard dependencies with client / customer stakeholders / suppliers which then cause project delays and change requests

n) Agile Burn Down Chart (Table) and Burn Up Chart template example in MS Excel where Agile tools like Jira are not available

o) Walkthrough guide to using MS Teams Free Planner and To Do App for tracking Agile and other projects

p) Project / Programme kick off PowerPoint template for initiating project delivery with the client with the typical headings / discussion points required

q) Project team quiz template for adding occasional levity to end of project phase daily stand up meetings

Best Project Management Templates Artifacts including Plan & RAID Risk Issue log Templates

Also included, ALL PRINCE2 templates and with both PRINCE2 Microsoft Project MPP MSP plan and MS Excel Gantt plan;

1) exception report
2) highlight report
3) issue register
4) issue report
5) lessons log
6) lessons report

7) MW Excel PRINCE2 Project Plan Template v0.
8) MW MS Project Plan Template PRINCE2 TASKS v0.
9) MW MS Project Plan Template PRINCE2 v0.

10) plan
11) product description
12) product status account
13) project brief
14) project initiation document
15) project product description
16) quality management strategy
17) quality register
18) risk management strategy
19) risk register
20) work package
21) benefits review plan
22) business case
23) checkpoint report
24) communication management strategy
25) configuration item record
26) configuration management strategy
27) daily log
28) end project report
29) end stage report

Got a question about the product? Email us at [email protected] or ask the author directly by using the "Ask the Author a Question" form. If you cannot view the preview above this document description, go here to view the large preview instead.

Source: Best Practices in Project Management Word: Project Management Planning Templates for PRINCE2 & Agile Word (DOCX) Document, i_Pro_PM_Templates

ABOUT THE AUTHOR: I_PRO_PM_TEMPLATES

i_Pro_PM_Templates is an Flevy seller and an experienced Senior Project Manager, who has been working at ascending points in software development lifecycle projects for over 30 years.

The Flevy seller has impressive credentials in the delivery of highly complex projects in challenging conditions. [read more] The seller has held senior Project Management positions and helped to drive significant business transformation through IT systems and service delivery using both Agile and Waterfall approaches in accordance with ISO QA directives.

Notable successes are working as Senior Project Manager at a large UK retail bank with responsibility for managing the swap out of old legacy ATM software systems for modern technologies and leading the implementation of an ATM/POS monitoring & reporting system at a large retail bank in Saudi Arabia.

The seller has a broad management & IT background and interfaces well with both technical and business stakeholders, on-site & internally.

i_Pro_PM_Templates has published 17 additional documents on Flevy.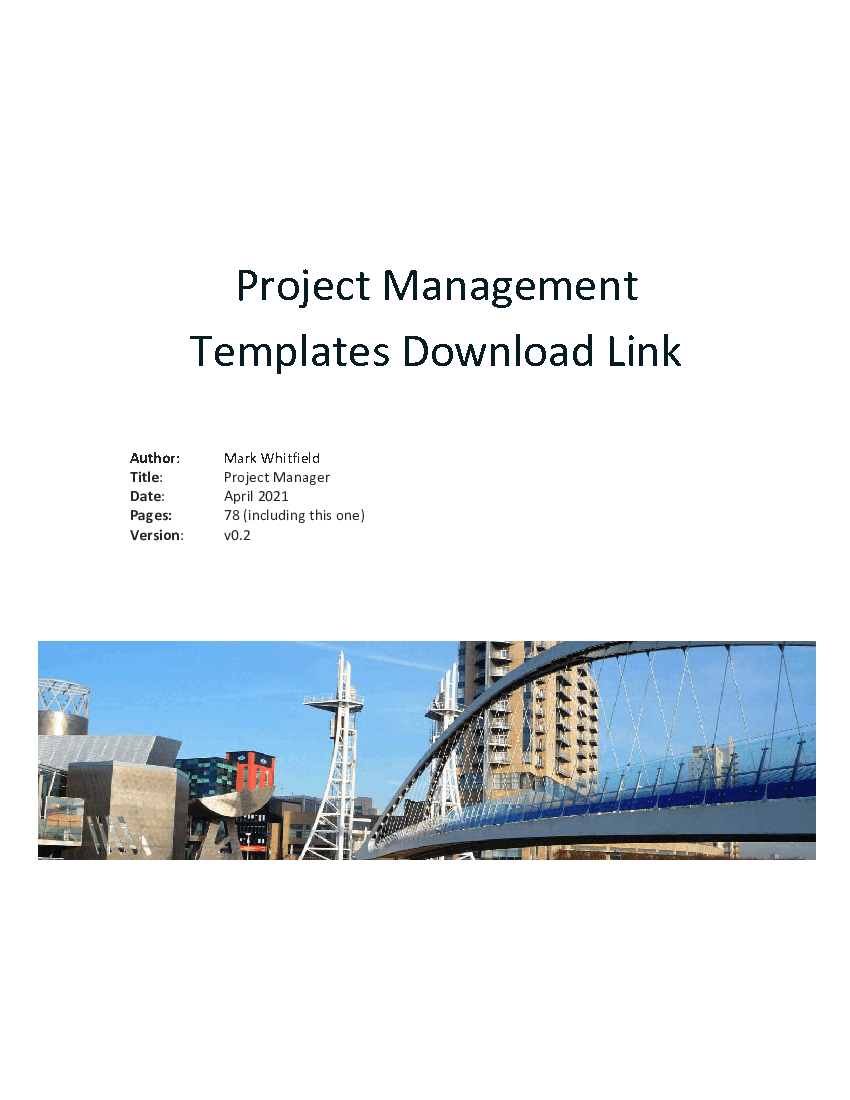 DETAILS
This business document is categorized under the function(s): Information Technology Governance, Risk, & Compliance
It applies to All Industries
File Size: 16.2 MB
Number of Pages: 78
Related Topic(s): Project Management
Purchase includes lifetime product updates. After your purchase, you will receive an email to download this document.
Initial upload date (first version): Aug 7, 2021
Most recent version published: Aug 9, 2021
Ask the Author a Question