BENEFITS OF DOCUMENT
Provide of The Strategic Planning, Implementation, and Control Processes
Provide of The Business Unit Strategic Planning Process
Provide of Marketing Feedback and Control
DOCUMENT DESCRIPTION
This product (
Marketing Strategies and Plans

) is a 46-slide PowerPoint presentation (PPT), which you can download immediately upon purchase.

Marketing Strategies and Plans

Contents
1. The Value Delivery Process
2. Improving Value Delivery the Japanese Way
3. 3 V's Approach to Marketing
4. Tesla Ads Spend Vs Competitors
5. Porter's Value Chain
6. Core Business Processes
7. Characteristics of Core Competencies
8. Netflix's Distinctive Capabilities
9. A Holistic Marketing Framework
10. Challenges Facing CMO's
11. Levels of a Marketing Plan
12. The Strategic Planning, Implementation, and Control Processes
13. Corporate headquarters' planning activities
14. Good Mission Statements
15. Major Competitive Spheres
16. Product Orientation vs. Market Orientation
17. Dimensions That Define A Business
18. Characteristics of SBUs
19. The Strategic Planning Gap
20. Ansoff's Product-Market Expansion Grid
21. Organizations
22. Merging Corporate Culture?
23. The Business Unit Strategic Planning Process
24. SWOT Analysis
25. Goal Formulation and MBO
26. Porter's Generic Strategy
27. Categories of Marketing Alliances
28. Marketing Feedback and Control

A marketing strategy is a long-term plan for achieving a company's goals by understanding the needs of customers and creating a distinct and sustainable competitive advantage. It encompasses everything from determining who your customers are to deciding what channels you use to reach those customers.

With a marketing strategy, you can define how your company positions itself in the marketplace, the types of products you produce, the strategic partners you make, and the type of advertising and promotion you undertake.

Having a marketing plan is essential to the success of any business. Read on to learn how to create a successful marketing strategy for your company.

Key takeaways
1..Marketing is more than just advertising and promotion – it's all about connecting with the customer.
2. A marketing strategy sets the direction for all your product and marketing-related activities.
3. Having a marketing strategy helps keep all your activities on track.
4. Developing a marketing strategy involves setting goals, researching the market, developing product plans, defining your marketing initiatives, and following the "7 P's."

Marketing is about connecting your company with potential customers and connecting those customers with your products. It involves understanding customer needs, translating those needs into products and services, packing and pricing those products and services, and then convincing customers that they need to buy those products and services.

Creating – and following – a marketing strategy is essential to setting the direction not just for your marketing-related activities but also for your entire business. Your marketing strategy helps you stay in sync with your customer base, develop the right products for them and determine how you communicate information about those products.

Without a defined strategy you won't know who your customers are, you won't develop the right products, and you'll waste money promoting them.

Your company's vision and objectives are the driving factors behind your marketing strategy. These overall objectives help determine your marketing goals, which your marketing strategy is in service of.

Your marketing goals build on your company's goals. You might set a goal to achieve a specific market share, dominate a particular channel or reach a certain percentage of a certain type of consumer. Your goals should be reachable and measurable.

Once you understand your target customers, you can determine what products best serve those customers' needs. When you know what a customer wants, you can build the right product for that customer.

Developing the product falls outside the parameters of the marketing department, of course, as does producing the product. But marketing should have a prominent and vocal role in determining the product's features, pricing and packaging, as determined by customer needs and metrics.

Regards,

UJ Consulting

Got a question about the product? Email us at support@flevy.com or ask the author directly by using the "Ask the Author a Question" form. If you cannot view the preview above this document description, go here to view the large preview instead.

Source: Marketing Strategies and Plans PowerPoint (PPT) Presentation, UJ Consulting

ABOUT THE AUTHOR: UJ CONSULTING

UJ Consulting

Untung Juanto ST., MM. Founder of UJ Consulting. He is professionally experienced business and management consultant in several local and multinational companies. [read more] He has an experience in managing an effective and efficient company with various approach methods adapted to different industries because He had a career from the lower management level as Supervisor before finally being at the top management level. His Top Management experience started from the position of General Manager, VP Operation, HR Director and Business Development Director

He completed his undergraduate education majoring in Architecture at Diponegoro University, Semarang, Central Java, Indonesia. After that, He continued to Master of Management level majoring in Human Resource Management with cum laude predicate with a GPA of 3.94 at Mercubuana University, Jakarta, Indonesia.

His last work experience as Deputy President Director at Hutahaean Group in charge of 14 business units engaged in various industries including CPO Production, Oil Palm Plantation, Cassava Plantation, Tapioca flour production, 4 and 5 star hotels, waterparks, golf courses and housing with a total of employees more than 3,000 employees.

His biggest achievement was in 2021 when He served as Deputy President Director at Hutahaean Group Indonesia by increasing the company's revenue from IDR 700 billion to IDR 1.1 trillion (y/y) and increasing the profit margin by more than 20%. Doing a turn around on business units that have lost in the last 5 years become profits. In addition, He have also succeeded in creating an efficient and effective management system by redesigning the Business Process Management (BPM), reviewing Standard Operating Procedures (SOP) and Work Instructions and compiling the appropriate Key Performance Indicator Management (KPIM) to increase employee productivity.

He is currently active as a part-time business and management consultant (online) at Enquire Corp. and Flevy Corp. In addition, He also teach part-time at several universities for courses in strategic management, human resource management, project management, entrepreneurship and business.

UJ Consulting has published 171 additional documents on Flevy.
---
$25.00
All fees included. Immediate download upon purchase.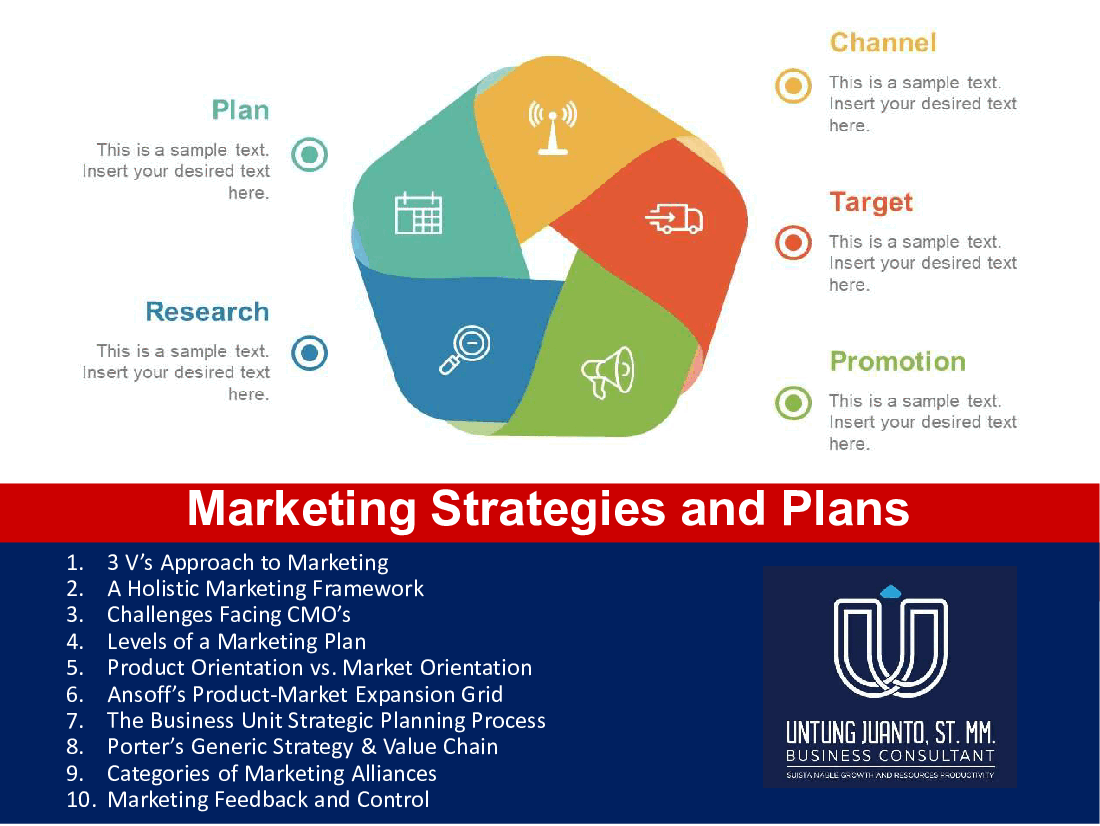 DOCUMENT DETAILS
File Type:
PowerPoint

(
ppt
)
File Size: 10.1 MB
Number of Slides: 46 (inc. cover, transition, & marketing slides)
Immediate digital download upon purchase.
Lifetime document updates included with purchase.
Completely editable & customizable PPT document.
Initial upload date (first version): May 23, 2020
Most recent version published: Mar 27, 2023
---