BENEFITS OF BUNDLE
Provides a fundamental understanding of various aspects of Change management
Provides practical, tried and tested approaches based on real-world experience of Change Management
Gives insights into various tools and techniques that can be applied to specific Change Management scenarios
BUNDLE DESCRIPTION
This product (
Modules 1 to 4 - Fundamentals of Change Management

) is a Document Bundle, which you can download immediately upon purchase.

This bundle contains the first 4 of the 8 modules of my Fundamentals of Change Management course they are related to some of the important genetic aspects of change you will need to consider

These are the actual slides I use during the course but these will come without context. You also need to be aware that these slides include the animations that I use during the course when you view them in "presentation" mode. The slides have been made available due to strong customer demand for those that prefer the form of learning which focuses on the written word. Reading and writing learners succeed with written information on worksheets, presentations, and other text-heavy resources. They are note-takers and perform strongly when they can reference written text.

Module 1 contains 70 slides with the following 4 sessions:
• Session 1 "What is Change" – Insights into and different interpretations of the meaning of the word "change".
• Session 2 "What is Change Management" – Some Change Management definitions and a global overview of the size of the profession.
• Session 3 "Project Management & Change Management" – Details about the difference between the CM and PM disciplines and explores integrating them.
• Session 4 "Change Challenges and Best Practice" – Introduces some key change challenges and some change best practices to enhance success.

Module 2 contains 58 slides with the following 5 sessions:
• Session 1 "Models and Methodologies" – An introduction to Change Management Models & Methodologies.
• Session 2 "Kurt Lewin" – An overview of Kurt Lewin's Unfreeze-Change-Refreeze model + pro's and con's
• Session 3 "John Kotter" – An overview of Kotter's latest 8-Step model for Leading Change + pro's and con's
• Session 4 "Prosci" – An overview of Prosci's 3-Phase Change Management model and ADKAR + pro's and con's
• Session 5 "PFAC" – An overview of The Highway of Change's Practical Framework Approach to Change + pro's and con's

Module 3 contains 61 slides with the following 5 sessions:
• Session 1 "Oragnisational Change Readiness Assessment" – Provides an overview of how to undertake a change readiness assessment exercise.
• Session 2 "Ways of Implementing Change" – Looks at five different approaches and ways of implementing change
• Session 3 "People and Change" – Explores the way people are impacted by change and their reactions to it
• Session 4 "Change Behaviours" – Covers various approaches on how we can change people's mindsets and behaviours
• Session 5 "Change and the Brain" – Provides insights into how the brain works and reacts when faced with change

Module 4 contains 54 slides with the following 3 sessions:
• Session 1 "Changing Organisational Culture" – Explains the complexity of organizational culture and introduces some new thinking.
• Session 2 "Managing Change Resistance" – Provides details of different kinds of resistance and explains ways to overcome them.
• Session 3 "Change Agents" – Details the value of having change agents and how to set up a change agent network


THERE ARE 4 DOCUMENTS ARE IN THIS BUNDLE:

Got a question about the product? Email us at support@flevy.com or ask the author directly by using the "Ask the Author a Question" form.

ABOUT THE AUTHOR: THE HIGHWAY OF CHANGE

The Highway of Change is me ... Ron Leeman.

I am a seasoned (that means older), well rounded (that doesn't mean overweight) multi-faceted (both from a business and personal perspective), dedicated and ethical professional who has an enviable track record of achievement.

I have been a Change, Process and Project professional since 1974. [read more] In my time I have worked for a multitude of large/medium sized companies as a Process, Change and Project professional in the UK, European-wide and Globally. My achievements have been and continue to be recognised through the multitude of Recommendations and Endorsements on LinkedIn and in 2012 an award from the World HRD Congress for being a "Change Leader."

The documents I have here on Flevy reflect my approach to Change, Process and Projects. They are not meant to provide definitive answers, rather, they contain practical and simple approaches, tools and techniques that I have previously used and that have worked for me and, more importantly, the organisations who I have worked for. You can use them as the basis for reference and enhance and modify them as you see fit. They are your resource to build your capability.

The Highway of Change has published 49 additional documents on Flevy.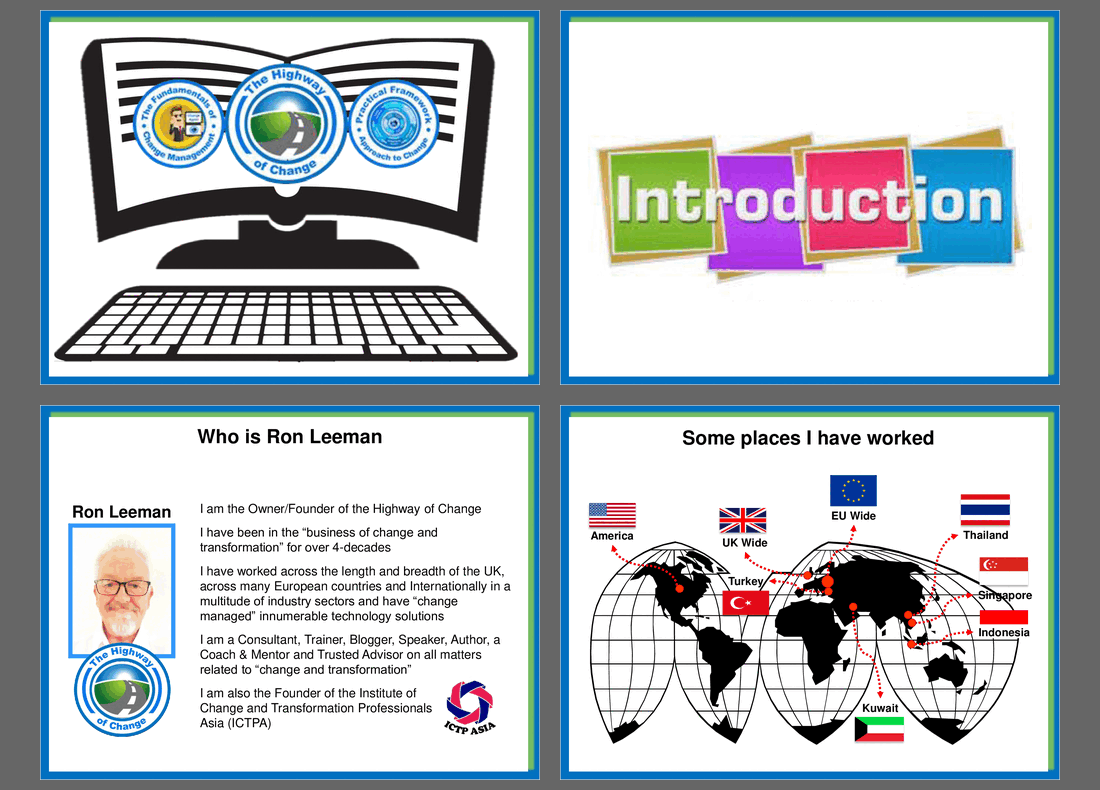 DETAILS
This business document is categorized under the function(s): Organization, Change, & HR
It applies to All Industries
Purchase includes lifetime product updates. After your purchase, you will receive an email to download the documents in this bundle.
Initial upload date (first version): Apr 18, 2022
Since 2012, we have provided best practices to over 5,000 businesses and organizations of all sizes across the world—in over 130 countries. Below is just a very small sample of our customer base.