BENEFITS OF DOCUMENT
Generates a thorough understanding on the concept of management system audits as per ISO 19011:2018
Provides detailed guidelines on auditing process right from planning, to conducting the audit and preparing the audit reports
Describes who can be a good auditor in terms of their knowledge, skills & behavior
DOCUMENT DESCRIPTION
This product (
Management Systems Auditor's Training [with Notes & Forms]

) is a 121-slide PowerPoint presentation (PPTX) with a supplemental Excel document, which you can download immediately upon purchase.

Management Systems Auditor's Training
(With Tutor Notes & Audit Forms)

A Training Program Based on ISO 19011:2018 for Management System Audits
(For Quality, Environment, OH&S, Information Security, Automotive Quality and other Management System Standards)

This wonderful training resource consists of 121 Microsoft PowerPoint slides with tutor notes that can be used as training material for Internal & External auditors for various management system standards. The contents of this program can also be used to train personnel to take up other auditing roles such as an Audit Program Manager or an Audit Team Leader for the management systems of organizations.

The guidelines on auditing given in this presentation are based on an ISO standard on this subject, i.e. ISO 19011:2018.

The program includes detailed guidelines on planning, conducting & reporting audits of management system standards formulated by ISO on various disciplines of management, e.g. Quality (ISO 9001), Environment (ISO 14001), Energy (ISO 50001), Occupational Health & Safety (ISO 45001), Food safety (ISO 22000), Information security (ISO 27001), IT service delivery (ISO 20000), etc.

There are other non-ISO standards, like IATF 16949 and AS9100, SA8000, etc. that also use the same auditing methodology and will greatly benefit from the use this standard, ISO 19011.

After going through this presentation you shall be able to understand:
a) The purpose of management system standards
b) Concept of management system auditing
c) Definition of audit and other related terms
d) Types of audit
e) 7 principles of auditing
f) 4 stages of management system auditing (based on PDCA)
1. Audit planning & preparation (audit program preparation & audit planning)
2. Audit execution (methods to conduct audit & writing of audit report)
3. Audit monitoring & completion
4. Audit follow-up & improvement
g) 2 streams of auditing process: audit program management & audit execution
h) Auditor competence requirements & methods of their evaluation

The presentation has been prepared by our highly qualified, trained and experienced quality professional & Lead Auditor in various management system standards with over 30 years of experience in training, consulting, auditing & certification of ISO standards.

There are 5 important template forms of auditing that are included in this pack and can be used while designing & operating a management system audit process. The included forms are:
1. Audit program
2. Audit plan
3. Audit checklist
4. Audit report
5. Non-conformity & corrective action report

The detailed notes that are are given below the slides are not visible in the preview of the document, but the same will be visible on your purchase.

The presentation consists of the following contents:
Title page
Program contents
ISO management system standards
What are these standards
Popular management system standards
Need to asses compliance
ISO 19011:2018 Auditing guidelines standard
History of ISO 19011
Scope of this presentation
Management system audits
What is an audit?
Audit ? the ISO definition
Audit definition ? a break-up
Audit ? in plain English
Types of audit
Other Important Definitions (ISO 19011)
Definitions (Contd.)
Definitions (Contd.)
Definitions (Contd.)
7 Principles of Audit
7 Principles ? Graphic
#1: Integrity
#2: Fair presentation
#3: Due professional care
#4: Confidentiality
#5: Independence
#6: Evidence-based approach
#7: Risk-based approach
Audit Process
4 stages of Audit
2 Streams of Audit
Audit Process Flow (ISO 19011:2018)
1 Audit Planning & Preparation
Hierarchy of Audit Planning ? Terms
Audit Program
Audit Plan
Preparing the Audit program
Why the Audit? (Determining the Objectives of audit)
Who can be an Audit Program Manager?
What are the risks in audit?
What are the opportunities in audit?
How extensive the audit should be?
How extensive the audit should be? (Contd.)
What resources are needed for the audit?
Audit Program Contents (Example)
Communicate the ?Audit program'
Initiating Program implementation
Individual Audit objectives, scope & Criteria
Selecting the audit methods
On-site vs Remote Audits
Selecting the audit team
Audit Team Competence
Handing over to team leader
Audit Information (Example)
Preparing For the Audit (By Audit team Leader)
Audit Initiation
Document review
Audit Plan Preparation
Audit Plan Contents (Example)
Audit Sampling
Audit Sampling (Contd.)
Audit Checklists
Typical Audit Checklist Form
Other Personnel in Audit
2 Conducting the Audit
Conducting Audit (Major Activities)
Opening Meeting
Audit Execution (Collecting and verifying information)
Important audit Definitions
audit Definitions (Contd.)
Information Collection & Verification Process
Audit Triangle of information sources
How to interview people?
Types of Questions
General Open-ended Questions
Advantages of open ended questions
Open-ended Questions ? Do's and Don'ts
Closed ended questions
Appreciative Inquiry
How to Observe?
Examples of Observations
Verify documented Information
4C's of Documents
Examples of Documents to review
Auditor's Seven Friends
Audit Evidence
Objective Evidence
Follow the Trail
Process Approach to auditing
Audit Time Wasters
Audit Records
Audit Findings
Grading of Non-conformities
Generally accepted definitions of Major & Minor NCs
Communication during audit
Preparation for closing Meeting
Closing Meeting
Preparing Audit Report
Audit Report Contents
Recording Nonconformities
Non-conformity & Corrective Action Report
3 Monitor the Audit
Monitoring by Audit Manager
Monitoring Audit Results
Completing Audit
4 Follow-up & Improvement
Follow-Up Audits
improving audit program
Auditor Competence
Personal Behavior
Knowledge & Skills ? Generic
Knowledge & Skills ? Discipline and sector-specific
Leader competence
Competence Criteria ? Quantitative
Competence Criteria ? Qualitative
Auditor Evaluation Method(s)
Maintaining & Improving Competence
A Bad Auditor
An auditor should?
Questions?
Thank You!

Got a question about the product? Email us at [email protected] or ask the author directly by using the "Ask the Author a Question" form. If you cannot view the preview above this document description, go here to view the large preview instead.

Source: Best Practices in Audit Management, ISO 19011 PowerPoint Slides: Management Systems Auditor's Training (with Notes & Forms) PowerPoint (PPTX) Presentation, Quality Professionals Group

ABOUT THE AUTHOR: QUALITY PROFESSIONALS GROUP

WHO WE ARE?

Quality Professionals Group (QPG) is a group of highly qualified, trained and experienced professionals in the field of Business & Operational Excellence helping organizations and individuals in improving their performance. [read more]

OUR BACKGROUND

Quality Professionals Group (QPG), established in the year 1996 has worked very closely with a client base of more than 1000 organizations advising them in improving their Quality, Environmental and Safety management systems. QPG also assists its clients in other popular operational management techniques like 5S, Kaizen, Lean and Six Sigma.

QPG has worked with large, medium & small organizational clients (private, public & MNCs) in improving their systems and processes using various management system tools & techniques. We have trained more than 10,000 persons through classroom as well as online programs and have been instrumental in improving the business processes of more than 400 organizations.

Quality Professionals Group has published 12 additional documents on Flevy.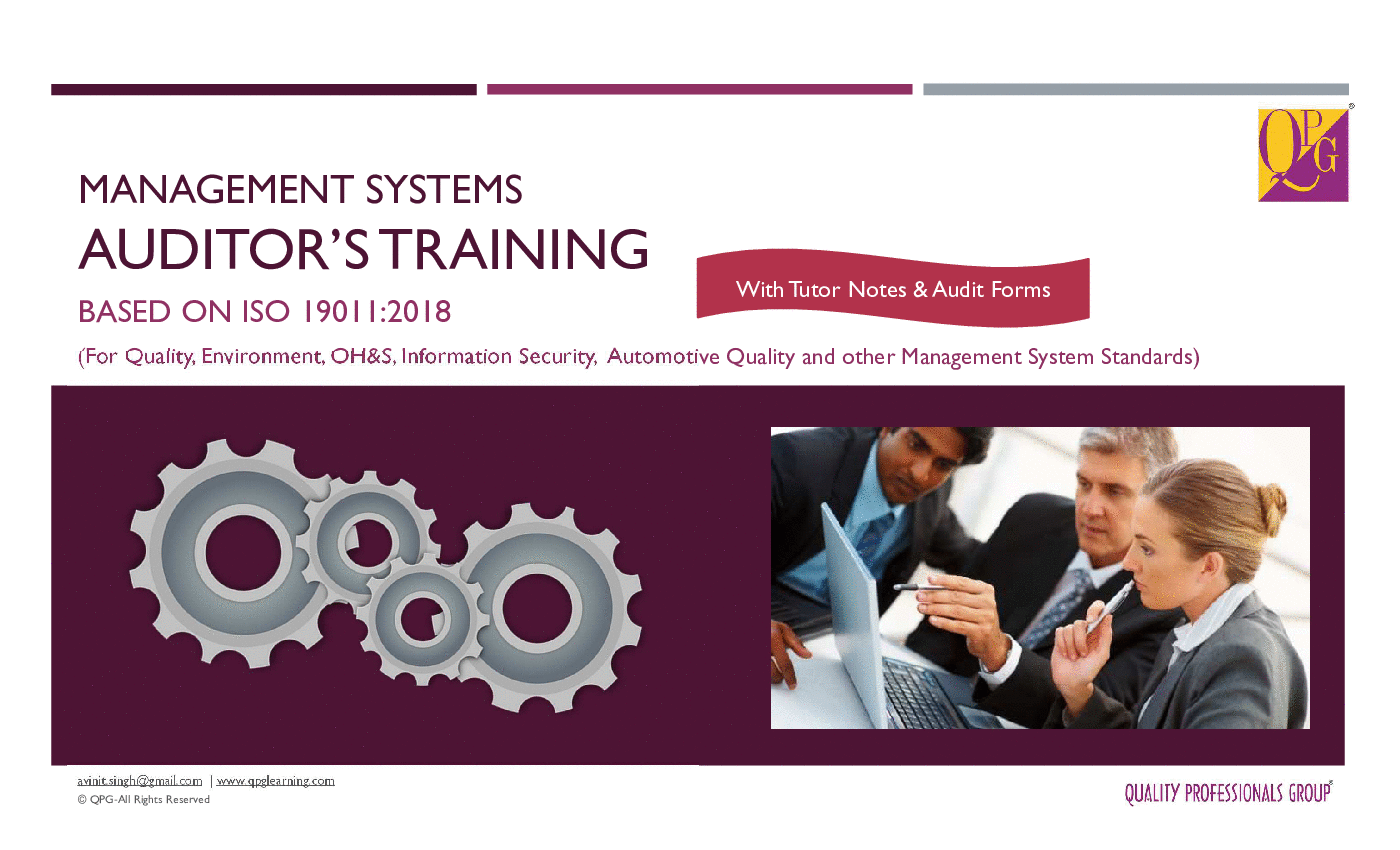 DETAILS
File Type: PowerPoint

(pptx)
File Size: 153 MB
Number of Slides: 121 (includes cover, transition, & marketing slides)
Related Topic(s): Audit Management ISO 19011
This business document is categorized under the function(s): Organization, Change, & HR Governance, Risk, & Compliance
It applies to All Industries
Purchase includes lifetime product updates. After your purchase, you will receive an email to download this document.
This product contains a supplemental XLSX document.
Initial upload date (first version): Oct 18, 2021
Most recent version published: Oct 18, 2021