BENEFITS OF DOCUMENT
Provides over 100 "Best In Class and at-risk" global digital transformation benchmarks and profiles covering profit, sales, HR,assets, cash and trends to enable you to calculate your risk of disruption and your digital transformation maturity.
Compares the returns of the SIMMETHOD global digital transformation Best In Class and laggards with the S&P 500 in order to assist you to measure, cost-justify and monitor your digital transformation investments and projects in a CFO friendly language.
Provides case studies of the following companies: General Electric (GE), Accenture, Capgemini, Amazon, Walmart, Costco, Simon Properties, Well Care Health, United Health, Anthem, Saudi Telecom, Singtel, Telstra, AT&T and Telefonica.
DOCUMENT DESCRIPTION
This product (
Global Digital Transformation Benchmarking

) is a 159-page PDF document, which you can download immediately upon purchase.

Since the year 2000, 50% of the Fortune 500 have disappeared due to digital disruption and because they were not able to adequately measure and predict the outcome of their strategy-execution.

How good do you have to be to avoid digital disruption and become digital transformation Best In Class? What is the profile of the digital transformation Best In Class?

Digital disruption and transformation are complex events and (as in team sport), the whole is different from the sum of the parts and can only be measured and benchmarked with new holistic metrics of risk and performance.

According to the World Economic Forum "traditional financial KPIs are no longer effective at measuring the success of a business and companies that understand digital transformation earn 26% more profit". In fact, as shown in this document, the SIMMETHOD Global Digital Transformation Best in Class have achieved a profit per employee that is 4 times higher than the S&P 500 average.

The SIMMETHOD Global Digital Transformation Algorithms, Benchmarking and Digital Disruption Risk Alerts blend continuous improvement and digital transformation frameworks that incorporate the wisdom of the markets placing C-level sensors in the areas of the market where most value is being created.

In essence, the benchmarks, profiles and case studies in this document will enable you to identify the strategies, business models, analytical profiles and best practices from different industries that can be adapted to your business in order to reduce your risk of disruption and improve your performance in a measurable and predictable way.

A new and unique feature of this document is that includes a complimentary 6 months subscription to the SIMMETHOD Global Digital Transformation Benchmarking and Risk Alerts (valued at $300) that will enable you to monitor your digital transformation trend and progress versus the global Best In Class.

"SIMMETHOD is the ability of any principal within a business to navigate a myriad of financial processes and arrive at the focal point of what makes the business successful. It is a comprehensive methodology that translates a company's strategic objectives into a coherent set of performance measures, ultimately adding real dollars to the bottom line". Edmund Khalaf, Group VP and Asia Pacific CFO, Randstad.

"Simmethod unique system of risk reduction early warning value chain leading indicators set up against a constantly updated competitive intelligence database provides hard to obtain insights into threats and opportunities". Steve Maloney, Strategic Account Executive at Salesforce.

Some of SIMMETHOD's clients:

Australian Stock Exchange, Fujitsu, Thomas Cook, Shell, Austrade, Greens, CSR, Cynamid, NRMA Training Department, Waverly City Council, Ernst & Young Spain, Telecom New Zealand, CAECE University Argentina, Department of Prime Minister and Cabinet Australia, Department of Foreign Affairs and Trade Australia, Zurich Insurance Argentina, Reebok Australia, Randstad Australia, Westfield.

Got a question about the product? Email us at support@flevy.com or ask the author directly by using the "Ask the Author a Question" form. If you cannot view the preview above this document description, go here to view the large preview instead.

Source: Best Practices in Digital Transformation PDF: Global Digital Transformation Benchmarking PDF (PDF) Document, SIMMETHOD Digital Disruption Benchmarks

ABOUT THE AUTHOR: SIMMETHOD DIGITAL DISRUPTION BENCHMARKS

Back in Argentina where I grew up, my parents sent me to buy 10 meters of rope for our sailing boat. To my surprise, the owner of the shop asked me to measure and cut the rope on my own.

I could not let the opportunity pass, so I measured and cut 11 meters of rope. I handed them back to the shop owner and with a big smile I said:"Here they are, 10 meters of rope". [read more]

The shop owner thanked me with an even bigger smile and replied: "Thank you so much" and as he proceeded to put them on a scale he advised me" "We sell them by the kilo".

This incident started within me a passion for success metrics, leading indicators, benchmarking and Best in Class performance and gave birth to SIMMETHOD driven by the belief that: The way you measure will determine your results.

However, in the new era of intelligent products, the Internet Of Things and digital economy, is the way we measure corporate risk and performance broken and failing the C-suite as evidenced by the latest research?

In spite of billions of dollars spent on predictive analytics, forecasting and business intelligence, why do business fail to perform or continue to miss their targets? Is it due to internal decision making or external circumstances beyond management control?

As uncovered by the Fortune 500 Editorial Team, SIMMETHOD's premise is simple: businesses will succeed or fail due to internal decision making rather than external circumstances beyond management control.

Consequently, to improve the quality of your decision-making capabilities, SIMMETHOD's algorithms review 1000's of financial, operational and crowd sourced data across a range of industries to uncover why some businesses keep on winning irrespective of external market conditions and prepare unique Best In Class profiles and risk alerts that will enable you to:

1) Calculate your gap to Best in Class performance and set up early warning risk alerts,
2) Measure and predict your ability to strategize and execute against the market Best in Class,
3) Align the metrics of your CIO and CMO to your CFO,
4) Fend of current and future competitors and
5) Enable you to disrupt yourself in a measurable, controllable and predictable way in order to become a digital transformation Best In Class

SIMMETHOD Strategy And Execution Performance Predictive Metrics, benchmarks and Risk Alerts (winner of an Australian Top Ten Innovation Award) were created by the wisdom of the crowds and Jorge Tabacman, a former recipient of Honeywell's Pacesetter award for Professional Excellence, Westfield's CIO and award winning lecturer and consultant, the author of a book: Converting Information Into Assets and the developer of performance improvement and risk minimization social media channels with over half a million readers including over 300 global Universities and Colleges

SIMMETHOD Digital Disruption Benchmarks has published 2 additional documents on Flevy.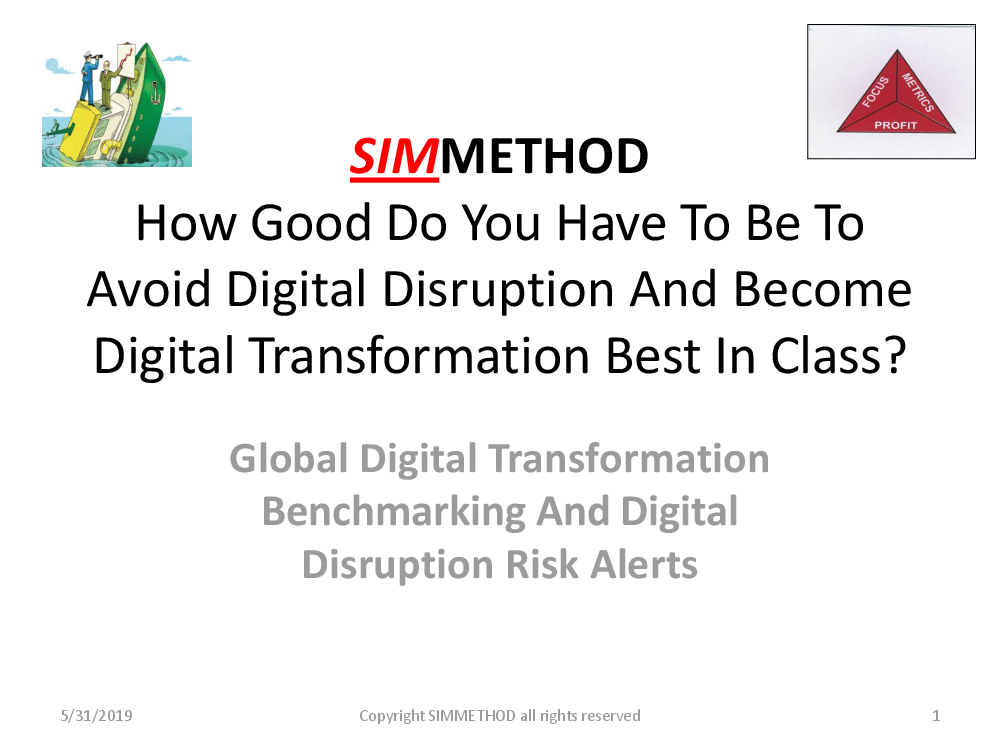 DETAILS
This business document is categorized under the function(s): Corporate Finance Information Technology
It applies to All Industries
File Size: 2.4 MB
Number of Pages: 159
Related Topic(s): Digital Transformation
Purchase includes lifetime product updates. After your purchase, you will receive an email to download this document.
Terms of usage (for all documents from SIMMETHOD Digital Disruption Benchmarks)
Initial upload date (first version): May 31, 2019
Most recent version published: Jun 2, 2019